Bad Religion - True North (2013)
Bad Religion - True North (2013)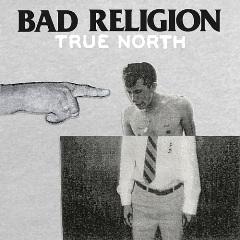 01. True North (01:56)
02. Past Is Dead (02:39)
03. Robin Hood In Reverse (02:53)
04. Land Of Endless Greed (01:53)
05. Fuck You (02:14)
06. Dharma And The Bomb (02:00)
07. Hello Cruel World (03:50)
08. Vanity (01:02)
09. In Their Hearts Is Right (01:59)
10. Crisis Time (02:39)
11. Dept. Of False Hope (02:40)
12. Nothing To Dismay (02:07)
13. Popular Consensus (01:53)
14. My Head Is Full Of Ghosts (01:46)
15. The Island (01:28)
16. Changing Tide (02:18)

Greg Graffin – Lead vocals
Brett Gurewitz – guitar, backing vocals, Lead vocals on "Dharma and the Bomb"
Brian Baker – guitar
Greg Hetson – guitar
Jay Bentley – bass, backing vocals
Brooks Wackerman – drums

There's a fine line between honing a very specific sound that can define a band, and creating redundant and stale music. For more than 30 years, Bad Religion have proven that age is merely a number, and relentlessly churned out legendary records. The band's latest offering True North serves as a culmination and retrospective of their storied history.
The title track starts the record with an instant melody that could never be mistaken for anyone but Bad Religion. The urgent beat converges with the soaring harmonies of the chorus, triggering memories of Recipe for Hate, credited by most as the band's best major label release. "Land of Endless Greed" continues this theme, with vocalist Greg Graffin pushing himself to deliver just the right key.
True North continuously finds Bad Religion not just accepting their past, but fully embracing it. "Nothing To Dismay" displays everything beloved about the band's sound. The marching cadence is complimented by Graffin's urgent vocal delivery of the verses, leading right into the call and answer chorus and wailing guitar solo. Aside from the production, the song could easily be mistaken for an outtake from 1989's No Control.
Many view 2002's The Process Of Belief as the band's unofficial "return." It marked not only a return to Epitaph Records, but also reintroduced founding guitarist Brett Gurewitz, whose songwriting partnership with Graffin is nothing short of legendary. True North shares a similar feeling of rejuvenation, but pulls more directly from the past in a very demonstrative manner. Both "The Island" and "Past is Dead" immediately recall memories of 1990's Against the Grain, and its follow-up Generator. "Robin Hood in Reverse" borrows from 1994's Stranger Than Fiction, with Graffin's direct social commentary and uncanny vocabulary arsenal ever present.
Scattered throughout the record are moments of new direction in sound. "Fuck You" draws more from previously existent folk influences, legitimizing a song that could easily be written off as campy purely for the title. "Dharma and the Bomb" recalls influences from the band's early days with a sinister melody reminiscent of Agent Orange or the Dead Kennedys.
True North is nothing short of a celebration of Bad Religion as a permanent fixture in music history, and maybe more importantly, a testament to a timeless history of influence and epic releases. Nothing comes off as stale or self-serving. It's easily the band's best release in the last 10 years, and with time it will garner more appreciation in the overall catalog. I don't look forward to the day Bad Religion calls it quits, but if True North is their final offering, it would unquestionably be the perfect ending. --- sickboi, punknews.org
Bad Religion to zespół, który przyczynił się do powstania jednej z najbardziej irytujących odmian rocka: pop punku (czyli połączenia punk rockowej prostoty z popową przystępnością). Można to jednak wybaczyć członkom zespołu, w końcu Bad Religion nigdy nie był przedstawicielem tego nurtu. A na uznanie zasługują przede wszystkim za genialne melodie, jakiś nie brak na ich albumach - zwłaszcza na wydanych w połowie lat 90-ych "Stranger than Fiction" i "The Gray Race". W kolejnej dekadzie także udało im się zabłysnąć kilkoma świetnymi longplayami (zwłaszcza "The Process of Belief" z 2002 roku), jednak ostatnie ich płyty nie należały do najlepszych. Jak zatem prezentuje się najnowsza, "True North"?
Większość utworów to proste, melodyjne czady, z których w pamięci najbardziej zostają: tytułowy "True North", rozpoczęty spokojnym wstępem "Past Is Dead", "Robin Hood in Reverse", singlowy "Fuck You", "In Their Hearts Is Right" oraz "Popular Consensus". Wyróżnia się na pewno "Hello Cruel World" - jedyny utwór na tym albumie trwający powyżej trzech minut. Bardziej rockowy, niż punkowy, z niesamowicie chwytliwymi harmoniami wokalnymi, oraz konkretnym gitarowym solem. Kolejnym świetnym kawałkiem jest "Dept. of False Hope", brzmiący już jednak bardziej typowo dla zespołu, chociaż i tutaj pojawia się solówka, może nawet trochę lepsza od tej w "Hello Cruel World".
Niestety, na albumie są też zdecydowanie słabsze, po prostu nijakie utwory (np. "Land of Endless Greed" czy zbyt prosty "Vanity"). Mimo że album trwa niewiele ponad pół godziny, ostatnie utwory nużą, bo nie wnoszą już nic nowego. Zabrakło tu chociaż jednej ballady, z których przecież Bad Religion także słynął. Odpowiedź na pytanie postawione w pierwszym akapicie brzmi zatem: dzięki takim utworom, jak "Hello Cruel World", "Dept. of False Hope" czy "Past Is Dead", album "True North" jest nieco lepszy od wyjałowionego z przebojów "New Maps of Hell", ale trochę słabszy od - także najlepszego, ale bardziej zróżnicowanego - "The Dissent of Man".
"True North" ma być podobno ostatnim albumem w dyskografii Bad Religion. Szkoda by było, żeby taki zespół, kończył karierę tak przeciętnym - jak na swoje możliwości - longplayem. Z drugiej strony, słucha się go bardzo przyjemnie, jeżeli akurat ma się ochotę na coś mniej ambitnego. --- Paweł P., pablosreviews.blogspot.com
download (mp3 @192 kbs):
yandex mediafire uloz.to mega 4shared cloudmailru gett
Last Updated (Wednesday, 11 October 2017 21:43)