The Hillbilly Moon Explosion - Damn Right Honey! (2013)
The Hillbilly Moon Explosion - Damn Right Honey! (2013)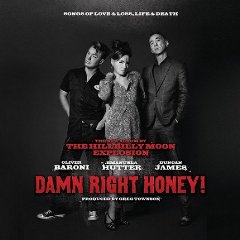 01. Drive This Truck No More
02. Perfidia
03. Flying High Moaning Low
04. Cool Spring Breeze
05. Goldmine
06. Westbound Train
07. Die In Style
08. I Hear You Knockin'
09. Ellie Lou
10. Motorhead Girl
11. Northern Crown
12. Sky In Your Eyes

Backing Vocals, Electric Piano – Angie Pollock
Double Bass [Slap Bass], Vocals, Guitar – Oliver Baroni
Drums – Bobby Treherne
Guitar, Vocals, Bass [Fuzz Bass] – Duncan James
Lead Vocals – Sparky Phillips (tracks: B5), Paul Ansell (tracks: A3)
Organ, Piano – Geraint Watkins
Pedal Steel Guitar – BJ Cole
Saxophone – Martin Winning
Trumpet, Horn [Arrangements] – Matt Holland
Violin – Bobby Loveday
Vocals – Emanuela Hutter

The descriptive moniker The Hillbilly Moon Explosion may tell you some of what you need to know about this band, but perhaps not all. Hailing from the same Swiss rock 'n' roll scene that produced fellow rebels The Peacocks, the Explosion are a group who have long been producing interesting material based around a simple, but explosive, recipe of rock 'n' roll. Their new album, 'Damn Right Honey', might just have a little something for everyone.
The album moves delightfully from swing to rock 'n' roll, complete with jazz, surf, and blues elements that ensure the album is a lasting collection of fun classics. Opener 'Drive This Truck No More', for example, is an up tempo rocker full of groove and style, a classic guitar sound being accompanied by the full support of brass, whereas 'Perfidia', which follows, is ska-esque. This immediate shift in gear is an early sign of the variety that is crammed in to this album.
From the dusty country rhythm of 'Flying High, Moaning Low', to the rockabilly of the excellent, rolling 'Goldmine' the album regularly delivers. Tracks such as 'Westbound Train' serve to demonstrate the surf element of their craft. Particular highlights of the album include the garage romp 'Die In Style' and the fiercely sexy, 'Motorhead-girl'. The latter of these two demonstrates the exchange of duties between the vocalists which also adds an extra dimension to the group, helping to certify that the record consistently comes up with the goods, whatever they try their hand at.
'Damn Right Honey' is simply enjoyable, so for something fun and downright fucking cool, get yourself some style with this new release from The Hillbilly Moon Explosion. ---Craggy, uberrock.co.uk
download (mp3 @320 kbs):
yandex mediafire cloudmailru ge.tt
Last Updated (Saturday, 14 April 2018 20:02)