Bethel Music – You Make Me Brave (2014)
Bethel Music – You Make Me Brave (2014)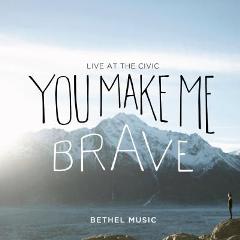 1. Bethel Music & Amanda Cook – You Make Me Brave (Live) (6:06)
2. Bethel Music & Kristene Dimarco – It Is Well (Live) (6:25)
3. Bethel Music & Jenn Johnson – A Little Longer (Live) (7:41)
4. Bethel Music & Kari Jobe – Forever (Live) (11:24)
5. Bethel Music & Jenn Johnson – Joy of the Lord (Live) [Spontaneous] (6:40)
6. Bethel Music & Leah Mari – Anchor (Live) (4:45)
7. Bethel Music & Amanda Cook – Shepherd (Live) (6:10)
8. Bethel Music & Amanda Cook – Wonder (Live) [Spontaneous] (6:31)
9. Bethel Music & Steffany Frizzell Gretzinger – We Dance (Live) (4:41)
10. Bethel Music & Amanda Cook – I Belong to You (Live) (4:48)
11. Bethel Music & Jenn Johnson – Come to Me (Live) (7:42)
12. Bethel Music & Jenn Johnson – We Step into Freedom (Live) [Spontaneous] (1:29)

"How I love You, How I love You, You have not forsaken me, How I love You, How I love You, Here is where I want to be" sings the gorgeous bridge of "Shepherd," led by Amanda Cook. It is one of the standout songs on this compelling collection of songs, You Make Me Brave by Bethel Music, available everywhere April 22. This compilation is unique from the Redding, California based Bethel Church in that it is comprised of songs led by the female worship leaders at a women's conference, including Jenn Johnson, Amanda Cook, Steffany Gretzinger, Kari Jobe, Kristene DiMarco, and Leah Valenzuela.
"You Make Me Brave" led by Amanda Cook is truly an anointed and inspiring song filled with biblical language, "As Your love, in wave after wave, crashes over me, crashes over me, for You are for us, You are not against us, Champion of Heaven, You made a way for all to enter in." You'll be singing the bridge at the top of your lungs along with Amanda, "You make me brave, You make me brave, You call me out beyond the shore into the waves, no fear can hinder now the promises You made."
"I Belong to You" is led by Amanda Cook and reflects her Biblical yearning to know Jesus with these compelling lyrics, "When this life is over, and I stand to see You face to face, There's nothing that I will have wanted, but to be with the One I belong to, Always."
"A Little Longer" and "Come to Me" are beautiful songs led by Jenn Johnson. "I'm in love with You, Jesus my heart burns for You" are the emotional vertical expressions in "A Little Longer." These women all clearly love our Lord and Savior Jesus with all of their hearts, a fact that they are excited to sing about in every song, which is very inspiring.
Johnson proclaims "Let your faith arise, lift up your weary head, I am with you, wherever you go, Come to Me, `cause I'm all you need, Come to Me, I'm everything" sung in the Person of Jesus in "Come to Me." The theme of Jesus being our Anchor and strength is once again captured. I love how Jenn switches to first person and emotionally sings to our Lord, "You are my Anchor in the wind and the rains, You are my steadfast, and I won't be afraid, if my heart and flesh fail me, You're my faithful strength...we come to You, You're everything." The collection closes with a gorgeous spontaneous prayer, "We step into freedom."
Closing Thoughts (Staff Review, NewReleaseTuesday.com): Although the songs were written at different times, the theme of relying on God's strength to make us brave weaves through all of the songs and spontaneous worship moments that all believers need to hear, women and men alike. This album is best described as a worship experience with an ethereal worshipful tone, similar to Kim Walker-Smith and Jesus Culture. These anointed women have consistently impressed me with mature faith and sincere desires to serve Jesus.
Being a Christian father of three young daughters, these songs all reflect the yearning for Jesus to make us brave that I pray for my daughters' to feel in their hearts as well. Every song completely focuses me as a listener on joining in praise, worship and adoration of our beautiful King Jesus, with reminders that the "waves and wind know His Name." Don't miss "You Make Me Brave," "It is Well," "Forever," "Anchor," "Shepherd," "We Dance" and "Come to Me." These stellar songs are excellent reminders to cling to our Anchor, Jesus. ---Kevin Davis, amazon.com
Bethel Music represents the worship music and community of songwriters emerging from Bethel Church in Redding, California. As a group of passionate believers pursuing His presence, our artists and writers seek to capture what we feel God is saying through songs that declare who He is and who we are in Him. We believe that finding fresh expressions of worship for the season is important for the church and to God's heart.
"You Make Me Brave" is a highly anticipated release from Bethel Music. The album debuts original songs as well as several beloved anthems revamped. Featuring artists Kari Jobe, Jenn Johnson, Amanda Cook, Steffany Frizzell Gretzinger, Kristene DiMarco and Leah Valenzuela the strength of the album lies both in its songs and spontaneous moments of worship. The accompanying live videos provide powerful visuals that inspire the worship experience. "You Make Me Brave" sings a message of courage, faith, and victory. --- bethelmusic.com
download (mp3 @320 kbs):
yandex mediafire uloz.to mega 4shared cloudmailru gett
Last Updated (Monday, 30 October 2017 10:27)