Therion - Sirius B (2004)
Therion - Sirius B (2004)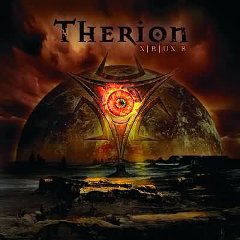 1 	- The blood of king II 	5:45 	
2 	- Zon of the Zun 	5:35 	
3 	- The Khlysti evangelist 	5:38 	
4 	- Dark Venus Persephone 	4:02 	
5 	- Kali yuga [Part 1] 	3:27 	
6 	- Kali yuga [Part 2] 	5:48 	
7 	- The wondrous world of punt 	7:19 	
8 	- Melek Taus 	5:31 	
9 	- Call of Dagon 	4:14 	
10 	- Ziriuz B 	3:43 	
11 	- Voyage of Gurdjieff (The fourth way) 	5:56

    Christofer Johnsson - rhythm guitar, mandolinclassical and choir arrangements
    Kristian Niemann - rhythm and lead guitar, acoustic guitar, mandolin 
    Johan Niemann - bass guitar, mandolin 
+
    Richard Evensand - drums, gong 
    Steen Rasmussen - Hammond organ
    Lars Sømod Jensen - church organ
    Mats Levén - lead vocals 
    Piotr Wawrzeniuk - lead vocals 
    Orchestra: City of Prague Philharmonic Orchestra 
    Choir: Kūhn Mixed Choir 
    Mario Klemens – conductor

Released simultaneously with Lemuria in 2004, Sirius B demonstrates Therion's ability to take their distinctive sound and craft a dynamic, beautiful, and cohesive listening experience brimming with creativity and adventure. It provides all of the aspects of a Therion album that the initiated would expect: Lyrical themes include the standard discourse of mythology, philosophy, and the occult; the atmospheric presence of orchestral instrumentation include strings, low brass, french horn and oboe; and very diverse vocals, mostly choral and operatic deliveries with mixtures of male and female talent. All of the elements in this eccentric concoction take form convincingly around a strong metal backbone and masterfully avoid what would seem to be the recipe for a trainwreck.
Throughout its nearly hour-long duration, this record evokes a feeling of adventure laced with nostalgia. Listening to Sirius B is like witnessing the recounting of an epic journey in which the protagonist travelled far and wide through many soundscapes, meeting many interesting characters, and seeing many breathtaking sights before finally returning home. Take, for example, the middle section of "The Blood of Kingu", the chorus of "Son of The Sun", or the entirety of "Call of Dagon", "Kali Yuga Part 2" and the album's closer "Voyage of Gurdjieff". These moments serve to establish, evolve, and resolve an aural narrative from beginning to end.
Like any lengthy and sophisticated tale, Sirius B effectively utilizes the beginning of the record to introduce the story's themes and set the tone for what is to come with the pounding "The Blood of Kingu" and the uplifting "Son of the Sun". The middle of the album, while perhaps not quite a strong as the beginning or end, evolves an engaging narrative while introducing new ideas, characters, and places without losing momentum or sacrificing the overall tone and focus. The final tracks, "Call of Dagon", "Sirius B", and "Voyage of Gurdjieff" bring the journey to a meaningful and dramatic conclusion, authoring a strong sense of resolution and inducing the tug of nostalgia that comes with seeing an epic journey come to an end.
Therion embrace and effectively apply their orchestral elements, as they provide an eerily mystical and shimmeringly magical quality to the songs that feature them. Strings come and go to soothe between galloping displays of Therion's metal roots, and entrancing oboe solos introduce new themes with captivating effect. This, along with vocal diversity, is perhaps the most defining feature of Therion's sound, and provides a crucial element to how they convey emotion and maintain the cohesiveness of the album.
The vocals of Sirius B are both dynamic and distinctive, providing the other essential element to Therion's sound. Even within a single song, vocal deliveries may move quickly between an ethereal all-female choir to the bombast of a single operatic male voice, only then to slip into a combination of powerful lead female vocals accompanied by a mixed male and female choir. As the album progresses, different vocalists arrive and depart with varying vocal deliveries, much like characters in a story are introduced and fade to the background, only to later come to the fore once again.
Sirius B is an adventure in aural form, thrusting the listener into a story that takes them on a winding journey through space and time. When the adventure comes to an end, a feeling of nostalgic connection to an experience, with characters and vistas heard but never seen, washes over, much like when finally coming upon the final page of an enthralling novel. It's the relief of resolution, but the empty feeling that the story continues on without you. It's the bittersweet feeling of happiness pierced by sadness, of fulfillment leading to emptiness, of meeting ending in departure. It elicits these powerfully conflicting feelings without an explicit narrative, and it does so without all of the relatability and tangibility of a film or the details and complexity of a novel. If a well-packaged, rewarding, and cohesive experience is at least as good as, if not better than, a mere collection of great songs, then you should certainly give yourself a chance to experience Sirius B. --- Dylan Longstreet, sputnikmusic.com
Taki Therion to jest Therion!!! Tak mniej więcej brzmiał mój pierwszy okrzyk po odpaleniu Sirius B. Już od pierwszego kawałka pt. "The Blood Of Kingu" w cudowny sposób wracamy do czasów Vovin i Theli a nawet wcześniej. Świetny metalowy wokal i te gitary. Tutaj nasuwa się skojarzenie z Iron Maiden i Judas Priest, zresztą sam pan Johnsson przyznaje się do tych klasycznych heavy metalowych wpływów. Oczywiście nie może zabraknąć partii chórów, które wspaniale kontrastują z szybką metalową pracą bębnów. "Son Of The Sun" to kolejny bardzo dobry utwór, z niezłym melodyjnym riffem i genialnym refrenem. Tutaj mogą pojawić się również skojarzenia z Nightwish. Oprócz tych kompozycji zachwycają również: "Dark Venus Persephone", obydwie części "Kali Yuga" oraz "The Khlysti Evangelist". Niestety Sirius B posiada też kilka mielizn a tą największą jest chyba "The Wondrous World Of Punt", który prezentuje się dość nijako.
Zastanawiacie się pewnie drodzy czytelnicy dlaczego zdecydowałem się oddzielić Sirius B od drugiej wydanej w tym samym czasie płyty Lemuria. Powód jest prosty, te płyty, mimo że nagrane przez ten sam zespół i w tym samym czasie różnią się, i to znacznie. Sirius B to Therion bardziej heavy metalowy, bardziej melodyjny a tym samym łatwiejszy w odbiorze. Ta łatwość powoduje, że już po drugim przesłuchaniu nucimy refreny i przytupujemy w rytm zwrotek. Podsumowując - świetna metalowa płyta. --- Dominik [Nehamod], metal.pl
download (mp3 @320 kbs):
yandex mediafire ulozto gett bayfiles
Last Updated (Friday, 15 February 2019 17:37)