Comeback Kid – Die Knowing (2014)
Comeback Kid – Die Knowing (2014)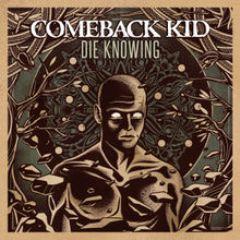 01 – Die Knowing
02 – Lower The Line
03 – Wasted Arrows
04 – Losing Sleep (Feat. Poli Correia)
05 – Should Know Better
06 – I Depend, I Control
07 – Somewhere In This Miserable…
08 – Beyond
09 – Unconditional
10 – Didn't Even Mind
11 – Full Swing (Feat. Scott Wade)
12 – Sink In

    Andrew Neufeld – vocals, guitar
    Jeremy Hiebert – lead guitar, backing vocals
    Kyle Profeta – drums
    Matt Keil – bass, backing vocals
    Stu Ross – rhythm guitar

It has been 4 years since Comeback Kid dropped their last album, Symptoms + Cures, but the boys are finally back with a new offering, and it is a killer! With the perfect marriage of punk and hardcore music, they have released an offering that not only reaffirms why they are an essential band for both genres, but also re-establishes their place as one of the top bands in both genres!
Die Knowing is the band's fifth album and the third one with Andrew Neufeld on vocals. Neufeld has shown a lot of vocal growth since taking over vocal duties a full seven years ago. While some fans still believe Scott Wade was a better vocalist, the track Full Swing will help settle the debate. Both Andrew and Scott collaborate on this track; while Scott produces a stellar performance, he is completely outshone by the rawness and intensity of Neufeld.
This twelve track album creates a perfect journey along a storyboard infused with punk melodies and hardcore crushing riffs. The opening half of the album is a large degree more intense, angry and angsty than the latter half of the album; but that isn't to say that the later portion of the album loses any momentum. The album shows a gradual shift from the anthemic, crushing angst in the beginning towards somewhat brighter, lighter and fun songs at the end.
Drummer, Kyle Profeta, stated on Facebook that he believes this to be his best work; while he might have a point there, he has missed the bigger picture; it might be some of his best work, but it is also certainly the entire band's best work to date! The drumming on the album is frenetic, intense and unrelenting. Between the viciousness of the snare and the pounding of the kick drum, you'd be hard-pressed to find any fault in the drum patterns of this album!
The full time inclusion of Stu Ross in the band adds a new dimension to the guitar sound on this album. The chemistry between Ross and lead guitarist Jeremy Hiebert is tangible as they both fly through some tasty riffs. Contrary to what is generally expected of a hardcore album, the guitar work does not sound overdone; it is completely fresh and synonymous with Comeback Kid. It is pretty obvious that Ross has had his input with the injection of a new energy into the band.
This album has a bit of everything for anyone that is interested in punk or hardcore music. From the crushing sounds of the title track Die Knowing, to the very punk effort of Sink In, it is difficult to find any fault in this album. The ever present gang vocals of Comeback Kid add a fantastic dimension to the songs; while the catchy nature of the songs themselves leave you humming the tracks long after the album has stopped spinning.
All in all, this is an album Comeback Kid can be proud of, and one that fans should be proud to own. The only warning I will to give anyone thinking about listening to this album is to be careful – you won't be able to listen to anything but this album for quite a while! --- musicreview.co.za
download (mp3 @320 kbs):
yandex mediafire uloz.to cloudmailru gett
Last Updated (Wednesday, 03 January 2018 16:42)