Oliver Wakeman & Clive Nolan - Jabberwocky (1999)
Oliver Wakeman & Clive Nolan - Jabberwocky (1999)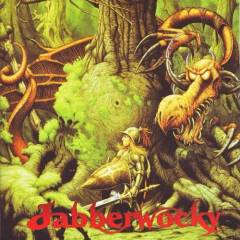 1. Overture [5:57]
2. Coming To Town [2:55]
3. Dangerous World [6:54]
4. The Forest [4:22]
5. A Glimmer Of Light [2:42]
6. Shadows [4:19]
7. Enlightenment [5:23]
8. Dancing Water [4:12]
9. The Burgundy Rose [3:55]
10. The Mission [4:32]
11. Call To Arms [6:37]
12. Finale [1:50]

Musicians:
Oliver Wakeman - keyboards; 
Clive Nolan - keyboards; 
Pete Gee - Fretless bass; 
Ian Salmon - guitar and bass; 
Peter Banks - guitar;
 Jon Jeary - acoustic guitar; 
Tony Fernandez - drums; 
Bob Catley - "The Boy"; 
Tracy Hitchings - "The Girl"; 
James Plumridge - "The Jabberwock"; 
Paul Allison - "The Tree"; 
Rick Wakeman - "The Narrator"

The first thing that jumped to my ears was the fact that I can't ditinguish Oliver form his father. I don't mean the keyboard playing, I mean composing. There's a lot of Criminal records, No earthly connection and 1984 here. Effectively Rick is credited on the album's cover, and having I liked the 3 mentioned albums I can say that this is enjoyable as well, even if it's not adding much to hwat Rick has already done in the past. The concept comes from "through the looking glass". I worked several years in Cheshire and I can appreciate the athmosphere. The less instrumental songs like the first half of Dangerous world, with the very nice voice of Tracy Htchings, are more in Pendragon's mood and this makes this album various enough. If you have room in your storage to retain this disc it's a good addition. ---octopus-4, progarchives.com
Jabberwocky to po prostu ... smok! Taki straszny potwór jak Grendel mniej więcej. Postrach okolic, którego nikt nie może pokonać. A wielu już próbowało! Smok chlubi się tym. Obojętne mu jest czy zjada pielgrzymów, czy rycerzy. "Wszyscy ludzie smakują tak samo", mówi. Ale nie on jest tu główną postacią. Bohaterem jest Chłopiec, który poszukuje naszego smoka, żeby go zgładzić i wspomagany (werbalnie) przez Dziewczynkę w końcu walczy z Jabberwocky'm.
Wspaniała płyta! Kto by pomyślał, że powstała na podstawie króciutkiego (7 strofek) wiersza! A kogo my tu mamy? Kolejna "supergrupa"! Obok niestrudzonego Clive'a Nolana (Pendragon, Arena, Shadowland, Strangers on a Train, itd. itp.!) i syna słynnego Ricka Wakemana - Olivera (który zadebiutował w ubiegłym roku płytą Heaven's Isle) występuje tu cała "plejada" gwiazd: wokaliści Bob Catley (ex Magnum, Hard Rain) - w roli Chłopca, Tracy Hitchings (Landmarq, Strangers on a Train) - jako Dziewczynka, James Plumridge (West End) - jako Smok i Paul Allison (ex Sleepwalker) - Drzewo; aż trzech gitarzystów - Pete Banks (ex Yes), Ian Salmon (Shadowland) i Jon Jeary (Threshold). Na gitarze basowej gra Peter Gee (Pendragon), a na perkusji Tony Fernandez (pałkarz Ricka Wakemana!) Natomiast sam wielki Rick Wakeman udziela się na tej płycie jako narrator. Co za skład! Co za płyta!!!
A muzyka? Jednym słowem - rycerska. Bardzo podniosła - jak gdyby wzięta prosto z jakiegoś filmu o rycerzach. Tylko, że przy tak wspaniałej muzyce nie można by było się skupić na filmie! ;-) ---Kris Kukiełka, artrock.pl
download (mp3 @192 kbs):
yandex mega mediafire ulozto gett
Last Updated (Tuesday, 02 October 2018 22:55)