The Godfathers Of Psychobilly (2012)
The Godfathers Of Psychobilly (2012)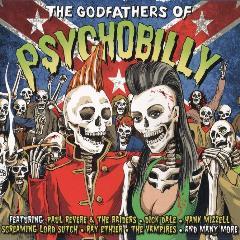 CD1
01. Slave Girl - Ray Ethier
02. Orbit - Paul Revere & The Raiders
03. My Babe - Dale Hawkins
04. Jack The Ripper - Link Wray
05. Stormin'- The Checkers
06. Short Fat Fannie - Ricky Coyne
07. Rompin' - Jerry Warren
08. Nobody Gonna Take My - Red West
09. Crystal Rock - Frankie Gem
10. She's Mine - Johnnie Strickland
11. Casual - The Carnations
12. Hip Hip Baby - Dennis Herrold
13. Shamash - Burt Blanca
14. Midnight Monsters Hop - Jack & Jim
15. Caterpiller Crawl - The Strangers
16. Okie's In The Pokie - J Patton
17. Slinky - Link Wray
18. Rock-A-Bye Baby Rock - C Dycus
19. El Ringo - Wes Dakus
20. Tough Tough Tough - A Anderson
21. Crisis - The Rhythm Rockers
22. One More Chance - Rock-A-Tones
23. Under Water - The Frogmen
24. Sweet Woman - Edwin Bruce
25. She's My Witch - Kip Tyler

CD2
01. Del-Tone Rock - Dick Dale
02. Califf Boogie - The Teen Beats
03. Ain't I'm A Dog - Ronnie Self
04. Riders in the Sky - The Scorpions
05. Let's Go - Billy Eldridge
06. Radar - Link Wray
07. I Wanna Bop - Billy Harlan
08. Rollin' Pin Min - Ricky Coyne
09. Jungle Rock - Hank Mizzell
10. Rattle Shakin' - Mel McGonnigle
11. Rockin' The Blues - The Flames
12. Ramrod - Al Casey
13. You re The One - Thomas Wayne
14. Wild Bird - The Jive-A-Tones
15. Make With The Lovin' - D Herrold
16. Fast Freight - Ritchie Valens
17. Everybody's Trying - Jerry Ross
18. Dixie-Doodle - Link Wray
19. Marlene - The Sonics
20. Janet - Jerry Martin & The Sounds
21. Mimi Jeanie - Mickey Hawks
22. Night Of The Vampire - Moontrekkers
23. Twang - The Cut-Ups
24. Clap Trap - The Vampires
25. Til The Following Night - Screaming Lord Sutch

Psychobilly is a sub-genre that was gradually spawned over decades from a huge number of influences and historical precedents. Besides the obvious Rockabilly origins, there are musical elements of Punk, Surf, 50's Rhythm and Blues, and Hard Country to go with visual and style elements from such disparate sources as 50's and 60's pulp fiction, B-grade sci-fi and horror movies, teen exploitation features and biker flicks.
Not Now records in the U.K. followed up their pretty-darned-good 50 song collection called Roots of Psychobilly with this 50 song bonanza called "Godfathers of Psychobilly" the following year. This one may be even better than the first. Once again, the label shows great taste in selecting 50 songs (spread over two discs) which represent some of the many elements that ended up leading to the development of Psychobilly.
"Godfathers" has fewer well-known titles than the first collection: "Jungle Rock" from Hank Mizzel is about the biggest "hit" here. More than half of these titles are instrumentals: including four from maestro Link Wray (just like the "Roots of Psychobilly" collection). These are usually sax-accompanied, three-chord jaunts through the early Rock sound, but a few could be seen as surf-oriented, such as the Scorpions reverbed interpretation of "(Ghost) Riders in the Sky" or "Underwater" by the Frogmen.
There's a good share of excellent second-tier Rockabilly scattered throughout--such songs as Ronnie Self's "Ain't I'm A Dog", "Hip Hip Baby" from Dennis Herrold, "Marlene" from the Sonics (a Minnesota late-50's Rockabilly act and not the Garage Rock masters called the Sonics from Seattle of the mid-60's) and Connie Dycus's "Rock-A-Bye Rock". There's a bit of more of the horror/novelty type of material here, including two low-rent-sound-effects-laden Joe Meek productions: " `Til The Following Night" from Screamin' Lord Sutch and the Savages, and "Night Of The Vampire" by the Moontrekkers. This collection has been sequenced for a great flow and seems to be free of the flat out awful. It actually holds up better as an overall listening experience than the "Roots of Psychobilly" first volume.
If this musical journey through the untamed and obscure side of late 50's and early 60's Rock-n-Roll sounds like your musical cup of tea, at this price and with this quality, you really can't go wrong with this wide-ranging collection from the fringes of polite society. --- Alan Hutchins, amazon.com
download (mp3 @320 kbs):
Last Updated (Wednesday, 14 November 2018 20:47)