Ray Manzarek - The Whole Thing Started With Rock & Roll And Now It's Out Of Control (1974)
Ray Manzarek - The Whole Thing Started With Rock & Roll And Now It's Out Of Control (1974)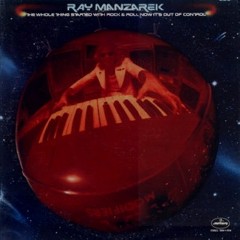 01 - The Whole Thing Started With Rock And Roll Now It's Out Of Control.
02 - The Gambler.
03 - Whirling Dervish.
04 - Begin The World Again.
05 - I Wake Up Screaming.
06 - Art Deco Fandango.
07 - Bicentennial Blues (Love It Or Leave It).
08 - Perfumed Garden.

Personnel: 
Ray Manzarek (vocals, piano, tack piano, celesta, electric piano, Fender Rhodes piano, Clavinet,
 organ, keyboards, ARP synthesizer, string synthesizer); 
Ray Manzarek; Flo & Eddie, Howard Kaylan, Mark Volman (vocals); 
Michael Fennelly, Mark Pines (guitar); 
George Segal (banjo); 
John Klemmer (saxophone); 
Gary Mallaber (vibraphone, drums, percussion); 
Paul Davis , Steve Forman (percussion); 
Patti Smith (vocals); 
Joe Walsh (guitar); 
Dick Wagoner (guitar).

Ray Manzarek's 1974 follow-up to his excellent The Golden Scarab (A Rhythm Myth) from the same year finds producer Bob Brown stepping into Bruce Botnick's shoes. Over 40 minutes of music from the Doors' keyboard player expands the excellent concepts initiated by the Doors' Other Voices and Full Circle albums, with the thread continuing on the aforementioned The Golden Scarab. The title track was composed by Manzarek, manager Danny Sugarman, and journeyman guitarist Dick Wagner, fresh from his stint in the Lou Reed's Rock & Roll Animal Band and right before he would co-author hits by Alice Cooper. Flo & Eddie provide backing vocals on the two-minute-and-33-second title song, the shortest on the disc. "I Wake up Screaming" resembles music from An American Prayer, and indeed, it's a poem by James Douglas Morrison featuring an early performance by poetess Patti Smith. With so much depth and intrigue here, Polygram Records deciding to take three tracks from this album and tag them on the end of a 1994 re-release of The Golden Scarab deprived Manzarek and Doors fans of the full scope of this work. The complete sessions from both projects in one package would be appropriate. "Bicentennial Blues" could be an outtake from Other Voices and features Manzarek at his most Doorsy, especially when the long keyboard solo in this nearly eight-minute track gets the tonal quality and riffs from "Light My Fire." Had the three Doors continued their musical journey together, this important music may have found a wider audience -- it definitely grooves. Where Larry Carlton performs on The Golden Scarab (A Rhythm Myth), Eagles/James Gang guitarist Joe Walsh shows up here, as do Steve Forman -- percussion player with Marty Balin among many others -- and Paul Davis. It's an interesting musical mix, with Manzarek indulging in all sorts of keyboard instruments and synthesizers. He's flanked by enough equipment on the back cover to stock a music store, but refrains from drenching the disc in those sounds, as Gary Wright would with 1976's Dream Weaver. Rock meets jazz here on "Perfumed Garden" and other tracks, providing a unique glimpse of one of rock & roll's most enduring characters. "The Gambler" moves with authority, while the quirky instrumental "Whirling Dervish," co-written with Paul Davis, keeps the momentum and is chock-full of the creative sparks Manzarek always provides. "Begin the World Again" is thought-provoking and entertaining, as is this entire disc. ---Joe Viglione, Rovi
download (mp3 @320 kbs):
yandex mediafire mega ulozto gett
Last Updated (Saturday, 24 November 2018 22:03)