Ray Wilson - Song For A Friend (2016)
Ray Wilson - Song For A Friend (2016)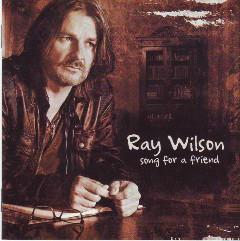 A1 	Old Book On The Shelf	4:37
A2 	Over My Dead Body	4:29
A3 	Cold Light Of The Day	3:57
A4 	Song For A Friend	4:27
A5 	How Long Is Too Long	4:29
B1 	Not Long Till Springtime	4:21
B2 	Backseat Driving	3:38
B3 	Parallel Soul	3:27
B4 	Tried And Failed	3:43
B5 	High Hopes	6:11

Acoustic Guitar, Electric Guitar, Slide Guitar – Uwe Metzler
Backing Vocals – Steve Wilson
Bass – Lawrie MacMillan
Drums – Nir Z (tracks: A5)
Guitar [Atmosphere] – Ali Ferguson
Guitar [Solo] – Ali Ferguson (tracks: A3), Uwe Metzler (tracks: B5)
Lead Vocals – Ray Wilson
Percussion – Mario Koszel
Piano, Mellotron, Organ [Hammond] – Kool Lyczek
Tenor Saxophone – Marcin Kajper (tracks: B4)

Former Genesis frontman Ray Wilson was already forged a unique place in progressive rock history. The Poland-based singer stepped in the big shoes of Phil Collins after Collins decided to make his solo career his full time job. Though Wilson's tenure with the band was brief, his work on the criminally overlooked Genesis album Calling All Stations and the subsequent European tour proved Wilson's craftsmanship and meddle.
Ray Wilson's new release, Songs for a Friend, is dedicated to his close confidant James Lewis who passed away last yeaar. Due on June 3, 2016, it shows a different, and decidedly personal side to Wilson. Here, he forgoes the production trappings of progressive rock while retaining the illustrative lyrical foundation. Wilson has stated the album is meant to encapsulate the journey of life.
"Old Book on The Shelf," the opening track, quietly paints the picture of self-reflection and a man slowly reexamines his life and fights for self-acceptance. The theme is continued in "Over My Dead Body." Lyrically poignant, the song finds a protagonist confronting demons of the past even as he tries to move on into the future. Wilson's vocals are strong, yet sensitive, as he freely works his wide range. Former Stiltskin bandmate, Uwe Metzler's acoustic and slide guitar flow perfectly with the piano of Kool Lyczek over the foundation provided by drummer Nir Z and Lawrie McMillian on bass.
"How Long is Too Long" offers Ray Wilson an opportunity to confront the familiar obstacles presented by failure and success. In the song, the singer engages in the search for a greater meaning which makes the pain worth enduring. Wilson employs a more electric backing for this track to effectively help build the tension.
The album closes with a cover of Pink Floyd's "High Hopes," building on the thematic scene Wilson has established with writing collaborator Uwe Metzler. Album mixer Yogi Lang fashions an acoustic wall of sound which enhances the song's lyrical base. Building on that foundation, Wilson's voice floats across the theme of loss, searching for a transformation from one's current state to a new and higher plane.
Rock music doesn't get more effective at evoking that transformative power than Ray Wilson's Song for a Friend. ---Preston Frazier, somethingelsereviews.com
Nasz szkocki ziomal z Wielkopolski nie przestaje zadziwiać. Ukazała się właśnie nowa, pięknie wydania i wspaniale brzmiąca, solowa płyta Raya Wilsona zatytułowana "Song For A Friend". Powstała z inspiracji licznych akustycznych koncertów artysty, w trakcie których pomiędzy piosenkami zwykł on opowiadać historyjki o życiu, o muzyce, o doświadczeniach, o mniej lub bardziej fikcyjnych postaciach. Taka jest też ta płyta: to zbiór krótkich, utrzymanych w intymnej atmosferze piosenek afirmujących potęgę różnych aspektów ludzkiego życia, a w szczególności zadedykowana nieżyjącemu przyjacielowi artysty, Jamesowi Lewisowi.
"Życie to podróż" – zdaje się mówić Ray. Każdy koncert czy każda kolejna płyta to także podróż. Przystanek na drodze życia, który pomaga zwalczać wewnętrzne demony i pobudza emocje. Nie pozwala rezygnować z marzeń, pomaga nie tracić nadziei, staje się sprzymierzeńcem w dążeniu do szczęścia i pokoju w codziennych trudach. O tym wszystkim Ray śpiewa w swoich nowych piosenkach. A śpiewa tak jak tylko on potrafi. Jego niski, lekko "zachmurzony" głos dodaje nutki intymności tym i tak już bardzo osobistym piosenkowym historiom stanowiącym jeden, trwający trzy kwadranse, bardzo spójny muzyczny ciąg. I to spójny do tego stopnia, że długimi chwilami odnosi się wrażenie, że album "Song For A Friend" wypełnia zaledwie jeden długi utwór…
Generalnie jest to smutna płyta. Począwszy od utrzymanej w kolorze sepii okładki, poprzez wszystkie utwory utrzymane w tonacji moll, aż po smutne i refleksyjne teksty. Ale często jest tak, że to co w muzyce smutne okazuje się piękne. Tak właśnie jest z materiałem wypełniającym program albumu "Song For A Friend". Pięknieje on z każdym kolejnym przesłuchaniem, a śpiewane przez Wilsona historie w sposób naturalny wydają się zaczynać żyć własnym życiem w umyśle odbiorcy.
Ciekawostką jest to, że o ile Wilson, co zrozumiałe, jest autorem wszystkich (za wyjątkiem jednego, ale o tym za chwilę) tekstów na płycie, to całą muzykę (też z jednym wyjątkiem) skomponował jego wieloletni przyjaciel z grupy Stiltskin, Uwe Metzler. To właśnie on przyniósł Rayowi szkice melodii, które stały się początkiem jego kolejnej muzycznej podróży. Podróży, podczas której szkocki muzyk prowadzi słuchacza poprzez meandry uczuć towarzyszących każdemu śmiertelnikowi w codziennym życiu: zazdrości, przemijania, gniewu, bólu, żalu, rozczarowania, przeznaczenia, smutku. I miłości. A także nadziei. Bo jakże inaczej wytłumaczyć fakt, że Ray Wilson zdecydował się umieścić na samym końcu swojej płyty własną wersję flagowego hymnu grupy Pink Floyd, "High Hopes"? Nostalgia, żal za minionym czasem i za tymi, którzy już odeszli? Zdecydowanie tak. A do tego wszystko opowiedziane jest w autentycznie piękny sposób… The grass was greener, the light was brighter… ---Artur Chachlowski, mlwz.pl
download (mp3 @320 kbs):