Storm Corrosion - Storm Corrosion (2012)
Storm Corrosion - Storm Corrosion (2012)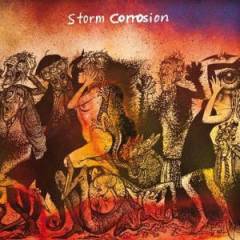 01. Drag Ropes (9:52)
02. Storm Corrosion (10:12)
03. Hag (6:28)
04. Happy (4:53)		play
05. Lock Howl (6:09)
06. Ljudet Innan (10:20)

Drums – Gavin Harrison 
Percussion – Gavin Harrison
Performer – Mikael Åkerfeldt, Steven Wilson 
Woodwind – Ben Castle 
The London Session Orchestra

Picture: the main men of two of modern prog-metal's overlords, Porcupine Tree and Opeth, drinking wine, eating chocolate, and making music together. A fanciful vision, perhaps; but that's exactly how Storm Corrosion came to life. When old friends and long-time collaborators Steven Wilson and Mikael Åkerfeldt finally sat down to make a record together, this magnificently retro album was the result.
Opener Drag Ropes is just shy of the 10-minute mark but not a second is wasted, with both men assuming vocal duties over a shady shimmer of strings, sporadically tinkled piano and unorthodox guitars.
There's an eerie gloom about the music that harks back to the drug-fuelled experimental avant-gardism of the 70s. You have to immerse yourself completely before any understanding of what this collective mind is trying to relay can be achieved. That no drugs were used in its creation makes these arrangements all the more curious.
One thing is clear immediately: Storm Corrosion is not a metal album. But the signs have been there. Swedish outfit Opeth are pioneers in the death metal scene, yet their sound progressed to the point where 2011's Heritage surprised even hardcore fans with its clean vocals.
That album, along with Wilson's gentle second solo album, Grace for Drowning – equally baffling to Porcupine Tree fans used to crunching riffs – were written during the same period that Storm Corrosion came together. All three collections carry the same sombre manifesto, declaring poignant moments of near silence and gentle crescendos that often ebb away before reaching any discernable climax. Restraint is the most tangible aspect to these records.
With the title track also being the name of this album and the band, it's something of a distillation of the essence of this project. With placid flute, it floats along unapologetically without any pressure to add drama. If it seems too subtle for some listeners, soon enough they'll be stirred from slumber by the track's jarring, discordant ending. It's a song of so many disparate pieces – pieces that initially don't seem to fit. Given time, however, the music speaks another language.
Bonkers and beautiful, Storm Corrosion leaves one wondering what this duo will come up with next. But such is its unexpected design that predictions should be dashed, as what comes next will be far from anything you could dream. ---Raziq Rauf, BBC Review
Storm Corrosion to wspólny projekt Stevena Wilsona (m.in. Porcupine Tree) oraz Michaela Akerfeldta (m.in. Opeth). Muzycy rozpoczęli swą współpracę ponad 10 lat temu przy komponowaniu muzyki do albumu Opeth pt. Blackwater Park. Okazało się, że artystom nie tylko świetnie razem się pracuje, ale mają dodatkowo podobne poglądy muzyczne, inspiracje i cieszą się wzajemną sympatią, stąd szybko padł pomysł nagrania wspólnego krążka. Musiało minąć jednak sporo czasu, kiedy te zamiary zostały wprowadzone w życie. W międzyczasie Steven Wilson wydał album Grace for Drowning, a Opeth Heritage, które silnie nawiązywały do muzyki epoki lat 70-tych. Dla wielu słuchaczy szokiem było odejście muzyków od nowoczesnego progresywnego rocka/metalu prezentowanego wcześniej przez zespoły Akerfeldta i Wilsona, a zapowiedzi nagrania przez duet "antymetalowego" albumu jedynych radowały, drugich wprawiały w zdziwienie. Czy album jest nawiązaniem do muzyki ery King Crimson, Genesis czy Caravan? Z pewnością. Z drugiej strony jednak słychać, że mimo wyczuwalnej aury ducha twórczości najlepszych lat muzyki progresywnej, jest to w stu procentach autorskie, pozbawione nawet nieumyślnego kopiowania wydawnictwo muzyczne. ---za-progiem.blogspot.com
download (mp3 @VBR kbs):
yandex mediafire ulozto gett bayfiles
Last Updated (Thursday, 24 January 2019 22:03)