Warren Haynes - Live at The Moody Theater (2012)
Warren Haynes - Live at The Moody Theater (2012)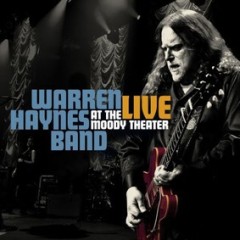 CD1:
01 – Man in Motion
02 – River's Gonna Rise
03 – Sick of My Shadow
04 – A Friend to You
05 – On a Real Lonely Night
06 – Invisible
07 – Take a Bullet		play
08 – Hattiesburg Hustle
09 – Everyday Will Be Like A Holiday

CD2:
01 – Frozen Fear		play
02 – Dreaming The Same Dream
03 – Pretzel Logic
04 – Fire In The Kitchen
05 – A Change is Gonna Come
06 – Spanish Castle Magic
07 – WHB Intro
08 – Tear Me Down
09 – Your Wildest Dreams
10 – Soulshine

Line-up:
Warren Haynes - Guitar/Vocals
Alecia Chakour - Vocals/Tambourine
Nigel Hall - Keyboards/Vocals
Ron Holloway - Tenor Saxophone
Ron Johnson - Bass
Terrence Higgins - Drums
Grooveline Horns
Ian McLagan – Keyboards

Warren Haynes is a generation-spanning guitar hero; he wasn't out of grade school when some of his best-known collaborators were at the peak of their fame, but he's earned a powerful reputation for his fiery guitar work, steeped in blues and Southern rock traditions, and has distinguished himself as a songwriter, bandleader, and solo artist as well as a gifted sideman. Haynes was born in Asheville, North Carolina on April 9, 1960, and he developed a taste for soul and R&B at an early age from older brothers who listened to Otis Redding, Wilson Pickett, and Smokey Robinson, while young Warren would spend hours singing along with their records. When he was 12, Haynes got his first guitar, and by 14 he was playing parties and sitting in with the house band at a local pizza parlor. Haynes became a serious Eric Clapton fan, and studying his work led him deeper into the classic blues sounds that influenced the British guitar hero.
In his late teens, after short stays in a number of local bands, Haynes landed a gig with a group called Ricochet, and began playing North Carolina clubs on a regular basis. One evening, Mickey Hayes, who played bass for outlaw country star David Allan Coe, caught Ricochet and was impressed with the band's lead guitarist, and when Coe's guitarist dropped out of the group shortly afterwards, Hayes recommended Haynes for the gig. Haynes played with Coe from 1980 to 1984, touring frequently and appearing on three of Coe's albums, before Haynes moved on to a band of his own, Rich Hippies, with Hayes on bass.
After a short spell with blues journeymen the Nighthawks, in 1988 Haynes was invited to join the band of former Allman Brothers guitarist Dickey Betts, who had met Haynes through their mutual friend Coe; Haynes appeared on Betts' album Pattern Disruptive. In 1989, Betts and Gregg Allman re-formed the Allman Brothers Band, and Haynes was brought aboard as their guitarist. Haynes spent eight years touring and recording with the Allman Brothers, and in 1991 formed the first edition of the Warren Haynes Band to play gigs during his time off from the Allmans; in 1993 Haynes also cut his first solo album, Tales of Ordinary Madness, which was produced by Chuck Leavell. Haynes had also been working on his songwriting, which brought him a solid payday in 1990 when Garth Brooks had a hit single with a tune Haynes co-wrote, "Two of a Kind, Working on a Full House."
In 1994, Haynes broke up the Warren Haynes Band and formed Gov't Mule, a power trio featuring Allman Brothers bassist Allen Woody and drummer Matt Abts; they released their self-titled debut album in 1995. In 1997, Haynes left the Allman Brothers to make Gov't Mule his first priority, but the trio was sidelined in 2000 by the death of Allen Woody, and Haynes soon rejoined the Allman Brothers Band. For a while, Haynes and Abts kept Gov't Mule going as a two-piece, playing acoustic shows in duo format and recording a pair of albums, 2001's The Deep End, Vol. 1 and 2002's The Deep End, Vol. 2, in which a variety of well-known bassists and guest artists sat in with Haynes and Abts. In 2003, Gov't Mule once again had a steady lineup as bassist Andy Hess and keyboardist Danny Louis joined the group.
Meanwhile, in between dates with the Allmans and Gov't Mule, Haynes had been playing with Grateful Dead bassist Phil Lesh in his solo group Phil Lesh & Friends, and in 2004, when the surviving members of the Grateful Dead began touring as the Dead, Haynes was recruited to play guitar on their first road trip; he was brought back for the Dead's 2009 tour. Haynes also re-formed the Warren Haynes Band for various one-off shows, and Gov't Mule continued on with bassist Jorgen Carlsson after Andy Hess left the band. During his downtime from the Allman Brothers and Gov't Mule, Haynes kept busy playing on-stage and in the studio with a remarkable variety of artists, from Blues Traveler and Dave Matthews to Son Seals and John Mayall (and even guesting on a Corrosion of Conformity session). In 2011, Haynes looked back at his roots in Southern soul with his album Man in Motion, recorded for the reactivated Stax label and featuring accompaniment from Ian McLagan, Ivan Neville, and George Porter, Jr. This was followed by a triple-disc (two-CD-plus-DVD) Live at the Moody Theater in 2012. --- Mark Deming, All Music Guide
download (mp3 @VBR kbs):
yandex mediafire ulozto gett bayfiles
Last Updated (Friday, 29 March 2019 18:27)