Early Girls Vol.4 2005 (2008)
Early Girls Vol.4 2005 (2008)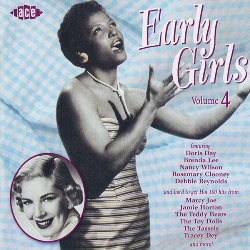 Volume 4: 2005

01. Brenda Lee – Dum Dum
02. Nancy Wilson – (You Don't Know) How Glad I Am
03. LaVern Baker – I Cried A Tear
04. Annette With The Afterbeats – Tall Paul
05. The McGuire Sisters – Sincerely
06. Doris Day – Secret Love
07. Sue Thompson – Sad Movies (Make Me Cry)
08. The Teddy Bears – Oh Why
09. Debbie Reynolds – Tammy
10. Georgia Gibbs – Tweedle Dee
11. Annie Laurie – It Hurts To Be In Love
12. Theola Kilgore – The Love Of My Man
13. The Cookies – Don't Say Nothin' Bad (About My Baby)
14. Priscilla Wright With Don Wright & The Septette – The Man In The Raincoat
15. Betty Johnson – Little White Lies				play
16. Bonnie Lou – Daddy-O
17. The Essex Featuring Anita Humes – A Walkin' Miracle
18. Jamie Horton – My Little Marine
19. Jeanne Black – He'll Have To Stay
20. Marcy Joe – Ronnie
21. Patience & Prudence – Gonna Get Along Without Ya Now	play
22. Anita Bryant – Paper Roses
23. The Tassels – To A Soldier Boy
24. Tracey Dey – Teenage Cleopatra
25. The Toy Dolls – Little Tin Soldier
26. Rosemary Clooney – This Ole House
27. Little Eva – Keep Your Hands Off My Baby
28. Mary Ann Fisher – I Can't Take It

This impressive collection of recordings by female singers, laid down in the late fifties and early sixties, is the fourth volume in the series. It seemed for a long time that there would only be three volumes but I'm glad that the record label extended the series. With Brenda Lee (Dum dum), Doris Day (Secret love), Rosemary Clooney (This old house), Little Eva (Keep your hands off my baby) and Nancy Wilson (You don't know how glad I am), there are plenty of big names here although this compilation will mainly appeal to those looking for more obscure material.
Other famous songs include Sincerely (McGuire sisters), Sad movies (Sue Thompson), Paper roses (Anita Bryant) and Tammy (Debbie Reynolds). Of course, many people now associate Paper roses with Marie Osmond who had a major international hit with her cover of it in the seventies. Of the others, A walking miracle (The Essex) became an international hit in the seventies for Limmie and the family cooking while Gonna get along without you now (Patience and Prudence) was also an American hit for Teresa Brewer in the fifties and a British hit for Viola Wills in the seventies. Another song that may sound familiar is He'll have to stay (Jeanne Black), which is a riposte to Jim Reeves who sang He'll have to go.
You are likely to recognize the Teddy Bears, represented here by an obscure song (Oh why) rather than their classic song (To know him is to love him) which didn't feature in any of the earlier volumes either. You might also recognize one or two other names such as the Cookies and Lavern Baker but most of the other tracks are by long-forgotten one-hit wonders. As with the earlier volumes, it's great to find these songs available again.
If you are interested in female singers of the era and you're looking for less obvious material, you should check this out.
What can you say about a compilation that follows Rosemary Clooney with Little Eva, and LaVern Baker with Annette Funicello? You can say it is the fourth installment of Ace's entertaining Early Girls series. This volume focuses on chart hits between 1954 and 1964, and isn't afraid to include anyone though most of the artists are straight pop like Patience and Prudence, Doris Day, Debbie Reynolds, and the McGuire Sisters. There are also girl groups (the Cookies, the Essex), unknown R&B singers (Theola Kilgore, Annie Laurie), sweet teenagers (Marcy Jo, Jamie Horton), country crooners (Sue Thompson) and untamed forces of nature (Brenda Lee). The volume strikes a nice balance between well-known artists and obscurities, the highlights of the disc come from both camps. From the former are Brenda Lee's knock-out novelty "Dum Dum," the Cookies candy kissed "Don't Say Nothin' Bad (About My Baby)," Nancy Wilson's " (You Don't Know) How Glad I Am," Patience and Prudence's perky "Gonna Get Along Without You Now"; from the latter are Tracey Dey's silly but fun "Teenage Cleopatra," Theola Kilgore's "The Love of My Man," the Toy Dolls' "Little Tin Soldier" and best of all from a woman who managed to be the paramour of both Ray Charles and Little Jimmy Scott, Mary Ann Fisher's absolutely fierce R&B howler "I Can't Take It." Overall the disc may lean a bit heavily on the orchestras and schmaltz but if you can stand it, Early Girls, Vol. 4 is a fun and sweet trip through an oft-ignored area of American pop. ---Tim Sendra
download (mp3 @320 kbs):
Last Updated (Tuesday, 30 January 2018 22:26)