Early Girls Vol.2 1997 (2008)
Early Girls Vol.2 1997 (2008)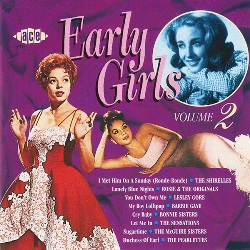 Volume 2: 1997

01. Barbie Gaye – My Boy Lollipop
02. The Exciters – Tell Him
03. Ruby & The Romantics – Our Day Will Come
04. The Secrets – Boy Next Door
05. The Pips – Everybeat Of My Heart
06. Lesley Gore – You Don't Own Me
07. Terry & The Tunisians – The Street
08. Marcie Blane – Bobby's Girl
09. The McGuire Sisters – Sugartime
10. The Bonnie Sisters – Cry Baby
11. Patience & Prudence – Tonight You Belong To Me	play
12. The Raindrops – Kind Of Boy You Can't Forget
13. Peggy Lee – Fever
14. Dinah Washington – September In The Rain
15. Damita Jo – I'll Save The Last Dance For You
16. April Stevens – Teach Me Tiger
17. Ann-Margret – I Just Don't Understand
18. The Shirelles – I Met Him On A Sunday (Ronde Ronde)
19. Rosie & The Originals – Lonely Blue Nights
20. Babs Tino – Forgive Me (For Giving You Such A Bad Time)
21. Kathy Young & The Innocents – A Thousands Stars
22. The Sensations – Let Me In
23. The Chantels – Well, I Told You
24. The Hearts – Lonely Nights
25. The Pearlettes – Duchess Of Earl
26. The Blossoms – Move On					play
27. Gladys Knight & The Pips – Letter Full Of Tears
28. Timi Yuro – What's A Matter Baby (Is It Hurting You)

This is a delightful 28-track compilation encompassing solo artists, girl groups and male backing groups fronted by a female lead singer. This second volume plows turf similar to the first, with an emphasis on Hot 100 hits like "Tell Him" by the Exciters, "Our Day Will Come" by Ruby and the Romantics, "Every Beat of My Heart" by the Pips, "Bobby's Girl" by Marcie Blaine, "A Thousand Stars" by Kathy Young, "Let Me In" by the Sensations, "Tonight You Belong to Me" by Patience and Prudence, and "You Don't Own Me" by Lesley Gore. But just as important to the big picture are left-field delights like Barbie Gaye's 1956 original of "My Boy Lollipop," Rosie and the Originals' Highland Records version of "Lonely Blue Nights," Terry and the Tunisians' "The Street," Babs Tino's "Forgive Me (For Giving You Such a Hard Time)" and Ann-Margret's "I Just Don't Understand," replete with early fuzztone guitar, backup from the Jordanaires and harmonica from Charlie McCoy. Selections from Peggy Lee ("Fever"), the Raindrops ("The Kind of Boy You Can't Forget"), the McGuire Sisters ("Sugartime"), the Bonnie Sisters ("Cry Baby"), April Stevens ("Teach Me Tiger"), and the Shirelles ("I Met Him On a Sunday") round out this excellent -- though wildly scattershot -- package. ---Cub Koda, All Music Guide
While the song selection on this second volume is not as strong as volume one, this UK Ace release still makes a fine companion to Rhino's Best of the Girl Groups series. Factor in that this single-disc compilation has 28 songs (only two of which appear on the Rhino series) and this is a real bargain.
Like volume one, there are a few Fifties selections: the McGuire Sisters No. 1 smash "Sugartime" (1958), the No. 4 hit "Tonight You Belong to Me" (1956) by Patience and Prudence, the Bonnie Sisters 1956 version of "Cry Baby" (not the 1963 cover version by Garnett Mimms), and Peggy Lee's sultry reading of the Little Willie John classic, "Fever," from 1958.
Lee, who sang with Benny Goodman in the Forties, on the surface seems something of an odd choice, but hers is the definitive version of this song. Dinah Washington, who sang with Lionel Hampton in the Forties, also makes an appearance with "September in the Rain" from 1961.
Volume two also features more obscure artists like Babs Tino ("Forgive Me"), Terry and The Tunisians ("The Street"), Barbie Gaye ("My Boy Lollipop"--not the Millie Small hit version), the Hearts ("Lonely Nights"), the Pearlettes ("Duchess of Ear"), the Blossoms ("Move On"), and April Stevens without her brother Nino Tempo ("Teach Me Tiger").
There are also hits that rarely get anthologized like "The Boy Next Door" (No. 18) by the Secrets, "What's a Matter Baby (Is It Hurting You) (No. 12) by Timi Yuro, "I'll Save the Last Dance for You" (No. 22) by Daminta Jo, and "I Just don't Understand" (No. 17) by movie starlet Ann-Margret.
Then there are the big hits like Ruby & the Romantics' No. 1 "Our Day Will Come," The Pips' first Top Ten from 1961 "Every Beat of My Heart," Marcie Blane's "Bobby's Girl," and the Sensations' "Let Me In."
If you love the girl group sound of the late-Fifties and early-Sixties, you can't go wrong with this second installment. And as one of England's premier re-issue labels, Ace provides excellent sound and informative liner notes on each of the songs and the artists. RECOMMENDED ---Steve Vrana (Aurora, NE)
download (mp3 @320 kbs):
Last Updated (Tuesday, 30 January 2018 22:23)