Hawk Nelson – Christmas (2011)
Hawk Nelson – Christmas (2011)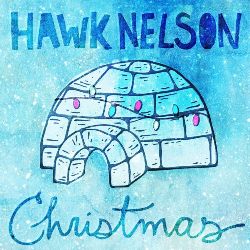 01 - Hark The Herald Angels Sing 
02 - The Wassail Song 
03 - Up On The Housetop 
04 - The Holly And The Ivy			play 
05 - Joy To The World 
06 - I Saw Three Ships 
07 - Silent Night

Musicians:
    Jason Dunn – lead vocals 
    Daniel Biro – bass, backing vocals 
    Jonathan Steingard – guitar, backing vocals 
    Justin Benner – drums 

Hawk Nelson is a Christian rock band from Peterborough, Ontario. The band has become very popular in the Christian music scene and was voted "Favorite New Artist" by CCM Magazine in their February 2006 Reader's Choice Awards. In 2006 Hawk Nelson won a No. 1 spot on VH1's top 20 video countdown with "The One Thing I Have Left" music video.
This is hardly Hawk Nelson's first crack at making Christmas music, as they once came out with the four song Gloria EP and have put a couple songs on samplers over the years, but Hawk Nelson Christmas is the largest collection of Hawk Nelson Christmas songs in one place to date and features all new songs.
Hawk Nelson Christmas starts off briskly with a pop punk version of "Hark The Herald Angels Sing", a quick start to an album that runs incredibly short for having seven tracks on it. "The Wassail Song" is an incredibly ridiculous song that sounds more like a joke than anything, but is a fun time with a hint of the Celtic pop punk heard on vocalist Jason Dunn's side project The Dunn Boys. After that, you might as well break out your banjos and pick and strum along with Hawk Nelson on their next song, "Up On The Housetop", yet another goofy track detailing a lot of the silly traditions surrounding the holiday.
"The Holly And The Ivy" give us a respite from the silliness for a more reflective Christmas ballad, before a crazy round of "Joy To The World" that ends in a purposeful disaster. "I Saw Three Ships" is yet another Celtic pop punk song that will get you dancing, before the EP closes with the old favorite "Silent Night".
Hawk Nelson Christmas is a fun and wacky adventure that generally has more celebratory songs for a Christmas party than it has tracks for those who want to quietly observe the traditions of the holiday. --- christianmusiczine.com
download (mp3 @VBR kbs):
Last Updated (Friday, 13 April 2018 19:46)