Paul Kelly - Seven Sonnets & A Song (2016)
Paul Kelly - Seven Sonnets & A Song (2016)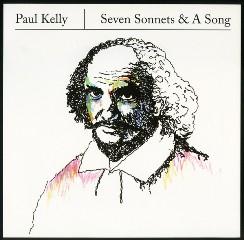 1 	Sonnet 138 	2:39
2 	Sonnet 73 	1:53
3 	Sonnet 18 	3:17
4 	My True Love Hath My Heart 	2:44
5 	Sonnets 44 & 45 	3:11
6 	Sonnet 60 	3:25
7 	O Mistress Mine (Clown's Song From Twelfth Night) 	2:06

Acoustic Guitar, Vocals – Paul Kelly
Acoustic Guitar, Electric Guitar – Ashley Naylor
Double Bass, Bass Guitar – Bill McDonald
Drums – Peter Luscombe
Piano, Vibraphone [Vibes], Organ, Mellotron – Cameron Bruce
Harmony Vocals – Alice Keath, Linda Bull
Pedal Steel Guitar – Lucky Oceans
Banjo, Vocals – Alice Keath
Cello – Charlotte Jacke
Viola – Leah Zweck
Violin – Aaron Barnden
Tambourine – Peter Luscombe
Vocals – Vika Bull
Autoharp – J. Walker
Electric Guitar, Harmony Vocals – Dan Kelly

Paul Kelly is one of our most brilliant songwriters in large part because he is so courageous in taking an unconventional approach to his creative endeavors. In the last few years alone, since his last recording of original material under his own name, Spring And Fall (Dramatico, 2012) he's undertaken a tour in which he's performed his entire discography in chronological order, overseen and participated in homage to r&b in the form of The Merri Soul Sessions (Cooking Vinyl, 2014) and, in this year alone, released two wildly divergent projects: Seven Sonnets and a Song finds the Australian interpreting the works of Shakespeare in a musical setting and Death's Dateless Night is a collaboration with multi-instrumentalist and kindred spirit Charlie Owen in which the two directly address mortality in no uncertain terms, using songs as filters to alternately sharpen the confrontation(s) and cushion the blow(s).
Only a truly great songwriter knows (intuitively) that great poetry contains its own intrinsic musicality, so in a sense, Seven Sonnets & A Song is almost an inevitable entry in Paul Kelly's discography, though its conception and execution—in a remarkably quick turnaround considering sessions for the album were conducted as late as December of 2015 with release in summer of 2016—begs the question why no one's done this before. But then, it's Kelly's loyalty to his muse and confidence in his inspiration that turns "Sonnet 138" into something of a torch song and "Sonnet 18" into a quasi-bluegrass cum Celtic reel. And for those who never thought you could sing along to Shakespeare, please be advised the latter is just that infectious, as much so as "My True Love Hath My Heart" is the definition of quiet, bittersweet yearning. A corollary pleasure to hearing Seven Sonnets & A Song is contemplating what the participating musicians sensed in these sessions, not only in playing along to the words of the great Bard, but hearing Vika Bull sing to naturally and tunefully on the aforementioned latter number, while Kelly vocalizes equally mellifluously everywhere else here. That this woefully short album ends on the logical but no less startling note of "Oh Mistress Mine" belies the depth of thought and emotion the record contains. ---Doug Collette, allaboutjazz.com
Inspired by the artist's love for the works of William Shakespeare, Seven Sonnets & A Song is a "mini-album" that finds Kelly singing six Shakespeare sonnets with Australian vocalist Vika Bull taking the lead on "My True Love Hath My Heart," written by Shakespeare's contemporary Sir Philip Sidney.
Hearing Shakespeare paired with pedal steel, double bass, harmonica and banjo may sound surprising, but once you actually listen, you'll realize the arrangements work (and work successfully) - and that is a direct result of the creativity and vision of Kelly, who makes the bard's words accessible with gracefully layered melodies and warm, understated vocals. ​
Opening piece "Sonnet 138" is ethereal and jazzy, "Sonnet 73" evokes a 1970's folk feel and "Sonnet 18" ("Shall I compare thee to a summer's day?") which begins acapella beautifully segues into a work that is spacious and string-filled. The album is rounded out by the sparse beauty of "Sonnets 44 & 45," the atmospheric, slightly volatile "Sonnet 60" (which is performed semi-spoken) and the gentle guitar and harp permeating "O Mistress of Mine" from Twelfth Night.
Kelly notes, "Just about anything you want to say, Shakespeare's said it already." However, as he proves in Seven Sonnets & A Song, those words can be interpreted such that we see, hear and appreciate them in a whole new way and that is all due to Kelly who once again demonstrates why he is one of the most beloved artists in Australia and beyond. ---thedailycountry.com
download (mp3 @320 kbs):