Diesel – Greatest Hits Live (2011)
Diesel – Greatest Hits Live (2011)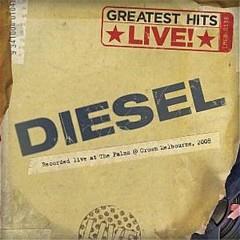 01 – Don't Need Love
02 – Masterplan
03 – 15 Feet Of Snow
04 – Days Like These
05 – Crimson Man					play
06 – Need Your Fire
07 – Never Miss Your Water
08 – Lay Down Here
09 – Love Junk
10 – Tip Of My Tongue
11 – Come To Me
12 – Cry In Shame					play
13 – I Can't Stand The Rain
14 – Steal My Sunshine
15 – Man Alive

Musicians: 
Johnny Diesel (vocals, guitar); 
Bernie Bremond (saxes, backing vocals); 
Yak Sherrit (drums); 
Johnny 'Tatt' Dalzell (bass) 
'F A Horns' (Johnny Diesel, Bernie Bremond & Terry Manning)

2011 live album from the Australian rockers. This release was recorded live at Melbourne's Crown in 2008. The album brilliantly captures one of the greatest singers, songwriters and guitar players in the country. Including songs from his Injector days like 'Don't Need Love' through to tracks from his ARIA award winning album of the year like 'Tip Of My Tongue', this is one smokin' album. Liberation. --- Editorial Reviews
Following hot on the heels of his recent album Under The Influence, Diesel gives us a new live album offering up all the hits that have made him a legend of Australian rock. This live album is a superb example of what Diesel has been doing for the past 20 years as it showcases his amazing vocal style, his awesome guitar playing, and his ability to deliver a song with passion. The band is on fire and they're backed up by some brass and a string section to help deliver a full sound. The album is produced really well and the mix is crystal clear allowing Diesel's vocals and guitar playing to really cut through. The entire set is very strong but highlights include the brilliant version of "Masterplan", the emotional sound of "15 Feet Of Snow", the awesome groove of "Crimson Man", the wicked riffs of "Love Junk", the extended version of "Come To Me", and Diesel's powerhouse hit "Man Alive". This is one of the best live albums that I have heard in a while and is essential listening for fans of Australia's greatest songwriter. ---Michael, amazon.com
Under the name Diesel, American born guitarist/singer Mark Lizotte became one of the biggest selling and most awarded Australian recording artists of the late '80s/early '90s. He arrived in Perth as a child when the travels of his itinerant, saxophone-playing father exhausted America and the family settled in Western Australia. Lizotte always contended that he grew up with musical instruments in his play box. No instrument intimidated him, but it was the electric guitar which excited him.
While his siblings gravitated toward music as teachers, Lizotte started playing in bands, making the long trek from Perth to Sydney in 1986 to record with Innocent Bystanders. He left to form his own group, Johnny Diesel & the Injectors in June 1986, adopting the Johnny Diesel persona for the first time (a stint of pumping petrol had earned him his Diesel nickname). The group's blend of Southern rock, soul, and R&B, plus Diesel's adept guitar playing and pop star looks quickly earned the band a strong reputation on-stage, and in September 1987 they relocated to Sydney. Almost immediately, Diesel was offered a place in Jimmy Barnes' band, playing the opening slot on the Freight Train Heart tour with the Injectors as support act, and then joining the headlining Barnes band on guitar. His group was signed to a worldwide recording contract by Chrysalis and recorded a self-titled debut album in Memphis with Terry Manning (Joe Cocker, Fabulous Thunderbirds, ZZ Top).
After four years and a mini-album recorded live in London the Injectors broke up, and Johnny Diesel became Diesel, solo artist. His March 1992 Hepfidelity album shifted the musical ground to rock-funk and soul, reached number one in Australia and earned him awards for Best Album and Best Male Artist at the annual ARIA awards. From there, a restlessness seemed to overcome Diesel, as if he felt everything should be possible but a certain "something" was expected of him. He released an album of new songs and reworkings of songs from the previous album with The Lobbyist, and finally got down to business on 1994's sophisticated Solid State Rhyme. But his heart seemed much more in the raw blues album Short Cool Ones he made with Melbourne bluesman and harmonica player Chris Wilson. Diesel ended up packing up his career and young family and relocated to America. Nothing was heard from him until October 1997 when he reappeared with Lost Soul Companion, released under his own name of Mark Lizotte.
Every live encounter confirms a musician and songwriter of immense natural talent. The perfectionism that seems to take over in the studio and results in long, drawn-out sessions and constant rethinks robs his latter records of the spirit and life so evident on-stage.
download (mp3 @320 kbs):
yandex mediafire uloz.to cloudmailru gett
Last Updated (Wednesday, 24 January 2018 19:29)