SuperHeavy – SuperHeavy [Deluxe Edition] (2011)
SuperHeavy – SuperHeavy [Deluxe Edition] (2011)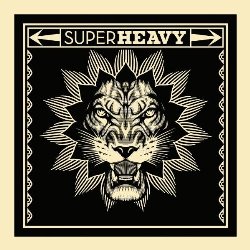 01 – Superheavy
02 – Unbelievable
03 – Miracle Worker [Damian Jr Gong Marley Main Mix - Radio Edit]
04 – Energy
05 – Satyameva Jayathe
06 – One Day One Night
07 – Never Gonna Change
08 – Beautiful People
09 – Rock Me Gently				play
10 – I Can't Take It No More
11 – I Don't Mind
12 – World Keeps Turning
13 – Mahiya
14 – Warring People
15 – Common Ground
16 – Hey Captain				play
Bonus Track:
17 – Miracle Worker

Mick Jagger (vocals, guitar and harmonica), 
Dave Stewart (guitar), 
Joss Stone (vocals), 
Damian Marley (vocals) 
A.R. Rahman (vocals plus a variety of keyboards).

SuperHeavy is the debut album by the rock supergroup SuperHeavy. The album was recorded at Jim Henson Studios in Los Angeles and it was released in September 2011 by A&M Records.
"SuperHeavy" began the works of the album in 2009. In early 2009, A. R. Rahman, Mick Jagger, Dave Stewart, Joss Stone and Damian Marley experimented at a studio in Los Angeles, trying to "write songs which had meaning". They had a couple of more sessions after that trying to perfect every song that was written. Jagger stated in an interview that they had entered with just ideas, a few guitar riffs and a few snippets of lyrics... which isn't his usual style of working, but music evolved quickly." The band recorded twenty-nine songs in ten days. Some of the songs recorded were even an hour long. In total, there was more than thirty-five hours of music recorded, from which Stewart and his engineer found the highlights that would work as the roots of songs. However, the CD release will only include twelve songs.
download (mp3 @VBR kbs):
yandex download mediafire ulozto gett bayfiles
Last Updated (Saturday, 26 January 2019 20:37)