Queensryche – Dedicated To Chaos (2011)
Queensryche – Dedicated To Chaos (2011)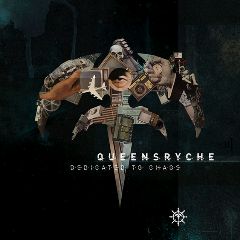 01 – Get Started
02 – Hot Spot Junkie
03 – Got It Bad		      play
04 – Around The World
05 – Higher
06 – Retail Therapy
07 – At The Edge
08 – Broken
09 – Hard Times
10 – Drive
11 – I Believe			play
12 – LuvnU	
13 – Wot We Do
14 – I Take You
15 – The Lie
16 – Big Noize

Musicians:
Geoff Tate – lead vocals, keyboards, saxophone 
Michael Wilton – lead, rhythm & acoustic guitars, backing vocals
Eddie Jackson – bass, backing vocals 
Scott Rockenfield – drums, percussion, keyboards

A multitude of classic bands are content to rest on their collective laurels. Royalties roll in, merchandise moves along and nothing fresh is expected from them creatively, anyway. They tour haphazardly and sometimes shamelessly on the nostalgic fumes of faded glories. Hit albums are continuously reformatted and regurgitated. They've made it. Why work harder?
Queensrÿche stand proudly and defiantly against that career model. Thirty years after their formation, the progressive rock institution ignites anew with Dedicated to Chaos, a brave, adventurous, diverse and often experimental album that will challenge their fiercely intelligent audience and rock n' roll critics alike in profound and exceedingly rewarding ways. There is nothing safe, saccharine or sanitized about Queensrÿche's twelfth studio album. No rules. No boundaries. It's the latest in a string of impressive feats from the legendary Seattle band.
"It's kind of a worthless endeavor to be focused on what other people think," points out thoughtful and articulate Queensrÿche vocalist Geoff Tate, long recognized as possessing one of the most powerful voices in rock. "There's so many different ways to interpret music and art in general. It's not meant to be static. It's meant to be moving, changing and growing."
Queensrÿche could easily sit back and count their achievements. They went triple-platinum with the mind numbingly awesome Empire. They cracked the Top Ten with the enduring power ballad "Silent Lucidity." Operation: Mindcrime redefined the concept album. They've toured the world with Bon Jovi, Metallica, Def Leppard. They've sold over 20 million albums.
Dedicated to Chaos is the sound of Queensrÿche marching forward artistically, philosophically and sonically. Their commitment to their craft is unwavering. Their ability to challenge themselves and create new soundscapes is unparalleled in hard rock. In an era when bands will sacrifice audio quality to crank out records, Dedicated to Chaos is a true "headphones record." --- queensryche.com
Jeden z najbardziej zasłużonych zespołów w heavy i progresywnym metalu, autorzy takich świetnych albumów jak "Promised Land", "Operation Mindcrime", "The Warning" czy "Empire" i wszechstronnie uzdolnieni muzycy najwyraźniej postanowili trzydziestolecie swojej kariery uczcić delikatesami. Właśnie takie sformułowanie przychodzi mi na myśl po wysłuchaniu "Dedicated To Chaos", dwunastego studyjnego albumu Queensryche.
Geoff Tate, Michael Wilton, Eddie Jackson i Scott Rockenfield grają ze sobą nieprzerwanie od 1981 roku. Grupie zdarzyło się trochę eksperymentować i w efekcie brzmienie Queensryche w ostatnich latach uległo odczuwalnemu "zmiękczeniu". Niemniej grupa zawsze nagrywała kilka kompozycji, które skutecznie broniły jej ostatnich albumów. Niestety kilka pomysłów zasygnalizowanych na "American Soldier" z 2009 roku uległo w nowej dekadzie poważnemu rozwinięciu. Mam na myśli przede wszystkim zbliżenie się do klimatu… U2 i tego typu zespołów, które określane są jako alternatywny rock, a w rzeczywistości stanowią platformę dla spokojniejszych (sic!) fanów muzyki rockowej.
Zespół z Bellevue nagrał w sumie szesnaście zupełnie NIEprogresywnych, mało skomplikowanych, chwytliwych i łatwych w odbiorze kompozycji. Czy o czymś zapomniałem? Owszem. Nowe Queensryche jest najzwyczajniej w świecie nudne. Kompozycje są mdłe, pozbawione jakiegoś instrumentalnego zrywu i dopasowane do komercyjnych standardów. Taki opis brzmi przerażająco. Tym bardziej, że muzycy Queensryche funkcjonowali w opinii fanów jako zespół, który nie boi się dołożyć do pieca. Niestety takich rozwiązań w "Dedicated To Chaos" zabrakło. Za to w najnowszym albumie Queensryche pojawiły się utwory na siłę próbujące wyciągnąć od słuchacza jakieś emocje. Zupełnie nie rozumiem co się stało ze sprawną współpracą na linii Wilton – Rockenfield, bowiem główna sekcja instrumentalna najnowszego Queensryche została zupełnie spłaszczona. Dobrych riffów w tym albumie znajdziemy jak na lekarstwo, a solówki Wiltona są słodsze niż polski cukier. W tym mętnym, pop n' rockowym klimacie zupełnie na mocy stracił saksofon Tate'a, który przecież nadawał grupie charakteru. Niemniej prawdziwy upadek nastąpił w przesłaniu zespołu, bo o czym śpiewa Tate w 2011 roku? Ano, o tym, że wszyscy potrzebujemy miłości i… okularów przeciwsłonecznych!
Oczywiście generalizowanie nie sprzyja pełnej prawdzie, bo wśród premierowych utworów Queensryche można wyróżnić kilka numerów, które zdradziły fajne cechy. Zwracam szczególną uwagę na utwory utrzymane w relatywnie szybkim tempie z interesującym wykorzystaniem instrumentów w hard rockowym stylu i nałożonymi patentami, które je ozdobiły (klawisze, gitarowe solówki, krótkie aczkolwiek sprawne tła pod instrumentami). W tej materii dobrze sprawdziły się takie numery jak "At The Edge" i"Real Therapy". W sumie dosyć ciekawie wyszło zespołowi wykorzystanie elektrycznego brzmienia, w takich utworach jak "Drive" (…niestety utwór zupełnie posypał się po minucie) czy "Hard Times". Problem w tym, że od Queensryche powinno się oczekiwać znacznie więcej.
Nieskutecznie próbowałem odnaleźć się wśród dźwięków "Dedicated To Chaos". Niestety fanom muzyki progresywnej będzie trudno odkryć walory w tym wydawnictwie. Mogę zaryzykować twierdzenie, że nowy album Queensryche trafi w gusta fanów muzyki balansującej pomiędzy popem i rockiem, ale to chyba marna cenzurka jeśli idzie o zasłużony zespół. Grupa zdecydowanym krokiem weszła w inną, o wiele bardziej chwytliwą konwencję. Mam niepokojące wrażenie, że fani tego typu dźwięków mają w czym wybierać, a muzycy Queensryche podcięli grubą gałąź na której siedzieli…--- salonprogresywny.wordpress.com
download (mp3 @320 kbs):
Last Updated (Tuesday, 20 November 2018 16:58)