Slash - Slash (2010)
Slash - Slash (2010)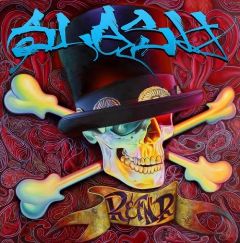 01.Ghost (feat. Ian Astbury) (03:35)
02. Crucify The Dead (feat. Ozzy Osbourne) (04:03)
03. Beautiful Dangerous (feat. Fergie)(04:38)
04. Back From Cali (feat. Myles Kennedy) (03:36)
05. Promise (feat. Chris Cornell) (04:40)                  play
06. By The Sword (feat. Andrew Stockdale) (04:51)
07. Gotten (feat. Adam Levine) (05:03)
08. Doctor Alibi (feat. Lemmy Kilmeister) (03:10)
09. Watch This (feat. Dave Grohl / Duff McKagan) (03:52)
10. I Hold On (feat. Kid Rock) (04:18)
11. Nothing To Say (feat. M Shadows) (05:25)
12. Starlight (feat. Myles Kennedy)(05:25)
13. Saint Is A Sinner Too (feat. Rocco DeLuca) (03:28)     play
14. We're All Gonna Die (feat. Iggy Pop)(04:31)
15. Sahara (Koshi Inaba) (03:58)
16. Baby Can't Drive (Alice Cooper & Nicole Scherzinger) (03:20)
17. Paradise City (Fergie & Cypress Hill) (05:14)

Musicians:
* Slash – lead gitar, rhytm guitar
* Chris Chaney – bass
* Josh Freese – drums
* Lenny Castro – percussion

Like Jeff Beck before him, Slash is a superstar guitarist who can't sing a lick -- a situation that poses a considerable problem when it comes time to record a solo album, which apparently is whenever his band collapses under the preening ego of a lead singer. When combing through the wreckage of GNR he decided to form a band whose singer almost seemed like an afterthought, but he took a different route after the meltdown of Velvet Revolver, choosing to follow Santana's Supernatural blueprint, hauling in a different singer for each track. Of course, Supernatural was designed with the intention of having Santana cross over to a new audience, but Slash, with the exception of Fergie howling "Beautiful Dangerous," was made with his old fans in mind, bringing in gnarled old rockers like Ozzy, Lemmy, and Iggy to carry the brunt of the work, slipping in a few new faces -- like Andrew Stockdale of Wolfmother, Rocco DeLuca (the first signing to Kiefer Sutherland's label), and Myles Kennedy, chosen to front Slash's supporting tour for the record -- along the way. It's a comfortable and familiar fit that poses only one significant problem: nobody bothered to write any songs; they're just playing for the sake of playing. Ironically, the exceptions to the rule are Fergie, who winds up pushing Slash in an interesting hooky direction, and the instrumental jam between the guitarist, his GNR/Velvet bandmate Duff McKagan, and Dave Grohl, a track that has more forward movement and momentum than the rest of the record combined, suggesting that perhaps Slash should follow Beck's lead and cut an all-instrumental record instead of biding his time creating cozy sleaze with old friends. ---Stephen Thomas Erlewine, AllMusic Review
Możliwość powrotu legendarnego Guns'n'Roses w oryginalnym składzie już dawno włożyliśmy między bajki lub dopisaliśmy do listy innych pobożnych życzeń - o pokoju na świecie czy poszanowaniu matki ziemi. Pozostała nam, że tak to ujmę - szeroko pojęta aktywność indywidualna muzyków szlachetnego szyldu sprzed lat. Na pewno tłustym kąskiem na tym suto - jakby nie pojrzeć - zastawionym stole jest supergrupa Velvet Revolver, wiadomo z kim, jak i gdzie. Stojący tam za basem Duff Mckagan nie ograniczył swej działalności do szarpania grubych strun w prestiżowym kolektywie i w roku ubiegłym uraczył nas naprawdę doskonałym albumem "Sick". Skłócony chyba z każdym Axel również nie zapomniał o muzycznej aktywności i chociaż słuszność użycia na okładce "Chinese Democracy" wiadomej nazwy jest mocno dyskusyjna, nie można powiedzieć, że zawiódł oczekiwania.
Slash to gitarzysta, którego nikomu przedstawiać nie trzeba. Na temat jego charakterystycznego image'u napisano już chyba tyle, że gdyby zebrać wszystko do kupy i chcieć wydać, należałoby podzielić całość na tomy. Nie to stanowi jednak meritum sprawy, albowiem do rąk dostaliśmy krążek autorstwa tego wyjątkowego muzyka, zatytułowany po prostu "Slash". Można śmiało zaryzykować stwierdzenie, że właśnie takiej płyty oczekiwaliśmy. To kawałek solidnego, rasowego rocka, wychodzącego naprzeciw standardom brzmieniowym naszych czasów, zrealizowanego z przeogromnym wyczuciem, wyobraźnią i przede wszystkim - wielkim rozmachem. Długowłosy pan w cylindrze do nagrywania swej nowej solowej płyty zaprosił bowiem prawdziwą śmietankę rockowej estrady. Wystarczy rzucić okiem na tak zwany skład podstawowy. Tam, gdzie za sekcję rytmiczną odpowiadają tacy muzycy, jak Josh Freese (A Perefect Circle, NIN) i Chris Chaney (Jane's Addiction), nie może być kichy. Nie mogłoby się również obyć bez pewnych epizodów gościnnych, w ramach których na płycie zagrali na przykład Duff, Dave Grohl czy Izzy Stradlin. Towarzystwo nieprzypadkowe - chciałoby się napisać. W kwestii obsadzenia wokali Slash mimowolnie "skopiował" pomysł Tony'ego Iommiego z roku 2000 i w każdym niemal kawałku słyszymy inny głosik.
Tutaj również nie uświadczymy przypadkowości - nie dano pola do popisu świeżakom. Ozzy Osbourne w "Crucify The Dead", Lemmy w "Doctor Alibi" czy Chris Cornell w "Promise" kładą ślady swego głosu w sposób nie pozostawiający miejsca na wątpliwości kto śpiewa. Spokojnie - w tym trzecim numerze nie musimy się na szczęście obawiać wpływów R'N'B czy innych niepożądanych inklinacji, jakie zainfekowały ostatni solowy album Cornella, a "Promise" to wręcz jeden z najlepszych numerów na płycie. Na pewno godzien odnotowania jest zaskakująco udany udział Fergie z... The Black Eyed Peas w "Beautiful Dangerous" czy Mylesa Kennedy'ego (The Mayfield, Alter Bridge) w "Back From Cali" i "Starlight". Tego ostatniego mistrz ceremonii zdecydował zabrać w trasę promującą to rock'n'rollowe cacko.
Płyta z całą pewnością niezwykle słuchalna i udana. Choć w kwestiach personalnych dużo skromniejsze, a na samej muzyce bardziej skoncentrowane, podejście do sprawy Duffa na jego solowym krążku kupiło mnie zdecydowanie skuteczniej niż przepych "Slash", do albumu Slasha wracał będę z wielką przyjemnością. Utwory takie, jak metalowy właściwie "Nothing To Say" czy przepiękny, wzbogacony głosem Kid Rocka "Hold On" skutecznie uniemożliwiają jakiekolwiek inny stosunek tego materiału. ---Kępol, rockmetal.pl
download (mp3 @320 kbs):
yandex mediafire ulozto gett bayfiles
Last Updated (Friday, 11 January 2019 21:34)