Slash - World On Fire (2014)
Slash - World On Fire (2014)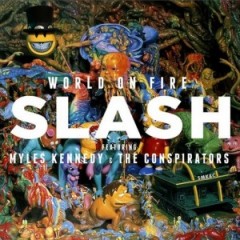 01. World on Fire
02. Shadow Life
03. Automatic Overdrive
04. Wicked Stone
05. 30 Years To Life
06. Bent To Fly
07. Stone Blind
08. Too Far Gone
09. Beneath The Savage Sun
10. Withered Delilah
11. Battleground
12. Dirty Girl
13. Iris Of The Storm
14. Avalon
15. The Dissident
16. Safari Inn
17. The Unholy

Slash – lead guitar and rhythm guitars
Myles Kennedy – vocals
Todd Kerns – bass, additional vocals
Brent Fitz– drums, percussion

Slash featuring Myles Kennedy & the Conspirators is quite a mouthful for a band and World on Fire is quite a handful for an album. World on Fire stretches on and on, weighing in at 17 tracks, which is just one song longer than Use Your Illusion I, but where that record gained momentum (not to mention identity) through its mess, Slash featuring Myles Kennedy & the Conspirators gives the impression that they continue recording because they simply don't know when they're done. Perhaps a good edit or two would've turned the record into something leaner, but there's no evident place to cut. Everything hovers around the "pretty good" mark: Slash, naturally, stands out and his solos are nearly as pleasurable as his riffs, the Conspirators hit their marks with aplomb, as does Myles Kennedy, who never gets in the way of songs, not even ones he's written. As this train barrels on, there's the sense that the record never really started and will never really end, but such full-throttle indulgence may indeed be what some fans want, for there is a whole lot of bang for this buck. ---Stephen Thomas Erlewine, AllMusic Review
Niemal 80-minutowa dawka energetycznego rocka spod ręki jednego z najbardziej znanych gitarzystów rockowych. Nowy album Slasha wraz z projektem Myles Kennedy & The Conspirators wylądował na półkach.
"World on Fire" to aż 17 piosenek i w wielu recenzjach słychać narzekania, że to za dużo. Fakt, że taka dawka rocka z naleciałościami bluesa, country i tego, co wcześniej Slash grał z Guns N'Roses oraz Velvet Revolver jest potężna, ale od razu czynić z tego zarzut?
Nie wszystkie numery są tu epokowe i wbijające w fotel, ale słuchając tej płyty, czuje się rockową wolność i klasyczną jazdę bez trzymanki, nie oglądając się na to, że pewnie większość wytwórni kazałaby Slashowi obciąć płytę o połowę.
Slash gra jednak rocka do końca, aż nie spalą mu się struny. A jeżeli robi to tak widowiskowo jak w instrumentalnym "Safari Inn", to pozostaje tylko przyklaskiwać. ---Wojciech Przylipiak, muzyka.dziennik.pl
download (mp3 @192) kbs:
yandex mediafire uloz.to cloudmailru gett bayfiles
Last Updated (Friday, 11 January 2019 19:53)