The Hollies - Stay With The Hollies (1964)
The Hollies - Stay With The Hollies (1964)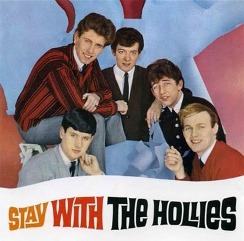 Side 1
   1. "Talking 'Bout You" (Chuck Berry)
   2. "Mr. Moonlight" (Roy Lee Johnson)
   3. "You Better Move On" (Arthur Alexander)
   4. "Lucille" (Albert Collins, Little Richard)
   5. "Baby Don't Cry" (Hiller / Ford)
   6. "Memphis" (Chuck Berry)
   7. "Stay" (Maurice Williams)

Side 2
   1. "Rockin' Robin" (Roger Thomas)
   2. "Whatcha Gonna Do 'Bout It" (Payne / Carroll)
   3. "Do You Love Me" (Berry Gordy Jr.)
   4. "It's Only Make Believe" (Conway Twitty, Jack Nance)
   5. "What Kind of Girl are You" (Ray Charles)
   6. "Little Lover" (Graham Nash, Allan Clarke)   play
   7. "Candy Man" (Ross/Neil)                      play

The Hollies: 
Graham Nash, Tony Hicks (vocals, guitar); 
Allan Clarke (vocals); 
Eric Haydock (bass); 
Bobby Elliott (drums).

In The Rolling Stone Illustrated History of Rock'n'Roll, Lester Bangs wrote of the Hollies, "During the British invasion, they were mostly just bad, grinding out sloppy covers of 'Stay, ' 'Do You Love Me, ' 'Lucille' and 'Memphis' in the most shamelessly churn-'em-up, bash-'em-out Liverpudlian manner." While this is an unfair overgeneralization, it's basically an accurate assessment of their first album, which contains all of the above-mentioned cuts. The group stuck to the tried-and-true rock/R&B cover staples of dozens, if not hundreds, of British bands circa 1963 on this 14-cut LP, which featured only one original composition. The Hollies' harmonic blend had yet to fully coalesce; there's plenty of energy, but the voices are adenoidal (and not always in perfect key) and the performances almost embarassingly callow. Nonetheless, the album was a huge hit in Britain, reaching number two and staying in the Top Ten for 18 weeks. "Stay" itself had been their first U.K. Top Ten hit in late 1963, and the album's best track, the edgy R&B/harmony rendition of "Watcha Gonna Do 'Bout It," was one of their better early cuts. The group also covers Ray Charles, Roy Orbison, Conway Twitty, "Rockin' Robin," and "Mr. Moonlight" (before the Beatles) on this set. ---Richie Unterberger, AllMusic Review
download (mp3 @320 kbs):
Last Updated (Monday, 16 April 2018 08:43)