David Bowie – Birthday Celebration Live in NYC 1997 (2011)
David Bowie – Birthday Celebration Live in NYC 1997 (2011)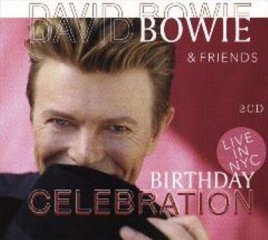 CD1:
01 - Little Wonder (4:37)
02 - The Hearts Filthy Lesson (5:08)
03 - Scary Monsters (And Super Creeps) feat Frank Black (5:32)
04 - Fashion feat Frank Black (3:44)				play
05 - Telling Lies (5:36)
06 - Hallo Spaceboy feat Foo Fighters (5:22)
07 - Seven Years in Tibet feat Dave Grohl (6:28)
08 - The Man Who Sold the World (3:55)
09 - The Last Thing You Should Do feat Robert Smith (5:34)
10 - Quicksand feat Robert Smith (4:59)
11 - Battle for Britain (4:38)
12 - Voyeur of Utter Destruction (5:45)
13 – I'm Afraid of Americans feat Sonic Youth (5:25)

CD2
01 - Looking for Satellites (5:24)
02 - Under Pressure feat Gail Ann Dorsey (3:59)
03 - Heroes (4:48)
04 - Queen Bitch feat Lou Reed (3:41)
05 – I'm Waiting for the Man feat Lou Reed (4:36)
06 - Dirty Blvd. feat Lou Reed (4:33)
07 - White Light / White Heat feat Lou Reed (4:11)
08 - Moonage Daydream (5:44)
09 - The Crowd - Happy Birthday (1:03)
10 - All the Young Dudes feat Billy Corgan (3:34)		play
11 - The Jean Genie feat Billy Corgan (4:47)
12 - Space Oddity (5:06)
13 - I Can't Read (5:08)
14 - Repetition (2:55)

Bass, Vocals – Gail Ann Dorsey
Drums – Zachary Alford
Guitar, Vocals – Reeves Gabrels
Keyboards, Vocals – Mike Garson 
Artistdirect reports the iconic David Bowie released a new live album, Birthday Celebration – Live in NYC 1997, on April 26. The album has appearances by Foo Fighters, Billy Corgan, Lou Reed, The Cure's Robert Smith and The Pixies' Frank Black. The album was recorded on Jan. 9, 1997 during Bowie's 50th birthday party at New York's Madison Square Garden.
David Bowie (born David Robert Jones on 8 January 1947) is an English musician, actor, record producer and arranger. A major figure for five decades in the world of popular music, Bowie is widely regarded as an innovator, particularly for his work in the 1970s, and is known for his distinctive voice and the intellectual depth of his work.
Biographer David Buckley says of Bowie: "His influence has been unique in popular culture—he has permeated and altered more lives than any comparable figure." In the BBC's 2002 poll of the 100 Greatest Britons, Bowie was placed at number 29. Throughout his career, he has sold an estimated 136 million albums. In the United Kingdom, he has been awarded 9 Platinum album certifications, 11 Gold and 8 Silver, and in the United States, 5 Platinum and 7 Gold certifications. In 2004, Rolling Stone ranked him 39th on their list of the "100 Greatest Artists of All Time", and 23rd on their list of the best singers of all-time.
download (mp3 @320 kbs):
Last Updated (Sunday, 14 January 2018 10:26)