David Bowie & Stevie Ray Vaughan – Dallas Moonlight 1983
David Bowie & Stevie Ray Vaughan – Dallas Moonlight 1983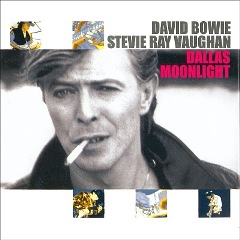 CD 1
01. Star
02. Heroes
03. What In The World
04. Look Back In Anger
05. Joe The Lion
06. Wild Is The Wind
07. Golden Years
08. Fashion
09. Lets Dance
10. Red Sails
11. Breaking Glass
12. Life On Mars
13. Sorrow                       play
14. Cat People (Putting Out Fire)
15. China Girl
16. Scary Monsters (Super Creeps)
17. Rebel Rebel                  play
18. I Can't Explain
19. White Light White Heat

CD 2
01. Station To Station
02. Cracked Actor
03. Ashes To Ashes
04. Space Oddity
05. Young Americans
06. Soul Love                   play
07. Hang Onto Yourself
08. Fame
09. TVC15
10. Stay
11. Jean Genie
12. Modern Love

Band :

    Backing Vocals – Frank Simms, George Simms
    Bass Guitar – Carmine Rojas
    Drums, percussion – Tony Thompson
    Guitar – Carlos Alomar, David Bowie, Earl Slick, Stevie Ray Vaughan
    Keyboards, synthesizers – Dave Lebolt
    Saxaphone – David Bowie
    Saxaphones – Steve Elson
    Saxaphones, woodwinds – Lenny Pickett
    Vocals – David Bowie

In January 1983, David Bowie invited Stevie Ray Vaughan to record guitar for six new tracks he'd written for his upcoming release, Let's Dance.
Vaughan's powerful and unique guitar work brought a fresh sound to Bowie's music, most famously on songs like "China Girl" and the album's title track.
With the album a success, Bowie was keen for SRV to join his group for the subsequent Serious Moonlight Tour. However, with Vaughan reluctant to leave Double Trouble (who had just finished recording their debut album, Texas Flood), Bowie's management offered to let the group open the show on select tour dates; but just four days before the tour began, Bowie's management reneged, telling Vaughan's manager, Chesley Millikin, that the band would not be included and, furthermore, Vaughan wasn't allowed to talk about the group or its new record in interviews.
With the offer pulled, Vaughan's manager took him off the tour.
Although both artists still achieved huge amounts of critical and commercial success during their respective careers, what they might've gone on to do together remains one of rock's great "What If's."
No video footage of Bowie and Vaughan performing together is known to exist; however, several taped rehearsal performances do, including these excellent versions (in the clips below) of "Let's Dance," "Cat People (Putting Out the Fire)" and "China Girl," recorded at the Las Colinas Soundstage in Dallas April 26, 1983. ---Jonathan Graham, guitarworld.com
download (mp3 @320 kbs):
Last Updated (Saturday, 13 January 2018 22:39)