Muse - Black Holes & Revelations (2006)
Muse - Black Holes & Revelations (2006)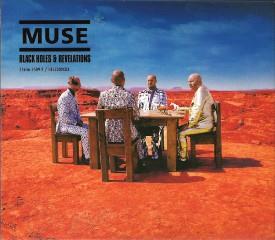 1 	Take A Bow 	4:35
2 	Starlight 	3:59
3 	Supermassive Black Hole 	3:29
4 	Map Of The Problematique 	4:18
5 	Soldier's Poem 	2:03
6 	Invincible 	5:00
7 	Assassin 	3:31
8 	Exo-Politics 	3:53
9 	City Of Delusion 	4:48
10 	Hoodoo 	3:43
11 	Knights Of Cydonia 	6:06

Performer – Chris Wolstenholme, Dominic Howard, Matthew Bellamy
Strings – Around Art
Violin [First] – Edoardo De Angelis

Muse finally shake off those last pesky inhibitions that inhibited 2003'sAbsolution. Not content with merely mixing classical piano, skin blistering guitars and operatic structures, we now get shimmering synths and what can only be described as prog techno.
Black Holes And Revelations is a superlative stretching album: audacious, inflamed and utterly unashamed of its own ambition. It's also sonically exhilarating.The beats of "Take A Bow"shudder on the speakers as Matt Bellamy wails "You will burn, you will burn" at an un-named world leader, who may well be initialled GWB.
From this modest opening, the album only accelerates and ascends, taking in Muse's most heartfelt love song yet (the gorgeous, expansive "Starlight"), mind blowing mutant space funk ("Supermassive Black Hole") and amphetamine techno-rock ("Assassin"). At times it's the silliest thing you'll ever hear. Often it's the best. Muse just became Britain's most exciting band. ---Jaime Gill, BBC Review
...ich się albo kocha albo nienawidzi! Dość specyficzna muzyka czerpiąca garściami z rocka, muzyki klasycznej, pop czy disco z lat siedemdziesiątych nie każdemu musi przypaść do gustu, do tego dodajmy charakterystyczny głos Mattew Ballamy'ego i mamy mieszankę przypominającą kuchnię orientalną - nie każdy ją lubi...
"Black Holes & Revelations" to czwarty album w dyskografii trójki Brytyjczyków. Nie wiem jak wyglądała (i wygląda) sprzedaż pozostałych wydawnictw Muse, ale mam takie przeczucie że o ile nie jest to największy to na pewno jeden z większych sukcesów komercyjnych zespołu. Osoba nieznająca tej płyty (jak i zespołu) słuchając jej będzie się łapać na tym, że tą melodię zna, że ten utwór już gdzieś słyszała... to kopalnia hitów. Wystarczy wymienić przebojowe "Starlight", "Map The Problematique" czy wykorzystane w filmie o wampirach dla "smutnego" pokolenia Emo - "Supermassive Black Hole" (jak mówią członkowie zespołu, to właśnie dzięki temu utworowi udało im się zaistnieć w Ameryce). To jednak nie wszystko, przecież mamy tu wiele więcej, może nie tak eksploatowanych czy znanych kompozycji. W radiowej Trójce często gościł bardzo przyjemny "Knights Of Cydonia" a przecież nie można nie dostrzec uroku delikatnego "Soldier's Poem" czy patetycznego "City Of Delusion". W "Assasin" pojawia się mocny gitarowy riff i jakże kontrastuje to z syntetycznymi klawiszami z "Starlight" - ale taki właśnie jest Muse. Nieco nieprzewidywalny i choć grający muzykę, która "kocha" stacje radiowe to stojącą na wysokim poziomie.
Muse są obecnie gwiazdami światowego rocka. Co do tego chyba nikt nie ma wątpliwości. Płyty sprzedają w nakładach o których większość może tylko pomarzyć a co najważniejsze, słuchając ich kolejnych albumów, trzeba stwierdzić , ze nagrywając je nie wyrzekli się przy tym swojego stylu - robią co lubią i mają z tego ogromną kasę - ech pomarzyć... ---Piotr Michalski, rockarea.eu
download (mp3 @320 kbs):
yandex mediafire ulozto gett bayfiles