Tarja – From Spirits and Ghosts (Score For A Dark Christmas) (2017)
Tarja – From Spirits and Ghosts (Score For A Dark Christmas) (2017)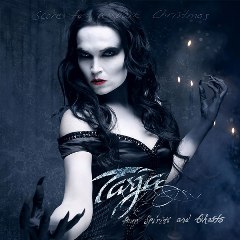 1 	Come, O Come, Emmanuel 	
2 	Together 	
3 	We Three Kings 	
4 	Deck The Halls 	
5 	Pie Jesu 	
6 	Amazing Grace 	
7 	O Tannenbaum 	
8 	Have Yourself A Merry Little Christmas 	
9 	God Rest Ye 	
10 	Feliz Navidad 	
11 	What Child Is This 	
12 	We Wish You A Merry Christmas

Cello – Peter Gregson
Keyboards, Piano – Jim Dooley, Tarja Turunen (tracks: 2)
Lead Vocals – Naomi (tracks: 4)
Lead Vocals, Backing Vocals – Tarja Turunen
Orchestrated By, Choir – Jim Dooley 
The album includes 11 Christmas classics and brings them to a never before seen level, uniquely blending Tarja"s classically trained voice with darker gothic influences. Utilizing the sound of a grand orchestra, the most successful Finnish solo artist puts a sinister spin on traditional songs like "O Tannenbaum", "We Wish You A Merry Christmas" and "Feliz Navidad", reminding the listener of a dark movie score. Besides covering classic carols, "from Spirits and Ghosts" also features a 12th track, the brand new original "Together". This song is aligned with the dark sound of the album and embodies the theme of ghosts and mysticism throughout, in a brilliant, Tarja-styled manner.
Says Tarja: "Producing a dark Christmas album in the middle of the summer is a very interesting process, especially if you are doing it by the turquoise Caribbean Sea. Significantly different from the snowy Christmas that I am used to in my home country Finland. Another proof that the darkness comes from deep within. On this album, I explored the other side of Christmas. The Christmas of the lonely people and the missing ones. The Christmas for those that do not find joy in the blinking lights and the jingle bells. " --- tarja-fromspiritsandghosts.com
While Finnish vocalist and songwriter Tarja Turunen is well known for wedding the operatic to symphonic metal, she forgoes the latter entirely on From Spirits and Ghosts (Score for a Dark Christmas). Recorded during the summer of 2017 in the Caribbean, mixed in Texas, and mastered in New York, the set includes 11 classic carols and other songs associated with the season as well as a new track recorded in the same manner. Turunen produced the collection with the American, Emmy Award-winning film score composer Jim Dooley -- who also handled arrangements -- and British producer Tim Palmer (Pearl Jam, David Bowie, U2, the Cure, et. al).
Though Turunen's voice is characteristically crystalline, the gothic orchestral treatments of the traditional holiday material, beginning with downright spooky album-opener "O Come, O Come, Emmanuel," are sometimes akin to the gloomy and monumental atmospheres created by Dead Can Dance. This feel saturates other tunes here such as the heartbreakingly lovely "Pie Jesu," the wildly dramatic "O Tannenbaum," and amazingly enough, the album's greatest surprise "Feliz Navidad." The melancholy in the relatively sparse charts on "Have Yourself a Merry Little Christmas" creates an even greater sense of intimacy, while closer "We Wish You a Merry Christmas" is drenched in echo and electronics aside a celeste and chamber instruments, creating an eerie feel to send the album off. "Together," the lone new track, is a bittersweet seasonal song with Turunen fronting a full chorus, as triangles, swelling strings, and tympanis fill up the space behind and around her -- it's as lovely as it is sad. The outlier is the hymn "Amazing Grace," stitched together with pulsing synths, low-end brass, and reverb before the entire orchestra floods the foreground. Somehow Turunen's aesthetic principles shoehorns the tune to fit seamlessly into the mix. Given the absence of metal on Spirits and Ghosts, it will be interesting to see how it sits with her legions of fans. For the rest of us, however, this is a gorgeous left-field addition to the Christmas canon. ---Thom Jurek, AllMusic Review
download (mp3 @320 kbs):
yandex mediafire uloz.to cloudmailru gett
Last Updated (Friday, 01 February 2019 23:01)