Ian Gillan - Ian Gillan & The Javelins (2018)
Ian Gillan - Ian Gillan & The Javelins (2018)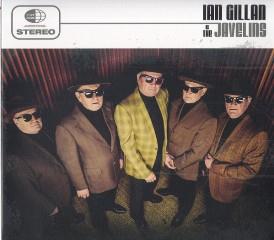 01. Do You Love Me
02. Dream Baby (How Long Must I Dream)
03. Memphis, Tennessee
04. Little Egypt (Ying-Yang)
05. High School Confidential
06. It's So Easy!
07. Save The Last Dance For Me
08. Rock and Roll Music
09. Chains
10. Another Saturday Night
11. You're Gonna Ruin Me Baby
12. Smokestack Lightnin'
13. Hallelujah I Love Her So
14. Heartbeat
15. What I'd Say
16. Mona (I Need You Baby)

Bass Guitar – Tony Whitfield
Choir [Girls Choir] – Hamburg Soul Sisters
Drums – Keith Roach
Lead Guitar – Gordon Fairminer
Lead Vocals – Ian Gillan
Maracas [Guest] – Manfred F. Kühn
Piano [Guest] – Don Airey
Rhythm Guitar – Tony Tacon
Saxophone [Guest] – Stephan Abel
Trombone [Guest] – Andreas Barkhoff
Trumpet [Guest] – Philipp Kacza

55 years on from the band's formation, in March this year over the course of five days in a studio in Hamburg, Deep Purple singer Ian Gillan joined forces with his original band the Javelins, namely Gordon Fairminer (lead guitar), Tony Tacon (rhythm guitar), Tony Whitfield (bass) and Keith Roach (drums). Ian Gillan has been influenced by rhythm and blues, American soul and skiffle, so he must have had a great time recording these songs that he played back in the day and were an influence on him becoming a singer. Even back in his Gillan days they did a few rock 'n' roll classics like 'Trouble' and 'New Orleans'.
The Contours' 'Do You Love Me' starts the album off in style, getting those old feet tapping away. The songs on here are based on the set list Ian Gillan and the Javelins would have been performing back in 1963.
Don Airey adds some rip-roaring piano to the Jerry Lewis classic 'High School Confidential', and Airey lets fly again on 'Rock 'N' Roll Music', excellent stuff. On 'Save The Last Dance For Me' they add a little more guitar twang to the proceedings, steering away from the Drifters version of this song.
The love of blues comes though loud and clear on Howlin' Wolf's 'Smokestack Lightnin'. Considering none of the Javelins took up being a musician full time after the band split-up, they play throughout the album with a superb level of musicianship – have a listen to the intro on 'What I'd Say'.
Songs like 'Dream Baby (How Long Must I Dream)' and 'Little Egypt (Ying-Yang)' benefit from adding horns and these add a swing to the proceedings. The sound is crisp and polished throughout, no modern trickery only the instruments and microphones were allowed into the recording studio.
Ian Gillan and the Javelins obviously had a great time recording these songs as it comes through on the upbeat nature of the whole album. You don't have to be born in the 1950′s 0r 1960′s to enjoy this album, one full of great songs and wonderful performances. Perfect to put a smile on your face and a beat in your stride. ---Jason Ritchie, getreadytorock.me.uk
The Javelins to zespół, który powstał na początku lat '60 i inspirował się popem, soulem, jazzem i bluesem. Muzycy grali utwory swoich bohaterów, dodając do nich swój styl, jeździli od miasta do miasta zbierając coraz większą publiczność. The Javelins z każdym dniem zyskiwali coraz większą lokalną sławę i to w tym zespole Ian Gillan odkrył samego siebie i przede wszystkim "znalazł" swój głos. Kilka lat przed tym, gdy został wokalistą jednego z największych zespołów w historii rocka - Deep Purple.
"Współczesne nagrania The Javelins to obraz naszych setlist mniej więcej z 1963 roku, gdy miałem 18 lat. Teraz, kilka lat później, miałem przywilej i przyjemność pograć ze starymi kumplami tworzącymi ten zespół: Gordonem Fairminerem (gitara), Tony Taconem (gitara), Tony Whitfieldem (bas) i Keithem Roachem (perkusja). Wyszła z tego cała płyta" - opowiada Ian Gillan. Gościnnie na krążku pojawia się także Don Airey, klawiszowiec Deep Purple.
Album Ian Gillan and the Javelins to hołd dla takich artystów jak Chuck Berry, Jerry Lee Levis, The Drifters, Ray Charles, Budy Holly czy Bo Diddley. Płyta została nagrana w ciągu czterech dni w studio w Hamburgu, gdzie instrumenty, mikrofony, kartki z tekstami i wspomnienia były jedynymi narzędziami użytymi w nagraniach. ---magazyngitarzysta.pl
download (mp3 @320 kbs):