Porcupine Tree – Anesthetize (2010)
Porcupine Tree – Anesthetize (2010)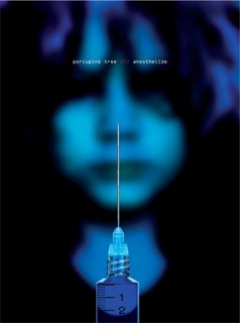 Disc 1
1. "Intro" 2:07
2. "Fear of a Blank Planet" 7:34
3. "My Ashes" 4:46
4. "Anesthetize" 17:20
5. "Sentimental" 5:18
6. "Way Out of Here" 7:47
7. "Sleep Together" 7:54
8. "Prodigal [Bonus Track]" 6:03

Disc 2
1. "What Happens Now?" 8:09
2. "Normal" 7:13
3. "Dark Matter" 8:57
4. "Drown With Me" 5:21
5. "Cheating the Polygraph" 8:11
6. "Half-Light" 5:28
7. "Sever" 5:37
8. "Wedding Nails" 5:43
9. "Strip the Soul/.3″ 8:17
10. "The Sleep of No Dreaming" 5:31
11. "Halo" 8:34 

Steven Wilson - Guitars, Lead Vocals
Richard Barbieri - Keyboards
Colin Edwin - Bass
Gavin Harrison - Drums 
+ 
John Wesley - Guitars, Vocals 

In full disclosure this is an early review after just one viewing, but what the hell? I felt like sharing. I've been pretty pumped to see this. Being one of the rare bands my better half appreciates as much as me, I knew it was going to be a fun watch....thus Steven will have to forgive the fact that I got really lit up for this viewing, something pretty rare these days. It was a festive evening, as it was for the fans in Tilburg I'm sure. Long story short, it's fantastic. I really can't find deductions to make even though I feel physical pain when I have to give 5 stars. That's a joke. Kind of.
So, the show is broken into two sections, not officially, but in my mind. Part one is a complete performance of the FoaBP album and it is simply stunning. In fact I think it bested the rest of the show which contained selections from the past. From the dramatic opening guitar lines of Fear to the finale of Sleep it was mesmerizing. Throughout the album's tracks the songs are punctuated by the thematic video behind the band. The highlight without question was the long centerpiece Anesthetize which features an earth-shaking climax, the band hugely powerful to these intense strobe lights. Some of the fills Harrison was pulling out had my jaw on the floor, every bit as great as watching Peart in his prime. Wilson is animated and in great spirits, the entire band seems exceptionally "up" for this particular gig. The second part of the show brings in some obscure tracks, some great choices from Signify and Nil Recurring among others. As clichéd as it is to describe PT music as a Rush/Floyd cross, it occurs while watching that the description is not so far off. Power and crispness combined with moodiness, melody, and spacey ambiance. Everything attempted here is pulled off at the highest levels of quality and to maximum impact on the viewer.
As good as the music and performance are, this show is put over the top by presentation. A more gorgeously filmed show you will rarely see. The 6th band member on the stage is atmosphere. From the video projections behind the stage to the striking lighting show the band is bathed in an aura perfectly choreographed to the moods and sounds of the music. Streaming colors and shadow work together as in the opening of Way Out Of Here. The crew captures it all with ambitious camera work and immaculate editing later, it is clear and sharp with none of the gimmicky visual tricks that distract somewhat on Arriving Somewhere. This presentation is all about capturing the personalities of the players and the themes of the songs. Flawless work. The sound is also as good as it gets, clear and powerful at high volume---I pushed my system way beyond where I usually go, and while my ears lost some hit points, it was worth it. This is a "rock show" packed with immediacy and power and I suspect it may win over some of those PT skeptics who complain the band doesn't connect emotionally with them. Some feel the band's best days are behind them, but this document shows me a band still capable of great work, something I can't say about some of the other prog or rock giants when they were 20 years into their career. At that point in their journey, Yes were giving us "Love Will Find a Way." Ouch.
This is admittedly a pretty fluff review short on specifics, but I can't help gushing a bit about first impressions. I'll probably revisit and revise this to discuss the music more after repeated viewings, but I had to help get the word out that this is the video event of the summer. Some folks don't get into DVDs as much as albums but for those of us who love watching prog-rock in the living room, this is essential. I can only hope they do the same for The Incident tour. The only thing lacking perhaps is extras, the standard versions contains only the show. Does this title risk becoming one of the over-hyped releases fanboys will keep on the front page for a while? Sure, but if my first impression holds up, this one ain't hype. ---Finnforest, progarchives.com
Ledwie ukazało się to wydawnictwo na rynku a już posypały komentarze pełne gromów. Że to nie to, że nie ta magia, że do "Arriving Somewhere…" (pierwszego DVD Porcupine Tree) sporo mu brakuje, itp., itd. Albo, że to dla tych, którzy przygodę z Porcupine Tree zaczynają, a nie dla "znawców", którzy nic ciekawego, oprócz zalatującej tu i ówdzie nudy, tu nie znajdą. Otóż proszę państwa, nic z tych rzeczy. Wiem, że każdy ma jakieś tam oczekiwania względem płytki wizyjnej, czy określonego zespołu. Tylko że zazwyczaj, sprowadzają się one do dobrego obrazu, dźwięku i ciekawego repertuaru.
W wypadku PT narzekanie na pierwsze dwa z wymienionych aspektów byłoby wręcz nietaktem. Wilson jest perfekcjonistą i w kategoriach realizacji dźwięku niektórzy zwą go nawet wizjonerem. Słychać jest zatem pięknie. Za to, co widać, odpowiedzialny jest nadworny reżyser Jeżozwierzy – Lasse Hoile – którego o fuszerkę też trudno posądzić. Dlatego też, ten niby zwykły koncert, pokazany jest w sposób niezwykle wysmakowany i zajmujący. Możemy się zatem na przykład spokojnie pogapić na wyjątkowo wydatny w te koncertowe dni (materiał na "Anesthetize" rejestrowany był podczas dwóch występów – 15 i 16 października 2008 roku w holenderskim Tilburgu) zarost Wilsona, czy klawiaturę Barbieriego w… odbiciu jego okularów. No ale przede wszystkim, na profesjonalną robotę muzyków, w zależności od kompozycji, pokazaną przez 9 kamer, w bardziej lub mniej dynamiczny sposób. Całość dopełnia ciekawa paleta scenicznych świateł. Doda ktoś zaraz: przydałyby się jakieś przebitki z klipów, urozmaicające sceniczną narrację, albo pokombinowanie z obrazem, a może jakieś pogaduchy z fanami lub muzykami między numerami? Hmm…. Czyż nie jest zazwyczaj tak, że jak takie "bajery" się wstawia, natychmiast zaczynają się narzekania? No a poza tym – jeżeli istnieje na tym świecie jakaś grupa kapel, u których (że pojadę mocno wyświechtanym zdankiem) "muzyka broni się sama" – Porcupine Tree z pewnością do niej należy.
No to skoro do dźwięku i obrazu za bardzo nie ma się co przyczepić, może ulżymy sobie na zestawie kawałków. No i tu się zastanawiam jak to zrobić? No bo ze wspomnianego już "Arriving Somewhere…" artyści powtarzają tylko jeden numer ("Halo"). Poza tym raczą nas na początku, odegranym w całości, promowanym wówczas albumem "Fear Of A Blank Planet", wyskakują na kultowy "Signify" (mroczny "Dark Matter", przebojowy "Sever" i wzniosły "The Sleep Of No Dreaming") i zahaczają o "In Absentia" ( "Wedding Nails", "Strip The Soul"). Nieusatysfakcjonowani "standardowymi" utworami z pewnością mogą pocieszyć się rzeczami, które nie trafiły na podstawowe blaszki "Deadwing" i "In Absentia" ("Half-Light", "Drown With Me"), bądź wreszcie trzema numerami z EP-ki "Nil Recurring". Przeciwnicy "Fear Of A Blank Planet" pewnie będą kręcić nosem. Dla mnie to jednak rzecz znakomita, a wykonania "Sentimental" i "Way Out Of Here" to jedne z najpiękniejszych momentów "Anesthetize".
Czyli o co chodzi? Aaa… o brak magii, albo "tego czegoś"!? A cóż to do cholery jest!? Może zbyt dawno nie byłem na koncercie Jeżozwierzy (choć zaliczyłem ich okrągłe 10 razy, ostatnio podziwiałem ich 3 lata temu), a może po prostu obejrzałem ten występ nie podczas obierania kartofli, tylko o jedynej sensownej porze, podczas której żona i dzieci znalazły się już w objęciach Morfeusza… Mnie w każdym bądź razie podczas oglądania i słuchania piątki muzyków kapcie spadły (no bo cóż innego o tej porze spaść mogło). Nie wiem czy to była magia, czy może "to coś", niemniej bawiłem się – o ile to zabawą zwać można – przednio.
Wiem, że to DVD ma jedną zasadniczą słabość. Brak dodatków. Choćby w postaci klipów autorstwa Lassego Hoile, które znalazły się w wersji blue-ray. Faktycznie, braku znakomitego obrazu do "Way Out Of Here" przeboleć nie mogę… No ale cóż, taka to już czasami dziwna polityka wydawców: chcesz mieć wszystko szanowny fanie, kup najlepiej kilka wersji tej samej rzeczy.
Powiem bez ogródek - nie wyobrażam sobie wielbiciela Porków, który zrezygnuje z "Anesthetize". Kilka argumentów znalazło się powyżej. No a gdy weźmie się pod uwagę, że to dopiero drugie DVD w historii kapeli z ponad dwudziestoletnim stażem… Bez komentarza. ---Mariusz Danielak, artrock.pl
download (mp3 @320 kbs):
Last Updated (Sunday, 11 November 2018 22:39)