Wilco – A Ghost Is Born (2004)
Wilco – A Ghost Is Born (2004)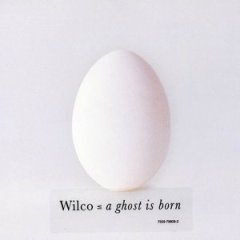 01 - At Least That's What You Said 
02 - Hell Is Chrome 
03 - Spiders 
04 - Muzzle of Bees 
05 - Hummingbird 
06 - Handshake Drugs 
07 - Wishful Thinking 
08 - Company in My Back 
09 - I'm a Wheel 
10 - Theologians 
11 - Less Than You Think 
12 - The Late Greats

Acoustic Guitar – Jeff Tweedy, Jim O'Rourke, John Stirratt, Leroy Bach
Backing Vocals – John Stirratt
Bass – Jim O'Rourke, John Stirratt, Leroy Bach
Double Bass – Jeff Tweedy 
Drums – Glenn Kotche
Dulcimer [Hammered] – Glenn Kotche 
Electric Guitar – Jeff Tweedy, Jim O'Rourke, John Stirratt, Leroy Bach
Keyboards [Rock-si-chord] – Mikael Jorgensen
Keyboards [Stylophone] – Mikael Jorgensen 
Loops – Glenn Kotche, Jeff Tweedy, Jim O'Rourke, John Stirratt, Leroy Bach
Organ – Leroy Bach, Mikael Jorgensen
Organ [Hammond] – Jim O'Rourke, Leroy Bach 
Percussion – Glenn Kotche 
Piano – Jim O'Rourke, John Stirratt, Leroy Bach, Mikael Jorgensen
Synthesizer – Glenn Kotche, Jeff Tweedy, Jim O'Rourke, John Stirratt, Leroy Bach, Mikael Jorgensen
Vibraphone – Leroy Bach
Vocals – Jeff Tweedy 
While Wilco's follow up to the plaudit-winning Yankee Hotel Foxtrot is, on all levels, a worthy successor, it may leave many of the band's newer fans a little non-plussed. For, while YHF was a case study in electronic intricacy, A Ghost Is Born has far more to do with the broader picture. As with its predecessor, the album comes with a tale or two of woe and disruption (more line-up changes and Jeff Tweedy's spell in rehab), but overall this is far more downhome stuff - witty and lighter on its feet.
While certain tracks on YHF only revealed their glories in the quiet moments where small sounds shifted and unravelled in front of your ears, Ghost attempts to give you a more focussed audio verite. This could explain why, on the two tracks that extend beyond the five minute mark, they really stretch out, for nigh on quarter of an hour each. It's as though Tweedy and pals have shifted their faith from craftsmanship to the power of repetition. ''Spiders'' can't help but remind you of the motorik experimentation of Neu! crossed with the freeform guitar of Tom Verlaine.
In fact it's guitars that are the album's touchstone. Tweedy, describing his style herein as: 'inspired amateurism' is being typically modest. His Neil Young-like tone and frenzied fretboard manglings make the perfect subversive backdrop to the traditional song formats the band work within. One can only guess at how good this will sound when combined with new member Nels Cline's even further-out extemporisations.
The band never forget their Americana roots, however. A song like ''Muzzle Of Bees'' can still remind one of wide open spaces (but still undercut with brooding electric menace) and, when it comes to tracks like ''Hummingbird'' and ''Company In My Back'', there's no denying that Tweedy still has an almost Beatlesque eye for a tune.
Overall this isn't really a step on from YHF; more of a step back and to the side as the band (and producer Jim O'Rourke) try to capture their live sound in a studio setting. Yet lest this be seen as being a bad thing, remind yourself of how good they were back in the days of Being There. Tweedy and co. are just doing what comes naturally, in a natural way again. Long may they continue... ---Chris Jones, BBC Review
download (mp3 @320 kbs):
yandex mediafire ulozto gett bayfiles
Last Updated (Thursday, 04 April 2019 19:15)