Van Halen - Women And Children First (1980)
Van Halen - Women And Children First (1980)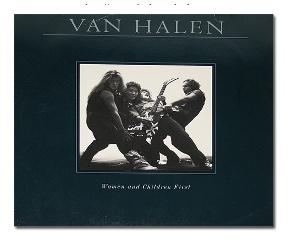 1. "And the Cradle Will Rock..." – 3:31
   2. "Everybody Wants Some!!" – 5:05
   3. "Fools" – 5:55
   4. "Romeo Delight" – 4:19
   5. "Tora! Tora!" – 0:57
   6. "Loss of Control" – 2:36
   7. "Take Your Whiskey Home" – 3:09                        play
   8. "Could This Be Magic?" – 3:08
   9. "In a Simple Rhyme" – 4:33 (Hidden track "Growth" begins at 4:19)  play

Personnel
    * David Lee Roth - lead vocals
    * Eddie Van Halen - guitar, keyboards, backing vocals
    * Michael Anthony - bass, backing vocals
    * Alex Van Halen - drums
    * Nicolette Larson - backing vocals on "Could This Be Magic?"

After two pure party albums, the inevitable had to happen: it was time for Van Halen to mature, or at least get a little serious. And so, Women and Children First, a record where the group started to get heavier, both sonically and, to a lesser extent, thematically, changing the feel of the band ever so slightly. Where the first two records were nothing but nonstop parties, there's a bit of a dark heart beating on this record, most evident on the breakneck metal of "Romeo Delight," but also the pair of opening party anthems, "And the Cradle Will Rock" and "Everybody Wants Some!!," which don't fly quite as high as "Dance the Night Away" or "Runnin' with the Devil" because of the tense, roiling undercurrents in Eddie's riffs, especially the thudding, circular keyboard riff propelling "And the Cradle Will Rock." The very fact that a keyboard drives this song, not a guitar, is a signal of Eddie's burgeoning ambition (which would soon become inseparable from his desire for respectability), and there are already some conflicts between this somber musicality and David Lee Roth's irrepressible hunger for fun. Where that tension would eventually tear the band apart, here it just makes for compelling music, adding richness and depth to this half-hour blast of rock & roll. This is the first Van Halen album to consist entirely of original material and there's some significant growth here to the writing, evident in the winding, cynical neo-boogie "Fools" and also in the manic "Loss of Control," which gallops by with the ferocity of hardcore punk. These, along with all previously mentioned songs, are the heaviest music Van Halen has made (or would ever make), but as the album rushes toward the end Diamond Dave pulls them toward his country-blues jive fixation with "Take Your Whiskey Home" and the all-acoustic "Could This Be Magic?" giving the album a dose of levity that is welcome if not necessarily needed. Then, before the album comes a close, the band unleashes its first stab at a power ballad with "In a Simple Rhyme," where the group's attempts at melodic grace are undercut by their compulsion to rock. This may not make for a full-fledged power ballad, but this tension between the two extremes -- by their increasing songcraft and their unhinged rock & roll -- makes for dynamic music, and captures all the contrasting glories of the album in one song. ---Stephen Thomas Erlewine, AllMusic Review
Trzecia płyta Van Halen przynosi kolejną porcję wpadających w ucho hardrockowych przebojów w większości zbudowanych wokół tego, do czego zespół już nas przyzwyczaił. Momentami widoczne są próby urozmaicenia sprawdzonej formuły - na przykład w Everybody Want Some!! mamy w zwrotce podbijany na bębnach podkład z przerywanym riffem Van Halena i mówionymi wokalizami Rotha.
Riffy brzmią ciężej, bardziej masywnie niż na poprzednich płytach. Oprócz przebojowych, radosnych (And the Cradle Will Rock..., Everybody Want Some!!) skocznych (Fools) i szaleńczo galopujących (Romeo Delight, Loss of Control) są tu takie utwory jak Take Your Whiskey Home oraz Could This Be Magic? z klimatami pogranicza blues/country.
Jest też Tora! Tora! instrumentalna miniaturka, sięgająca nieco orientalnych klimatów i ciężkiego brzmienia, wzbogacona budującymi nastrój okrzykami Rotha. Kończący album In a Simple Rhyme, oprócz lirycznych fragmentów zawiera ciężkie, bardzo heavy metalowe zakończenie. O ile Van Halen II zdaje się być po prostu powtórzeniem tego, co sprawdziło się na pierwszej płycie, to Women and Children First wyznacza nieco szerszy horyzont zespołu. Minusem albumu jest jak dla mnie brak wybijającej się ponad solidność kompozycji. ---Marcin Budyn, rockers.com.pl
download (mp3 @320 kbs):
yandex mediafire ulozto gett bayfiles
Last Updated (Friday, 22 March 2019 22:04)