Sting ‎– Bring On The Night (1986)
Sting ‎– Bring On The Night (1986)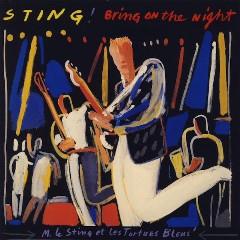 1-1 	Bring On The Night / When The World Is Running Down You Make The Best Of What's Still Around 	
1-2 	Consider Me Gone 	
1-3 	Low Life 	
1-4 	We Work The Black Seam 	
1-5 	Driven To Tears 	
1-6 	The Dream Of The Blue Turtles / Demolition Man 	
	
2-1 	One World (Not Three) / Love Is The Seventh Wave 	
2-2 	Moon Over Bourbon Street 	
2-3 	I Burn For You 	
2-4 	Another Day 	
2-5 	Children's Crusade 	
2-6 	Down So Long 	
2-7 	Tea In The Sahara

Backing Vocals – Dolette McDonald, Janice Pendarvis
Bass – Darryl Jones
Drums – Omar Hakim
Guitar, Vocals – Sting
Keyboards – Kenny Kirkland
Saxophone – Branford Marsalis

Sting really got carried away with the idea that his supporting crew for Dream of the Blue Turtles was a real jazz band, and technically, he was kind of right. He did pluck them straight out of Wynton Marsalis' backing band (thereby angering Wynton and emboldening his anti-rock stance, while flaring up a sibling rivalry between the trumpeter and his saxophonist brother Branford -- a veritable hat trick, that), and since he was initially a jazz bassist, it seemed like a good fit. At the very least, it seemed like a monumental occasion because he documented the entire development of the band and making of Dream with a documentary called Bring on the Night, releasing a double live album as its soundtrack just a year after the debut hit the stores. This could be called hubris (and it will be called that here), especially because the appearance of the live album feels like a way of showcasing Sting's jazz band and jazz chops. Most of the songs run around five minutes long and there are no less than three medleys, two of which marry an old Police number with a tune from Dream. Arriving as a second solo album, it can't help but feel a little unnecessary, even if the loose, rather infectious performances show what Sting was trying to achieve with his debut. Even so, this is a record for the cult, and while it will satisfy them, to others it will seem like, well, hubris. ---Stephen Thomas Erlewine, AllMusic Review
Wydając bardzo udany album "The Dream Of The Blue Turtles", Sting rozpoczął karierę solową (choć niektórzy upierają się, że tą należy tak naprawdę datować od albumu "Synchronicity"). Sting wyruszył też w trasę promującą album, zabierając w roli akompaniatorów basistę Darryla Jonesa (znanego z zespołu Milesa Davisa), saksofonistę Branforda Marsalisa, pianistę Kenny'ego Kirklanda, perkusistę Omara Hakima i dwie wokalistki. Trasę udokumentował podwójnym albumem koncertowym, zbierającym fragmenty koncertów z Arnhem, Paryża i Rzymu.
Jedna (dwie) płyty studyjne – i zaraz album koncertowy? Lekko to bezczelne. Z reguły tzw. żywce wydaje się, gdy zespół/muzyk ma już na koncie kilka płyt studyjnych i jakąś pozycję na rynku. Tyle że akurat Sting, oprócz albumu solowego, miał na swoim koncie także dużą liczbę swoich kompozycji nagranych i wydanych pod szyldem The Police – i to te kompozycje stanowią większość repertuaru płyty. Same koncerty były też dość specyficzne: już sam skład zespołu akompaniującego byłemu już Policjantowi wskazuje, że Sting postanowił nawiązać do czasów sprzed The Police. Do czasów, gdy grywał na kontrabasie w jazzowych klubach Newcastle. Zresztą, już na "Dream" jazzowych akcentów było bardzo wiele.
Chwilami Sting odcina się od Policyjnej przeszłości bardzo wyraźnie: znany z drugiej płyty The Police "Bring On The Night" ma zmienioną rytmikę, stracił charakterystyczny puls reggae, do tego wzbogacają go saksofonowe sola i wokalne improwizacje. Utwór tytułowy został zresztą połączony z "When The World Is Running Down", również rozbudowanym o różne solowe popisy (m.in. długie, jazzujące solo fortepianu), które w pewnym momencie nabiera nieco soulowego odcienia.
Utwory z solowej płyty Stinga również doczekały się "podjazzowania": "Consider Me Gone" już w oryginale miało przyjemną jazzującą wibrację, tutaj – za sprawą instrumentów dętych – ten jazz słychać jeszcze bardziej. Utwór tytułowy ze "Snu o niebieskich żółwiach" doczekał się połączenia z "Demolition Man", rozbudowanym o m.in. syntezatorową solówkę. "Moon Over Bourbon Street" przedstawiono w wersji zbliżonej do oryginału (zresztą akurat ten utwór podjazzowywania zresztą nie potrzebował). W "Children's Crusade" nieco rozwleczono jazzującą wstawkę w środku. Nie do końca potrzebnie.
Bardzo fajnie wypada za to "One World (Not Three)": zamiast kombinować, udziwniać całość swingującym rytmem i jazzowymi podziałami rytmicznymi, Sting zaproponował przyjemne, letnie reggae – a więc formę jak najbardziej dla siebie naturalną i typową. Zresztą "One World" w pewnym momencie płynnie przechodzi w "Love Is The Seventh Wave". Całość przyjemnie ubarwia lekka, popowa solówka saksofonu i dawka luźnego jamowania na żywo. W "Another Day" również liczbę kombinacji ograniczono, zostawiając zwięzłą, dynamiczną piosenkę. Niespecjalnie Sting kombinował też z pięknym utworem "Tea In The Sahara", przedstawiając go w wersji zbliżonej do oryginału
Właśnie, jazz jazzem, ale… Przy całym szacunku dla kunsztu muzyków: nie da się ukryć, że mamy tu do czynienia z pop-jazzem, czy też smooth-jazzem: te solówki saksofonowe chwilami podjeżdżają elegancką, ale – knajpą, całość - choć ta mieszanka jazzu, rocka, popu i soulu wypada całkiem interesujaca - jest przez to trochę za bardzo wygładzona. OK. – jest to płyta jak najbardziej do posłuchania, a przy okazji dokumentacja intrygującego okresu w karierze Pana Żądło. ---Piotr "Strzyż" Strzyżowski, artrock.pl
download (mp3 @320 kbs):
yandex mediafire ulozto gett bayfiles