Scorpions - Fly To The Rainbow (1974)
Scorpions - Fly To The Rainbow (1974)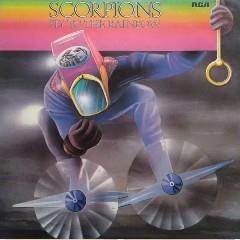 1.	Speedy's Coming		03:33	
2.	They Need a Million	04:50	
3.	Drifting Sun		07:40	
4.	Fly People Fly		05:02	
5.	This Is My Song		04:14	
6.	Far Away		05:39	
7.	Fly to the Rainbow	09:32

Klaus Meine - Vocals
Ulrich Roth - Guitars
Rudolf Schenker - Guitars
Francis Buchholz - Bass
Jurgen Rosenthal - Drums
with Achim Kirschning - organ, synthesizer, mellotron

The Scorpions rose phoenix-like from the ashes of recent career setbacks with their sophomore album Fly to the Rainbow, released on Nov. 1, 1974.
Over the previous year, the troubled band had gone as far as breaking up, following the rather disappointing performance of the debut project Lonesome Crow and the crippling departure of lead guitarist Michael Schenker – who'd been whisked away by UFO.
For Michael's older brother Rudolf and Scorpions singer Klaus Meine, the next best available option for keeping their rock and roll dreams alive was to join another Hannover-based band named Dawn Road, featuring bassist Francis Buchholz, drummer Jurgen Rosenthal and another six-string wizard named Uli Jon Roth.
But before too long, the new quintet had mutually agreed to adopt the relatively established Scorpions moniker, and that's when their fortunes changed: A new recording contract with the German division of RCA materialized and gave them a new lease on life, leading to the recording of Fly to the Rainbow.
Yet their sound was still in transition. Only this album's blistering opening number, "Speedy's Coming," truly epitomized the focused hard rock that would soon become a Scorpions trademark, and while Fly People Fly previewed their future knack for power ballads, much of the remaining material harked back to increasingly dated, late '60s aesthetics.
Both "They Need a Million" and "Drifting Sun" were largely fueled by Roth's obsession with the Jimi Hendrix Experience and also stowed away synthesizers from the band's brief, early days flirtation with krautrock. "This Is My Song" was a harmless hippie-dippy jam, while "Far Away" was unnecessarily weighed down by overwrought orchestral arrangements.
Even the album's impressive, nearly 10-minute title track indulged in some serious art-rock pretension (Spanish guitars, Roth's stoned space-shaman narration, etc.) but these were ultimately compensated for by its irresistible melodic themes and sheer sturm und drang.
It wasn't perfect, but this project was clearly a perfectly respectable and occasionally very impressive bridge for a band that had so recently found itself on the verge of total oblivion. Fly to the Rainbow got the Scorpions back on their feet, and moving in the right direction. It also quickly paid huge dividends when the following year's career-defining In Trance helped set the template that would come to define Germany's biggest hard-rock export.
Kariera grupy Scorpions zaczęła się naprawdę dobrze. Debiutancki album "Lonesome Crow" pokazał zespół od dość ambitnej strony. Niestety, jego dalsza działalność to stopniowe obniżanie lotów. Wszystko zaczęło się sypać wkrótce po premierze debiutu. Najpierw posypał się skład. Odejście perkusisty Wolfganga Dziony'ego nie było wielką stratą; szybko znaleziono następcę, którym został Joe Wyman. O wiele boleśniejsza była strata Michaela Schenkera - gitarzysty, który miał największy wpływ na charakter i jakość pierwszego longplaya. Jego talent i umiejętności daleko wyprzedzały pozostałych muzyków. Nic więc dziwnego, że wykorzystał szansę, jaka nadarzyła się podczas wspólnych koncertów z brytyjską grupą UFO. Zespół przyjechał do Niemiec w niepełnym składzie, gdyż gitarzysta Bernie Marsden (później członek Whitesnake) zgubił swój paszport. Pozostali muzycy zostali zmuszeni wypożyczać gitarzystę od swojego supportu. I tak zachwycili się jego grą, że zaproponowali mu stały etat. Młody Schenker zdecydował się wykorzystać szansę. Było to równoznaczne z końcem Scorpions.
Przynajmniej tak się wtedy wydawało. Niedługo potem Rudolf Schenker i Klaus Meine dołączyli do grupy Dawn Road, którą dotychczas tworzyli: śpiewający gitarzysta Uli Jon Roth, basista Francis Buchholz, perkusista Jürgen Rosenthal i klawiszowiec Achim Kirschning (ten ostatni wkrótce został zdegradowany do roli gościa). Muzycy szybko doszli do wniosku, że zamiast zaczynać od podstaw pod nieznaną nazwą, lepiej przybrać szyld mający już pewną rozpoznawalność. Tak odrodziła się grupa Scorpions. Choć tak naprawdę był to już zupełnie inny zespół. Nie tylko ze względu na skład, ale przede wszystkim na samą muzykę. Wydany pod koniec 1974 roku album "Fly to the Rainbow" nie przypomina swojego poprzednika. Zamiast dość luźnych, w znacznym stopniu opartych na improwizacji utworów, znalazły się na nim bardzo konwencjonalne kawałki o wyraźnych, piosenkowych strukturach.
Już na otwarcie pojawia się bardzo prosty "Speedy's Coming". Kawałek nie jest zbyt wyszukany, ale nadrabia energią i melodycznością. Solówki Rotha są całkiem przyzwoite, a w tle przyjemnie pulsuje bas Buchholza. Zwraca uwagę śpiew Meine'a - znacznie pewniejszy niż na debiucie. Album jest jednak dość różnorodny. Już drugi na trackliście "They Need a Million" rozpoczyna się akustycznie i dopiero potem nabiera ciężaru. Brzmi jak połączenie hard rocka i... muzyki ludowej. Drugą część śpiewa Rudolf Schenker, ale efekt lepiej pominąć milczeniem. Z kolei "Drifting Sun", kompozycja Rotha, przez niego zaśpiewana (z pomocą Meine'a i Schenkera), jest wyraźnym wyrazem jego uwielbienia dla Jimiego Hendrixa. Nieźle wypada zasadnicza część utworu, z solidną gitarową robotą, gdy jednak muzycy próbują grać bardziej psychodelicznie w środkowej części, robi się po prostu nudno. Rothowi jednak daleko do Hendrixa. "Fly People Fly" jest natomiast pierwszym podejściem Meine'a i Schenkera do napisania rockowej ballady. Na szczęście obyło się bez słodzenia i kiczu, jest za to odpowiednia dawka ciężaru i dość dobra, choć monotonna gra instrumentalistów. Przyczepić można się natomiast do partii wokalnej - Klaus popada tu w nieco płaczliwą manierę, będącą zresztą mankamentem także w wielu późniejszych balladach grupy.
Dużo lepiej wypada druga strona winylowego wydania. "This Is My Song" to bardzo energetyczny kawałek, oparty na wyrazistym, pulsującym basie i gitarowych unisonach kojarzących z Wishbone Ash, a do tego posiadający naprawdę chwytliwą partię wokalną. To zdecydowanie jeden z najlepszych i zarazem najbardziej niedocenionych kawałów Scorpions. Dwa kolejne utwory, co ciekawe, powstały przy kompozytorskiej pomocy Michaela Schenkera. Gitarzysta chciał w ten sposób wynagrodzić grupie swoje odejście. "Far Away" rozpoczyna się bardzo subtelnie, wręcz onirycznie, aby po chwili nabrać hardrockowego brzmienia i... niemal reggae'owej rytmiki. Znacznie ciekawiej wypada finał albumu, w postaci tytułowego "Fly to the Rainbow". To prawie dziesięciominutowa kompozycja, składająca się z trzech części: zgrabnego akustycznego początku, hardrockowego, przebojowego środka (znów z unisonami a'la Wishbone Ash), oraz psychodelicznego zakończenia (znów z podrabianiem Hendrixa przez Rotha). Poszczególne części, choć tak różne, tworzą ciekawą całość, która stanowi doskonałe podsumowanie całego albumu.
"Fly to the Rainbow" to wyraźny zwrot Scorpions w stronę prostszego, bardziej komercyjnego grania. Jest tu kilka niezłych utworów, ale całość wydaje się niezbyt spójna i nie do końca dopracowana. Zespół wciąż jeszcze szukał odpowiedniego dla siebie stylu, stąd tak wiele tutaj podobieństw do innych wykonawców. Paradoksalnie, to właśnie momenty, w których muzycy naśladują Wishbone Ash lub Hendrixa, są tutaj najbardziej udane. ---Paweł Pałasz, pablosreviews.blogspot.com
download (mp3 @320 kbs):
yandex mediafire ulozto gett solidfiles bayfiles