The Police - The very best of Sting & The Police (1997)
The Police - The very best of Sting & The Police (1997)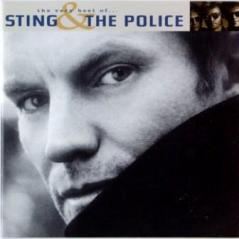 01. Message In A Bottle
02. Can't Stand Losing You
03. Englishman In New York
04. Every Breath You Take
05. Seven Days
06. Walking On The Moon
07. Fields Of Gold
08. Fragile
09. Every Little Thing She Does Is Magic
10. De Do Do Do, De Da Da Da
11. If You Love Somebody Set Them Free
12. Let Your Soul Be Your Pilot
13. Russians
14. If I Ever Lose My Faith In You
15. When We Dance - Edit
16. Don't Stand So Close To Me
17. Roxanne
18. Roxanne '97 - Puff Daddy Remix

Personnel includes: 
Sting (vocals, guitar, bass); Cheb Mami (vocals);
Andy Summers (guitar); Branford Marsalis (saxophone); Kenny Kirkland,
David Sancious (keyboards); Darryl Jones (bass); 
Stewart Copeland, Vinnie Colaiuta, Omar Hakim (drums); Mino Cinelu (percussion).

In June 1979, Sting assured the cultural Gestapo, "We never called ourselves punks." The Police's calculated rock-reggae alloy was, after months of Transit van torment, hit material. Indeed, despite the trademark banana hair - bleached for an American gum commercial - Sting, lanky drummer Stewart Copeland and wizened Curved Air guitarist (sic) Andy Summers (already 35) could never have been called punks.
When Sting went solo, six years and 40 million album sales later, he stopped being not punk, and not reggae, and went not jazz and not soul. Not a South American Kayapo Indian, sterner critics say he's not an actor. He's been a lot of things, yet Sting occupies a unique chair at music's top table: eminently likeable among today's over-40 rock aristocracy (surely the fittest), with £97 million, with enough Ivor Novellos to start a rifle range, and yet willing to cameo in 'The Smell Of Reeves & Mortimer'. This career compilation, a fine rich sauce stands testament to Gordon Matthew Sumner's victory over inauthenticity.
Nine solo singles to eight Police tracks seems, at first, unjust - whither 'So Lonely', 'Invisible Sun' - but Sting was in the band for eight years and has been Himself for fifteen. What separates the distinct halves (they come ready-shuffled, non-chronology fans), is the predominantly mellow nature of the Sting work: one could imagine the Police going on to record 'If I Ever Lose My Faith In You' or the sublime 'Englishman In New York', but Copeland would've legged it before mid-life mooners like 'When We Dance' or 'Fragile' (covered, tellingly, by Julio Iglesias in 1995). The Police were more than the sum of their prog-jazz-pub roots, and their new wave (especially 'Can't Stand Losing You') material is hot through with enough finesse to forever distinguish it from The Jags and 1983's 'Every Breath You Take' still remains Sting's most beautiful (and creepy) composition.
There's only one real minus to this songwriting masterclass-cum-Newcastle City Council self-help seminar: the uninvited yet obligatory 'Roxanne '97', which despite Puff Daddy's remixing efforts, merely proves that Sting is not rap either. ---Andrew Collins, Q Magazine
download (mp3 @320 kbs):
Last Updated (Wednesday, 07 November 2018 09:09)