The Police – Certifiable - Live in Buenos Aires (2008)
The Police – Certifiable - Live in Buenos Aires (2008)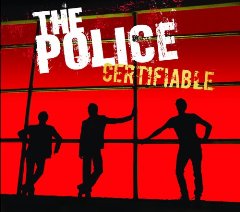 Cd 1

1 Message In A Bottle
2 Synchronicity II
3 Walking On The Moon
4 Voices Inside My Head/When The World Is Running Down
5 Don't Stand So Close To Me
6 Driven To Tears
7 Hole In My Life
8 Truth Hits
9 Every Little Thing She Does Is Magic
10 Wrapped Around Your Finger

Cd 2

1 De Do Do Do De Da Da Da
2 Invisible Sun
3 Walking In Your Footsteps
4 Can't Stand Losing You/Reggatta De Blanc
5 Roxanne
6 King Of Pain
7 So Lonely
8 Every Breath You Take
9 Next To You

Line Up:
Andy Summers, Stewart Copeland, Sting
Thirty years after they first stormed the music scene, legendary rock band The Police, bassist/vocalist Sting, drummer Stewart Copeland and guitarist Andy Summers, embarked on a reunion tour on May 28, 2007. This highly successful world tour visited five continents, played to nearly 3.7 million fans and garnered numerous accolades from Billboard, Pollstar, as well as The People's Choice award for Favorite Reunion Tour. It also went down in history as the third highest grossing tour of all-time. Now, following their much heralded 14-month reunion tour, The Police commemorate the culmination of the tour with a special release.
On November 11, The Police will release a 4-disc set (2 CD's and 2 DVD's) entitled "The Police: Certifiable," which contains the band's entire concert from Buenos Aires, Argentina. In the US, this special piece - along with Blu-Ray version and three-LP, premium 180-gram vinyl set with MP3 file key - will be released exclusively through Best Buy where pre-orders are already available. In the rest of the world, the album and DVD will be released via all retail outlets internationally on November 10. The United Kingdom release date for the DVD and Blu-Ray formats is November 24.
A massive European media launch of the Blu-Ray format, in association with Sony, Dolby and the Blu-Ray Association, will take place prior to the European release and will be attended by Stewart Copeland of The Police.
"The Police: Certifiable" is produced and directed by the award-winning Graying & Balding, Inc. team of Ann Kim and Jim Gable, whose film credits include the Rolling Stones, Sting, Keith Urban and Chris Botti. ---thepolice.com
download (mp3 @320 kbs):
Last Updated (Wednesday, 07 November 2018 22:05)