Police – Fall Out – Tokyo 1981
Police – Fall Out (1981)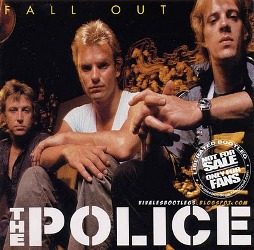 01. Don't Stand So Close To Me
02. Walking On The Moon
03. Deathwish
04. Fall Out							play
05. Man In A Suitcase
06. Bring On The Night
07. De Do Do Do, De Da Da Da
08. Truth Hits Everybody				play
09. When the World Is Running Down...
10. Bed's Too Big Without You
11. Driven To Tears
12. Message In A Bottle
13. Roxanne
14. Can't Stand Losing You
15. So Lonely

Live at Budokan, Tokyo, Japan - February 02, 1981.
Zenyatta Mondatta Tour

Personnel: Sting :: Andy Summers :: Stewart Copeland.

Here's a great-sounding Police recording that's been off the tracker for a little while. Clear, tight, balanced sound and a cracking performance. (Info from the original torrent follows)
The Police were an English rock band formed in London in 1977. For the vast majority of their history, the band consisted of Sting (lead vocals, bass), Andy Summers (guitars) and Stewart Copeland (drums). The Police became globally popular in the late 1970s and are generally regarded as one of the first New Wave groups to achieve mainstream success, playing a style of rock that was influenced by punk, reggae, and jazz. Their 1983 album, Synchronicity, was number one on both the UK Albums Chart and the US Billboard 200, and sold over 8,000,000 copies in the US. The group finally disbanded in 1986, but reunited in early 2007 for a one-off world tour lasting until August 2008. The Police have sold more than 50 million albums worldwide, and were the world's highest-earning musicians in 2008, thanks to their reunion tour.
download (mp3 @320 kbs):
Last Updated (Tuesday, 06 November 2018 22:26)