Pink Floyd - Greatest Hits (2009)
Pink Floyd - Greatest Hits (2009)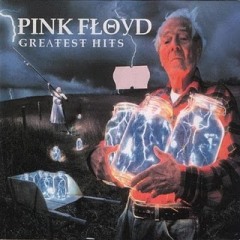 CD 1
01.In The Flesh - The Wall
02.One Of These Days - Meddle
03.The Happiest Days of Our Lives - The Wall
04.Another Brick in the Wall, Pt. 2 - The Wall
05.The Fletcher Memorial Home - Final Cut
06.Comfortably Numb - The Wall
07.Us and Them - The Dark Side of the Moon
08.Final Cut - Final CutThe
09.Money - The Dark Side of the Moon
10.Time - The Dark Side of the Moon
11.Run Like Hell - The Wall
12.Sheep - Echoes
13.Echoes - Echoes

CD 2
01.Shine on You Crazy Diamond, Pts. 1-5 - Wish You Were Here
02.The Hero's Return - Final Cut
03.Hey You - The Wall
04.Wish You Were Here - Wish You Were Here
05.Mother - The Wall
06.The Gunners Dream - Final Cut
07.The Great Gig in the Sky - The Dark Side of the Moon
08.Young Lust - The Wall
09.Have a Cigar - Wish You Were Here
10.What Do You Want from Me - The Division Bell
11.On The Turning Away - A Momentary Lapse Of Reason
12.Take It Back - The Division Bell
13.Learning To Fly - A Momentary Lapse Of Reason
14.High Hopes - The Division Bell

Future Pink Floyd members Roger Waters, David Gilmour and Syd Barrett were schoolmates in Cambridge, England. And although the latter two played guitar together casually for years—in fact, both were busted busking during a sojourn to San Tropez—their respective tenures in Pink Floyd barely overlapped.
In fact, Gilmour replaced his long-time friend in the band in 1968: Barrett sadly was a casualty of the era's LSD experimentation, a brilliant songwriter and performer whose unstable behavior was becoming a detriment to the group. He eventually released several solo albums and then retreated from the public eye.
Still, both configurations of Pink Floyd did wonders to advance rock music. The Barrett-era group specialized in zonked-out space rock with shuddering psychedelic overtones and ominous grooves—and had immersive, powerful concerts to match.
Post-Barrett, Pink Floyd kept the unease, menace and guitar drone from their psychedelic era, but paired it with conceptual rigor and influences from hard and progressive rock. With 1973's Dark Side Of The Moon and 1979's The Wall, the band created two of the most ambitious—and best-selling—albums of all time.
Pink Floyd's roots were far humbler. In 1965, Barrett and Waters met drummer Nick Mason and keyboardist Richard Wright and formed a band. With Barrett at the creative helm, 1967's The Piper At The Gates of Dawn and 1968's A Saucerful Of Secrets reflected the burgeoning London psychedelic scene, where Pink Floyd had taken up residence at the Marquee Club and other hip enclaves and events. Yet despite the band's reputation for trippy sprawl, Barrett also had an ear for pop: In fact, the compact, non-album singles "See Emily Play" and "Arnold Layne" were both U.K. hits.
In the immediate wake of Barrett's departure, Pink Floyd kept up their meandering psychedelic ways on 1969's Ummagumma and 1970's obtuse Atom Heart Mother. 1971's Meddle was a turning point, however, where the hallmarks of the band's commercially successful sound—free-floating guitars suspended in more ambient, keyboard-burnished arrangements—first coalesced.
Pink Floyd hit their stride on 1973's The Dark Side Of The Moon. A somber meditation on mortality, capitalism and madness, the album was at turns both defiant and emotionally bereft—polar opposites exemplified by the sleazy blues of "Money" and the saxophone- and piano-augmented emotional dirge "Us and Them." The LP became one of the defining records of the '70s (if not classic rock in general) and stayed on the Billboard album charts for nearly 15 years.
Dark Side Of The Moon's album artwork—a ray of light refracted through a pyramid-shaped prism to reveal a rainbow—also became one of the most recognizable LP covers ever. Pink Floyd's visuals and musical presentations always went hand-in-hand, with dazzling light shows and elaborate stage constructions becoming a staple of their live concerts.
1975's Wish You Were Here was preoccupied with emotional (and physical) distance and alienation, and spawned more classic songs—including the acoustic guitar-driven title track and an extended elegy to Barrett, "Shine On You Crazy Diamond." 1977's Animals was more gnarled and progressive, which set the stage for the Waters-penned 1979 magnum opus, The Wall. Incredibly, this double album—featuring the No. 1 hit "Another Brick In The Wall, Pt. 2" and the soaring, dream-like "Comfortably Numb"—topped Dark Side Of The Moon in terms of sales and influence.
A concept record driven by the emotional imprisonment and isolation of a character named Pink, The Wall describes a dystopian society oppressed by war, brainwashing education, the government, entertainment and even personal demons. To underscore the themes, Pink Floyd's concerts in support of The Wall featured a literal wall built in front of them as they performed the album—a dramatic spectacle that brought even more popularity.
After The Wall, growing fissures within the band became insurmountable. Wright had taken a diminished role prior to the album, while Waters left the group and broke up Pink Floyd after 1983's The Final Cut.
A series of contentious legal battles followed, which eventually cleared the way for a Gilmour-led iteration of Pink Floyd which also featured Mason and Wright. This lineup produced 1987's Momentary Lapse of Reason—an LP containing the sterling "Learning To Fly"—and 1994's The Division Bell.
Gilmour, Mason, Waters and Wright did reunite in 2005 for a 20-minute set at Live 8. Sadly, Barrett died in 2006, and Wright died of cancer in 2008. The latter's passing especially affected Gilmour—and after 2012's The Endless River, Pink Floyd was effectively put to rest.
In recent times, Roger Waters has also revived The Wall for live tours. That led to Mason and Gilmour popping up (the latter literally, above the built wall) to perform "Comfortably Numb" at a 2011 London gig. Still, each member is content to do their own thing musically—which works out well since Pink Floyd's legacy is alive and well in countless modern bands, from the Flaming Lips to Spiritualized. ---rockhall.com
download (mp3 @320 kbs):
Last Updated (Sunday, 04 November 2018 23:02)