Neil Young International Harvesters – A Treasure (2011)
Neil Young International Harvesters – A Treasure (2011)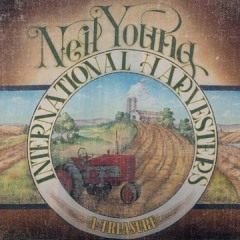 01. Amber Jean 03:17
02. Are You Ready For The Country? 03:39
03. It Might Have Been 02:43		play
04. Bound For Glory 05:59
05. Let Your Fingers Do The Walking 03:03
06. Flying On The Ground Is Wrong 04:48
07. Motor City 03:22
08. Soul Of A Woman 04:28
09. Get Back To The Country 02:31		play
10. Southern Pacific 07:53
11. Nothing Is Perfect 05:02
12. Grey Riders 05:58

Personnel: 
Neil Young (vocals, guitar); 
Anthony Crawford (vocals, guitar, banjo); 
Ben Keith (vocals, pedal steel guitar); 
Rufus Thibodeaux (fiddle); 
Spooner Oldham (piano);
Karl T. Kimmel (drums).

Volume 9 of Neil Young's long-delayed, suddenly prodigious Archives series, A Treasure chronicles Neil's 1984-1985 tour with the International Harvesters, a crackerjack assemblage of country pros featuring guitarist Ben Keith, pianist Hargus "Pig" Robbins, fiddler Rufus Thibodeaux, and Spooner Oldham. This is one of Young's famous left turns, as he abandoned the tightly wound electro of Trans and the hipster rockabilly of Everybody's Rockin' for a trip back to the country, cutting Old Ways then hitting the road with the International Harvesters. Old Ways was a little stilted but the same can't be said of A Treasure: this is vivid and alive, pulsating with a palpable joy. Their energy boosts the Old Ways material, giving it welcome blood and muscle, but A Treasure runs far broader than that one album. Young overhauls two cuts from Re*Ac*Tor, turning "Motor City" and "Southern Pacific" into a honky tonk stomp and a chugging country ballad, respectively, reworks Buffalo Springfield's "Flying on the Ground Is Wrong," covers Joe London's country chestnut "It Might Have Been" and, most significantly for the hardcore, there are five unreleased Young originals here: a sweetly rambling ode to his daughter "Amber Jean," an excellent slice of Texan honky tonk with "Let Your Fingers Do the Walking," the rowdy barroom blues of "Soul of a Woman," the working man protest of "Nothing Is Perfect," and Crazy Horse stomp "Grey Riders." The unheard tunes are all first-rate, but what's really notable about A Treasure is that it offers a compelling document of how good the International Harvesters were and, in turn, makes sense of a somewhat murky period for Neil Young. ---Stephen Thomas Erlewine, AllMusic Review
Kolejna pozycja w wydłużającym się cyklu archiwalnych koncertowych albumów Neila Younga okazała się być jedną z najciekawszych w zestawie – dokument ten pochodzi z połowy lat 80., a więc z okresu słabo reprezentowanego, jeśli chodzi o płyty koncertowe (jedynie "Life" – całkowicie premierowy album nagrany na żywo), do tego w karierze Younga stanowiącego szaloną sinusoidę, kalejdoskop zupełnie różnych stylów i brzmień.
O tym, że Neil Young chętnie czerpie inspirację z muzyki country, było wiadomo tak na dobrą sprawę już od czasów Buffalo Springfield. Chętnie nagrywał płyty inspirowane country, ciekawie adaptujące elementy tego stylu do klimatu swojej solowej twórczości; ma też na koncie czysto country'owy, "korzenny" album – "Old Ways" z roku 1985. W tym czasie chętnie grał też country na żywo wraz z grupą The International Harvesters (sami starzy znajomi – Ben Keith, Spooner Oldham, sekcja Drummond-Himmel, znany z płyty "Comes A Time" skrzypek Rufus Thibodeaux). I właśnie nagrania z koncertów wypełniły kolejny archiwalny album koncertowy Neila.
Wszystko jest tu bardzo stylowe, z miękkimi, łkającymi dźwiękami gitary pedal steel, ciepłymi zawodzeniami smyczków i miękkim brzmieniem gitar. Nawet gdy pojawi się wyeksponowana partia fortepianu, czy mocniejsze gitary (jak w finałowym "Grey Riders"), zaraz równoważą je ludowe skrzypki. Oprócz będących dość oczywistym wyborem folkowo-country'owych piosenek, tak znanych ("Get Back To The Country"), jak i premierowych (w tym radosnej, wręcz tanecznej "Amber Jean", poświęconej córce Neila) znajdują się tu nowe odczytania "Flying On The Ground Is Wrong" (które już w oryginale z czasów Buffalo Springfield nie wyrzekało się country'owych korzeni; tu po prostu nieco je podkreślono) i mocno przerobionych "Motor City" i "Southern Pacific" (to ostatnie na płycie "Re-Ac-Tor" miało zdecydowanie gitarowe brzmienie; okazało się, że wystarczy zmodyfikować instrumentarium i nagle wyszło Nashville pełną gębą; swoją drogą to świetny przykład, jak bardzo Neil Young – także ten zdecydowanie rockowy, hałaśliwy – inspirował się country). Całość zagrana jest żywo, z jajem – czuć, że panowie lubią ze sobą grać, że, tak po prostu, wspólne muzykowanie sprawia im radość. Nie ma tu może jakichś szalonych wzlotów wykonawczych, ale płyta jako całość wypada interesująco, ciekawie uzupełnia obraz Neila Younga na żywo.
Archiwalna płyta z muzyką country nie była jedynym hołdem złożonym amerykańskiej tradycji muzycznej, jaki w tym czasie popełnił Neil Young. Postanowił on bowiem zagłębić się w tą właśnie tradycję dużo głębiej i pełniej, niż kiedykolwiek wcześniej. A co z tego wyszło – o tym w odcinku LI: Tajemniczy sklep ze starociami (The Mystery Of The Old Curio Shop). ---Piotr "Strzyż" Strzyżowski, artrock.pl
download (mp3 @VBR kbs):
Last Updated (Thursday, 06 September 2018 15:23)