Megadeth – United Abominations (2007)
Megadeth – United Abominations (2007)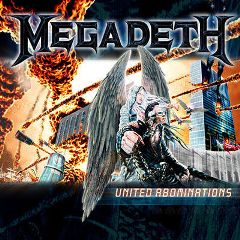 01. Sleepwalker
02. Washington is Next!
03. Never Walk Alone...A Call to Arms      play
04. United Abominations
05. Gears of War
06. Blessed Are the Dead
07. Pray For Blood                         play
08. A Tout Le Monde (Set Me Free)
09. Amerikhastan
10. You're Dead
11. Burnt Ice

Megadeth:
Dave Mustaine, Glen Drover (acoustic guitar); 
James LoMenzo, Shawn Drover (background vocals).

Guests: 
Cristina Scabbia (vocals); 
Axel Mackenrot (keyboards); 
Chris Rodriguez (background vocals).

Megadeth have been through a lot of lineup upheaval circa the early 21st century, with longtime leader Dave Mustaine being the only familiar face left in attendance. But Megadeth's crunchy, venomous thrash has remained intact, as heard throughout their 2007 release, United Abominations (their first for the Roadrunner label). While many thrash-metal bands take the easy way out lyrically -- by detailing their encounters with Señor Beelzebub -- Mustaine has never shied away from voicing his opinion about politics and the state of the world. And as evidenced by such biting tracks as "Washington Is Next!," "Gears of War," "Amerikhastan," and the title track, Mustaine remains as outspoken as ever about what he's been seeing on CNN for the past few years. Musically, Megadeth were never afraid to show off their prog-worthy chops, and the 2007 lineup (which sees Mustaine joined by bassist James LoMenzo and the sibling tandem of Glen Drover and Shawn Drover on guitar and drums) appears custom-made for tackling "tricky bits" -- including the album-opening "Sleepwalker." Elsewhere, a re-recording of "A Tout le Monde" -- as a duet between Mustaine and Lacuna Coil's Cristina Scabbia -- has "radio/MTV airplay" written all over it. They may have lost the plot for a period (remember 1999's Risk?), but with United Abominations, Mustaine and company certainly sound reborn. [The 2007 Roadrunner edition includes one bonus track.] ---Greg Prato, AllMusic Review
Minione lata działalności Megadeth obfitowały w zwroty akcji. Poprzedni album grupy, zatytułowany "The System Has Failed" miał pierwotnie ukazać się jako solowa płyta Dave'a Mustaine'a. Ostatecznie został wydany pod szyldem Megadeth, jednak Dave zarzekał się, że więcej płyt ten zespół już nie nagra. Jakiś czas później zmienił zdanie i po trzech latach ukazuje się "United Abominations", będący nową odsłoną Megadeth. Ze starego składu został tylko Mustaine. Dołączyli do niego bracia Glen i Shawn Drover oraz niegdysiejszy basista zespołu White Lion, James Lomenzo, mający za sobą również grę w zespołach Zakka Wylde'a, a także występy z Ozzym Osbournem, Slashem i Davidem Lee Rothem.
Zmiany personalnie nie odcisnęły jednak mocnego piętna na muzyce. Świadczy o tym nowa wersja piosenki "A Tout Le Monde", tu z podtytułem "Set Me Free", i gościnnym udziałem wokalistki Lacuna Coil Cristiny Scabbi. Wykonana została bardziej żywiołowo niż pierwowzór z albumu "Youthanasia", a gościnny wokal Christiny dodał jej barw, lecz prawdę mówiąc całość niewiele różni się od oryginału. Kilka ciekawszych rzeczy można znaleźć wśród zupełnie nowych kompozycji. We wściekłym "You're Dead" dominują liczne łamańce rytmiczne, zmiany tempa, nagłe zwolnienia i przyspieszenia. Zaczynający się hardrockowo "Burnt Ice" rozpędza się aż do karkołomnego finału z ekspresową gitarową solówką. Po nerwowym wstępie "Never Walk Alone" dość nieoczekiwanie pojawia się nośny refren, choć bardziej zaskakująco brzmi melodyjne interludium w późniejszej części utworu. W "Amerikhastan" melodeklamacje zderzają się z ognistą thrashową sieczką. Gitarowe wstawki w "Washington Is Next!" kojarzą się natomiast z "Wasted Years" Iron Maiden. Piosenka ta obok otwierającego całość "Sleepwalker" najlepiej podsumowuje styl Megadeth: nieokiełznany, zadziorny, a przy tym melodyjny.
"United Abominations" to album dobry, choć od rzekomo pożegnalnego dzieła można by oczekiwać czegoś więcej. No, ale Dave przyzwyczaił nas do tego, że po nim nigdy nic nie wiadomo. A nuż za kilka lat odkurzy szyld Megadeth? ---RJF, rockmetal.pl
download (mp3 @320 kbs):
yandex mediafire ulozto cloudmailru gett
Last Updated (Saturday, 07 July 2018 20:33)