Megadeth – Endgame (2009)
Megadeth – Endgame (2009)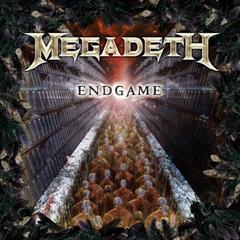 1. Dialectic Chaos 
2. This Day We Fight! 
3. 44 Minutes 
4. 1,320 
5. Bite The Hand That Feeds 
6. Bodies Left Behind 
7. Endgame 
8. The Hardest Part Of Letting Go... Sealed With A Kiss 
9. Headcrusher 
10. How The Story Ends 
11. The Right To Go Insane

Backing Vocals – Chris Clancy, Chris Rodriguez
Bass Guitar – James Lomenzo
Drums, Percussion – Shawn Drover
Lead Guitar, Rhythm Guitar, Acoustic Guitar – Chris Broderick
Vocals, Lead Guitar, Rhythm Guitar, Piano, Acoustic Guitar – Dave Mustaine 
They may never be the biggest metal band in the world – that honour will always belong to their perennial rivals Metallica – but Dave Mustaine's Megadeth have long sought to be the most respected. And with Endgame, their twelfth studio album, they are once again asserting their right to be considered one of the best and most consistent heavy groups on the planet.
1,320 is typical 'Deth in its ferocity and breakneck guitar work, and Mustaine's trademark snarl has never sounded angrier. The likes of instrumental opener Dialectic Chaos, which sees Mustaine and new guitarist Chris Broderick (a prodigious, outlandish talent on this evidence) trading thrash riffs at a ridiculously high pace, and 44 Minutes demonstrate their commitment to pushing the modern metal envelope, not through the employment of any flashy tricks or gimmicks, but by perfecting the thrash genre.
They haven't reached their nirvana, as the title track strays a little too close to over-familiar territory (in a bad way), but Endgame is the most reliable and proficient Megadeth album arguably since 1990's Rust in Peace.
The frenetic This Day We Fight! harks back to their earliest days, all tooth-grinding rhythms and lightning guitar work courtesy of Broderick, and The Hardest Part of Letting Go... Sealed With a Kiss is another highlight. Head Crusher takes classic metal subject matter – medieval torture implements – and turns it into something that sounds both fresh and recognisable at the same time.
Mustaine's personal life has been the subject of much attention (he has, relatively recently, renounced debauchery and declared himself a Christian) but throughout Endgame he sounds almost terrifyingly feral. He is the impetus that gives his band the fuel to stay at the top of the metal tree two-and-a-half decades after their inception, and has once again proved himself to be one of the alternative music's most important and prolific figures. ---Stephanie Burkett, BBC Review
W końcu udało się Dave'owi Mustaine i jego Megadeth nagrać solidny, prawdziwie thrash metalowy album. Instrumentalny "Dialectic Chaos" to świetne wprowadzenie i zarazem jeden z najlepszych otwieraczy na płytach tego zespołu. "Engame" zdominowany jest przez ciężkie riffowanie (np. "This Day We Fight!", "1,320", "Head Crusher"), któremu często jednak towarzyszą melodyjne partie wokalne (np. "44 Minutes", "Bodies", "The Right to Go Insane"). Urozmaiceniem albumu są akustyczne fragmenty półballadowego "The Hardest Part of Letting Go... Sealed With a Kiss". W większości utworów uwagę przyciągają solówki nowego gitarzysty, Chrisa Brodericka. Nawet jeśli "Endgame" nie przyniósł grupie żadnego przeboju (chociaż "Head Crusher" był nominowany do nagrody Grammy), to stanowi najbardziej równą całość co najmniej od czasu "Youthanasii". --- Paweł Pałasz, pablosreviews.blogspot.com
download (mp3 @320 kbs):
yandex mediafire ulozto cloudmailru gett
Last Updated (Saturday, 07 July 2018 20:37)