Papa Roach – Metamorphosis (2009)
Papa Roach – Metamorphosis (2009)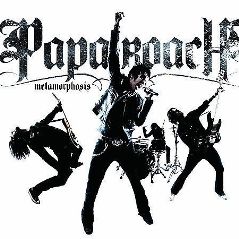 01 - Days Of War - 01:32
02 - Change Or Die - 03:13
03 - Hollywood Whore - 03:56
04 - I Almost Told You That I Loved You - 03:09
05 - Lifeline - 04:06
06 - Had Enough - 04:01
07 - Live This Down - 03:35
08 - March Out Of The Darkness - 04:25
09 - Into The Light - 03:27
10 - Carry Me - 04:26
11 - Nights Of Love - 05:18
12 - State Of Emergency - 05:06

Bass, Guitar, Programmed By, Backing Vocals – Tobin Esperance
Drums, Percussion, Backing Vocals – Tony Palermo
Guitar, Backing Vocals – Jerry Horton
Vocals – Jacoby Shaddix

Back in 2000, along came PAPA ROACH in the running for top alternative act with their first release "Old Friends from Young Years." Then legions of fans started to gather for what was to become their first major label release "Infest" on Dreamworks Records and the immediate impact on the music scene took a jolt to the system as it went platinum three times over and put them on the top of the charts… but this was not enough! The band pounded the pavement by nonstop touring and PAPA ROACH landed many accolades an their way to superstar status.
Today in 2009, their sixth release "Metamorphosis" is already on the rise as the band heads out once again on yet another tour.
Checking out the new tunes, the opening track "Days Of War" that has the feel of a live stage performance. You can't deny the tone of "Metamorphosis" which continues on with a lot of that same "live" feel through out the release. Jacoby Shaddix is simply amazing as a front man and possesses some of the best vocals in rock today. These boys write hooked filled lyrics that get you singing along and combine it with destroying guitar solos that'll have you playing one mean air-guitar before you know it.
If ya wanna "bump and grind," take a listen to "I Almost Told You That I Loved You." A little volatile on the ego front but hey, it's time to turn the table for a change. Check out the lyrics on this one women! Maybe it'll teach ya to stop fucking with guys heads!
Then there's the hit maker "Lifeline." it's already on the radio and already on the top of rotations worldwide. Is there any sense in going further into "Lifeline?" Plain and simple… it kicks ass!!!
If you want to get a sentimental feel of how some people are thinking, you really have to listen to the lyrics. Ok, PAPA ROACH are superstars and make great music but they also have feelings and the lyrics tell you that. "Had Enough" tells it like it is, another boy being shot dead coming home in a body bag as his mother cries… it's time for the violence to end!
What I really like about "Metamorphosis" is that no matter if the tune is soft or they hit you with some acoustics like on "March Out of the Darkness" or shredding tunes like "Into The Light," once that chorus hits… the songs explode! I mean, these guys are on top of their game with the new release and this is a must add to your collection. Just check the fucking guitar riffs on "Into The Light." All I can say is… damn, Jerry Horton!
"Nights of Love" is another hit maker that I can see making its way up the charts. Good sing-a-long tune that the kiddies will like. Then ending the disc is the hard driving "State Of Emergency" … a fast track that says it all. The world is in a "State Of Emergency!"
Great release once again from PAPA ROACH! ---Brian Rademacher, rockeyez.com
Nie wiem do końca jaką metamorfozę Papa Roach hucznie ogłasza w tytule swego najnowszego dzieła. Dobra, ich muzyka dojrzała, kurs został skorygowany. Ale wszystkie dźwięki na nowym albumie Karaluchów brzmią jakoś tak znajomo...
Po kolei. Amerykanie wypłynęli swego czasu na szersze wody, podczas światowego boomu na nu metal. Choć stwierdzenie, że nu metal grali jest raczej mocno na wyrost. Debiutancki "Infest" zdradzał post-grungowe inspirację. "Lovehatetragedy" miał w sobie coś z wibracji Faith No More. Kolejne dwa krążki mogły by dumnie nosić nazwę "Metamorphosis". I gdy "Getting Away With Murder" udanie flirtował z ówczesnym, nazwę to, rockowym mainstreamem tak na "Paramour Sessions" Papa Roach stracił wiarygodność w oczach fanów. Kwintesencją tego był festiwal różu i klimatów z MTV w teledysku do "...To Be Loved".
Zapewne stąd zatem huczne tytuły. Zmieniliśmy się... ale czy wróciliśmy? I tak, i nie. Karaluchy nagrały bowiem płytę, która w domyśle miała pogodzić fanów dawnego jak i nowego oblicza grupy. Dla zatwardziałych fanatyków "Last Resort" mamy tutaj "Into The Light" osadzone (tylko te chórki w refrenie...) w klimatach oficjalnego debiutu. Wielbicielom melodyjnych refrenów po mocnych zwrotkach Papa Roach zafundował singlowe "Hollywood Whore". Kochałeś "Getting Away With Murder"? To na pewno zadurzysz się też w, zwracającym uwagę nie tylko ciekawym tekstem, "I Almost Told You That I Loved You". A miłośnikom "Paramour Sessions" zespół zaserwował kilka ckliwych balladek. Na dokładkę muzycy postanowili też pochwalić się, że potrafią pomieszać w aranżach. Efektem czego jest najdłuższy w ich karierze numer "Nights Of Love".
Jacoby Shaddix niczym nie zaskakuje. Raz krzyczy, raz śpiewa. Tylko na rapowanie definitywnie się obraził. Jerry Horton gdy trzeba tnie riffem, a kiedy musi to zamula. Nowy nabytek zespołu, Tony Palermo, w sumie niczego wielkiego na perkusji nie pokazał...
...Czym perfekcyjnie się wpasował w obliczę Amerykanów A.D. 2009. To jest właśnie największy mankament omawianej tu płyty. Całość to właśnie "nic wielkiego". Ot, "radio friendly" płyta, na której Papa Roach owszem pokazuje dojrzałe podejście do swojej twórczości, ale niczym nie zaskakuje. Płyta przelatuje, a Ty znasz już jej wszystkie składowe... Dla fanów będzie to udany krążek, może Karaluchy kupią nim kilku nowych fanów. Ale następnym razem muszą wykrzesać na kolejnym albumie więcej szczerych emocji.
PS. Pierwszy raz stwierdzam, że "Polska Cena" ma rację bytu. Odradzam zakup pełnego wydania. Ponieważ oprócz paru zdjęć, we wkładcę płyty nie znajdziemy ani śladu chociaż jednego tekstu do jakiegoś utworu... ---Grzegorz Żurek, magazyngitarzysta.pl
download (mp3 @320 kbs):
Last Updated (Wednesday, 10 October 2018 08:34)