Papa Roach – The Connection (2012)
Papa Roach – The Connection (2012)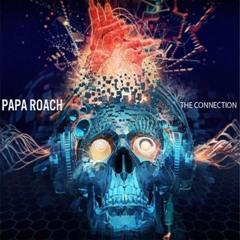 01 – "Engage"
02 – "Still Swingin'"
03 – "Where Did The Angels Go"
04 – "Silence Is The Enemy"
05 – "Before I Die"
06 – "Wish You Never Met Me"
07 – "Give Me Back My Life"
08 – "Breathe You In"
09 – "Leader Of The Broken Hearts"
10 – "Not That Beautiful"
11 – "Walking Dead"
12 – "Won't Let Up"
13 – "As Far As I Remember"
+
14 - What's Left Of Me
15 - 9th Life

Musicians:
    Jacoby Shaddix - vocals
    Jerry Horton - lead guitar
    Tobin Esperance - bass guitar
    Tony Palermo - drums, percussion

Right then, first up, I'll admit that I'm not the biggest fan of Papa Roach. I loved Infest, and it's hard to think that it was 13 years ago that you couldn't switch on MTV Rocks and not hear about someone wanting their life cut into pieces …
The thing is, I fell out of favour with that whole "Nu Metal" scene, so bands like Staind, Disturbed and yes, Papa Roach, failed to excite me, so I never bothered listening to any more stuff. That was a mistake on my part, and I'm the first to admit that. I absolutely loved Staind's last album, and I have the entire back catalogue (I think) of Disturbed's albums. You don't want to know about all of that though do you? Anyway, when Papa Roach's new album came up for review, I was somewhat pensive, but I thought I'd give it a go to see what I'd been missing out on the last 13 years or so …
Holy crap, this album is VERY good. It's full of songs that are rebellious, tinged with serious messages, and above all, they're really strong. This is an album almost chock full of anthemic rock songs. With choruses so big, that they could easily fill the largest stadiums in the world. Some of them are really heavy, with riffs that will slice you in twain. Some of them though, are just so infectious.
A few tracks could easily slot into mainstream radio. Is that a bad thing? Nope definitely not, as this shows some great song writing skills. They suck you in, without warning, and they really are contagious. Before you know it, you'll be singing along with them, such is the strength of the material on show.
Also of course, they have certainly shaken off that Nu Metal tag, well and truly. I didn't know what to expect when I first pressed play, but this is a million miles away from what I thought it might be. There's some serious attitude on display, and quite honestly, this is a top contender for one of my top albums of the year, it is simply that good. Papa Roach are major contenders for being among the top acts on the planet. I have little doubt that anyone who listens to this album won't be able to find something that they like on it.
To give you some idea of exactly how much I do like this album, I went out and bought a ticket for one of the shows in December this year with Stone Sour, and before listening to this album, I can tell you now, that I wouldn't have been that bothered at all.
This album has well and truly knocked me sideways, it's hit me with such a sucker punch. It was totally unexpected, but boy does it feel good to be wrong sometimes. This album will get your neck aching for sure, and probably every other part of your body. It's ferociously addictive, and every song is pure class.
Do I like it? Nope I don't, I LOVE it. Papa Roach are back, and they're still swinging, and I'm glad to have been stood in the way when they swung in my direction. I happen to think this album is nothing short of stunning, and I am still in total awe. ---Jon Seymour, purerawk.com
download (mp3 @320 kbs):
Last Updated (Wednesday, 10 October 2018 08:37)