Mötley Crüe ‎– Dr. Feelgood (1989)
Mötley Crüe ‎– Dr. Feelgood (1989)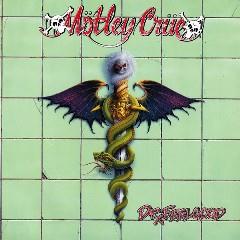 1 	T.n.T (Terror 'n Tinseltown) 	0:42
2 	Dr. Feelgood 	4:50
3 	Slice Of Your Pie 	4:32
4 	Rattlesnake Shake 	3:40
5 	Kickstart My Heart 	4:43
6 	Without You 	4:29
7 	Same Ol' Situation (S.O.S.) 	4:12
8 	Sticky Sweet 	3:52
9 	She Goes Down 	4:37
10 	Don't Go Away Mad (Just Go Away) 	4:40
11 	Time For Change 	4:45

Bass [4, 8 And 12 String] – Nikki Sixx 
Drums, Percussion – Tommy Lee
Guitar – Mick Mars
Lead Vocals – Vince Neil 
Backing Vocals – Bob Dowd (tracks: 11), Bob Rock (tracks: 2, 4, 8, 9), Bryan Adams (tracks: 8),
 David Steele (4) (tracks: 2 to 5, 8 to 11), Donna McDaniel (tracks: 2 to 5, 7, 9 to 11),
  Emi Canyn (tracks: 2 to 5, 7, 9 to 11), Jack Blades (tracks: 7, 8), Mark LaFrance (tracks: 2 to 11),
   Mike Amato (tracks: 11), Nikki Sixx (tracks: 2, 4, 5, 8, 11), Rick Nielsen (tracks: 9),
    Robin Zander (tracks: 9), Skid Row (tracks: 11), Steven Tyler (tracks: 8),
     Toby Francis (tracks: 11), Tommy Lee (tracks: 2, 4, 5, 8, 11), Vince Neil (tracks: 2, 4, 8, 9) 

Mötley Crüe's albums were a lot like episodes of Married with Children -- they may not be great works of art, but they can be darn entertaining. With Bob Rock serving as producer, the L.A. headbangers savored the joys of trashy, unapologetically decadent fun on Dr. Feelgood -- an album that made no pretense at being anything else. While nothing here is quite as commanding as "Shout at the Devil," "Wild Side," or "Live Wire," such hook-oriented MTV smashes as "Kickstart My Heart," "Don't Go Away Mad (Just Go Away)," and the title song are infectious and hard to resist, and helped make this the best-selling Mötley Crüe album ever, as well as providing their first Top Ten singles. Unfortunately, the album would be lead singer Vince Neil's last album with the band for several years, thus marking the end of Mötley Crüe's heyday. Neil's departure -- and pop-metal's decline in popularity during the mid-'90s -- proved to be severe blows to Mötley Crüe, but Dr. Feelgood is still a fine curtain call. [In 1999, the Crüe remastered and reissued Dr. Feelgood on their own Motley/Beyond label with bonus tracks.] ---Alex Henderson, AllMusic Review
Zdaniem wielu fanów i krytyków Dr Feelgood to apogeum twórczości zespołu. Komercyjne? Na pewno. Poczwórna platyna, pięć singli promocyjnych, z czego tylko jeden nie poszalał na liście Billboardu. Nie ma co dyskutować. A artystycznie? Tu także wiele głów potakuje, ale to nie do końca prawda. Lata osiemdziesiąte to pasmo sukcesów i ciągła ewolucja zespołu. Jest raczej rzeczą gustu, co do nas najbardziej z tego okresu twórczości przemawia. Niemniej jednak to już piąta z rzędu znakomita płyta kalifornijskiego kwartetu. Znów inna, bo jeszcze bardziej komercyjna, ale przy tym i naprawdę wysmakowana. W Rattlesnake Shake możemy usłyszeć sekcje instrumentów dętych (co pewnie zainspirowane zostało ówczesnym przebojem Aerosmith Dude, Looks Like Lady). Slice of Your Pie brzmi ładnie dzięki charakterystycznym beatlesowskim harmoniom i psychodelicznej aurze. Słychać, że pomysłów chłopakom nie brakowało. Mogli pójść na łatwiznę i zalać wszystko słodkim klawiszowym sosem. Na szczęście nie zrobili tego.
Skręt w komercyjne rejony zwykle pociąga za sobą zmasowany atak ballad. Dostajemy tu aż trzy, co stanowi absolutny rekord, biorąc pod uwagę ich ówczesne standardy. Without You, Don't Go Away Mad (Just Go Away) i Time For Change. Wszystkie zgrabne, ujmujące swoją czułością... choć pierwsza aż do przesady ckliwa.
Jeśli ktoś nie zaakceptował nowych rozwiązań to na pewno przekona go reszta płyty. Utwór tytułowy, mimo wygładzonej melodyki i trochę natarczywej przebojowości to typowe dla nich granie. To samo petarda - Kickstart My Heart. Tu już jest i przebojowo, i ostro jak dawniej. Wprost wybornie!
Na podstawie moich wynurzeń ktoś może pomyśleć, że mamy tu do czynienia z albumem niespójnym. Odpowiedź brzmi: nie! Raczej z ciekawie zróżnicowanym. To był zasłużony sukces. ---Paweł Chmielowiec, rockers.com.pl
download (mp3 @320 kbs):