Eliza Doolittle ‎– Eliza Doolittle (2010)
Eliza Doolittle ‎– Eliza Doolittle (2010)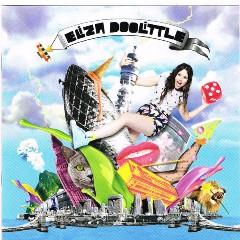 1	Moneybox	3:04
2	Rollerblades	3:03
3	Go Home	2:57
4	Skinny Genes	3:05
5	Mr Medicine 	3:27
6	Missing	3:42
7	Back To Front	3:41
8	A Smokey Room	2:53
9	So High	2:41
10	Nobody	3:00
11	Pack Up	3:11
12	Police Car	3:21
13	Empty Hand	3:05


Let's start with the voice. It's a beautiful, expressive thing: high and clear, with the occasional emotive crack. The pretty melodies and tweeting harmonies (literally, in some cases) are rendered snoozily, as if Eliza's vocals were recorded just after waking and stretching from a dream-filled sleep. This is clearly a good thing.
Melodically there's not much to argue with either. Eliza shares John Sebastian's knack of being able to make songwriting sound like a lucky accident. There's no sign of effort or strain. And no idea is too silly for consideration.
She's great at guileless tumbledown melodic runs – like the carefree Rollerblades, or the call-and-response chorus to Pack Up. The latter being one of only a few songs to use a sample of something older as an integral part of the songwriting process.
As a result, a lot of this album sounds like it fell off the back of a Tom and Jerry cartoon, with the occasional swear word or whistled-out sex reference (Skinny Genes) to remind us of the modern world. But that happy, random quality can have unfortunate side-effects, such as a lyric sheet which is far too pleased with itself.
It's a bit ripe to hear Eliza snarkily ragging on someone else's clichéd lifestyle – "Yeah, cos that's so original" – in A Smokey Room when so many of her ideas started out on other people's records. Moneybox would like to be a sharper dig at consumer culture than it really is. And the rhyme of "do me a favour" with "jingle your change, sir" ends the chorus on a jarring note.
In the end, it's a matter of taste. If you can handle a lot of wacky in your pop music, there's a lovely album here waiting for you. If not, Corinne Bailey Rae is over there. ---Fraser McAlpine, BBC Review
download (mp3 @320 kbs):
yandex mediafire ulozto gett solidfiles