Sneaker - Loose In The World (1982/1998)
Sneaker - Loose In The World (1982/1998)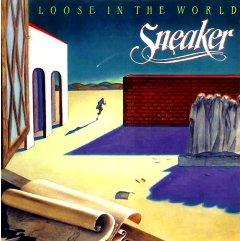 1 	Believe Me Tonight 	3:43
2 	Quiet Crying 	4:16
3 	Before You 	3:32
4 	The Fight - Voices 	0:40
5 	Never Get Over You 	4:06
6 	Where You Gonna Run? 	3:55
7 	Pour It Out 	3:58
8 	Someone To Blame It On 	3:27
9 	Did You Order One? 	5:36
10 	Nothing From You 	4:07
+
11 	I Can't Imagine
12 	All Or None  	
13 	Loose In The World 	
14 	Then It Came 

Michael Cottage 	Bass
Mitch Crane 	Guitar, Vocals
Michael Hughes 	Drums, Piano, Vocals
Jim King 	Bass, Piano, Synthesizer
Michael Carey Schneider 	Keyboards, Vocals
Tim Torrance 	Guitar 

I had really high hopes for this album. With Jeff "Skunk" Baxter producing and with how excellent the first record was, I thought this was really going to blow my skirt up. Sadly, with a couple exceptions, I'm not wowed.
Yes, the playing, arranging, recording, mixing and mastering are top-notch. Yes, I Can't Imagine is hauntingly beautiful. I can see Never Get Over You resonating with a number of people. But overall I'd say the material is not A+, in particular the opening cut. Really? Singing the line "Would you believe me tonight?" over and over equates to a song worthy of opening an album with? I think not.
The production of this album, the vocal arrangements, etc., all remind me of Ambrosia and the eponymous Pages album by Richard Page & Steve George. I hear a lot of Toto in this Sneaker album, too, as well as some Eagles. As I said, it's a very well done project with top-notch personnel. I just don't think that many of the songs are all that hot.
I'm sitting here listening to the album for the second time as I type this review. I wish it would grow on me, but many of the tunes just aren't. To me, some of the tracks on this album sound like the ones that didn't make the cut for the first album. ---Stephen J. Boone, amazon.com
download (mp3 @320 kbs):
yandex mediafire ulozto gett bayfiles
Last Updated (Thursday, 19 September 2019 16:26)