Milli Vanilli – Girl You Know It's True - The Best Of Milli Vanilli (2013)
Milli Vanilli – Girl You Know It's True -The Best Of Milli Vanilli (2013)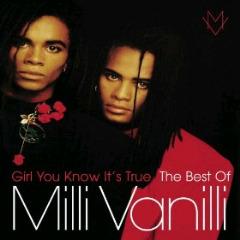 01 – Girl You Know It's True
02 – All Or Nothing
03 – Baby Don't Forget My Number
04 – I'm Gonna Miss You
05 – Ma Baker
06 – Boy In The Tree
07 – Can't You Feel My Love
08 – Dance With A Devil
09 – Is It Love
10 – Money
11 – Hush
12 – Dreams To Remember
13 – It's Your Thing
14 – More Than You'll Ever Know
15 – Take It As It Comes
16 – Blame It On The Rain
17 – Girl You Know It's True (N.Y.C. Subway Remix)
18 – All Or Nothing (Us Club Mix)

In 1988 the German record producer Frank Farian discovered Robert Pilatus and Fabrice Morvan (Rob and Fab) while they were living in Munich. Impressed by their charisma and chiselled good looks, Farian formed them into a pop group that he dubbed 'Milli Vanilli.'
Their success was almost instantaneous. They rocketed to stardom on the strength of their hit singles, Girl You Know It's True and Blame It on the Rain. Their debut album sold over seven million copies, and they won a 1989 grammy as best new artist.
But there was an ugly truth lurking behind the attractive façade presented by Rob and Fab: they possessed absolutely no musical abilities whatsoever. They couldn't play instruments, write music, or even sing. All of their songs had been created in a studio by professional musicians. Whenever Rob and Fab performed on stage, they simply lip-synched the words.
Embarrassed by the situation, Rob and Fab confronted Farian and insisted that he allow them to sing on their next album. Farian, however, had no interest in agreeing to this, so on November 14, 1990 he revealed in an interview that their act was a sham. The news rocked the music industry, and the media latched onto the story with a passion. For many cultural critics, Rob and Fab's deception seemed to be a perfect representation of the artificial, pre-packaged nature of the pop music industry itself.
Rob and Fab bravely tried to soldier on after the revelation. They recorded an album using their own names, but the effort failed miserably. Scorned by the music industry and ridiculed by the public, they drifted into the half-light of infamy and notoriety. In 1998 Rob Pilatus apparently succumbed to the cloud of censure hanging over him. He was found dead in a hotel room due to a drug overdose. He was only 32 years old. --- museumofhoaxes.com
Milli Vanilli niemiecka grupa muzyczna, grająca piosenki z gatunku eurodance, która powstała w 1988 roku przez niemieckiego producenta Franka Fariana. W zespole występowali: Fabrice Fab Morvan i Robert Rob Pilatus.
Debiutancki album grupy Milli Vanilli zatytułowany "All or Nothing" osiągnął wielki sukces na arenie międzynarodowej pod koniec lat 80. Debiutancki album kupiło aż 10 milionów osób, a w lutym 1990 roku muzycy odebrali nagrodę Grammy dla najlepszego nowego artysty. To właśnie z tej płyty pochodzi największy przebój grupy Milli Vanilli - "Girl You Know, It's True".
W listopadzie 1990 roku dobrze zapowiadającą sie karierę Milli Vanilli przerwało oświadczenie producenta zespołu Franka Fariana, który przyznał, że Pilatus i Morvan w ogóle nie uczestniczyli w nagraniu bestsellerowej płyty, występując jedynie w teledyskach. Zespołowi odebrano nagrodę Grammy - jako jedynemu do tej pory w historii. W kolejnych latach próbowano wskrzesić zespół pod zmienioną nazwą: The Real Milli Vanilli, jednak grupa nie odniosła większego sukcesu, wydając jedynie longplay "The Momen Of Truth" w 1992 roku. --- fm.tuba.pl
download (mp3 @320 kbs): yandex mediafire uloz.to cloudmailru uptobox
Last Updated (Thursday, 27 April 2017 12:14)