Cassie - RockaByeBaby (2013)
Cassie - RockaByeBaby (2013)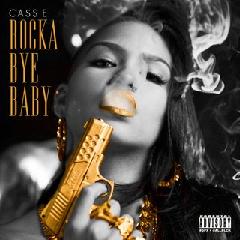 01 – Intro
02 – Paradise ft. Wiz Khalifa
03 – Take Care of Me Baby ft. Pusha T
04 – Addiction ft. French Montana
05 – Numb ft. Rick Ross
06 – Sound of Love ft. Jeremih
07 – I Love It ft. Fabolous
08 – RockaByeBaby
09 – I Know What You Want
10 – Turn Up ft. Meek Mill
11 – Do My Dance ft. Too Short
12 – Bad Bitches ft. Ester Dean
13 – All My Love

Cassie hasn't released a proper full-length recording since her 2006 self-titled debut album. Last year, the R&B siren made noise with her guest appearance on Nicki Minaj's single 'The Boys.' After a seven-year absence, the 26-year-old artist is back and puts the naysayers to sleep with her first mixtape, 'RockaByeBaby.'
Cassie's seductive voice remains intact as she sings over productions from Mike WiLL Made It and Young Chop, among others. The 13-track collection boasts a line-up of rap heavyweights like Wiz Khalifa, Pusha T, French Montana, Rick Ross, Too Short, Fabolous, Meek Mill and others.
On the mixtape, Cassie plays a seductive vixen who's living, loving and stacking her paper. On 'Addiction,' featuring Frenchy, the R&B siren compares her love for a man to a drug habit. "You got me addicted / Addicted to your love / I'm your addiction / Addiction, in my mind / Heroin and cocaine, I know you're not good for me / But I don't want to go away," she coos. That carries over to the melodic 'I Love It,' featuring Loso, in which he seductively croons about her bedroom prowess. But it's not all sex talk.
On the title track, Cassie spits braggadocio rhymes of being at the top of her game. "I already got the cane with the crown / So cool, I gotta cock to the side, mink to the ground," she raps. "Yeah, mink to the ground let that motherf—er drag on the floor." The song then segues into her smoothed-out remix of Kendrick Lamar's 'm.A.A.d City.' The Ester Dean-assisted 'Bad Bitches' is Cassie's girl-power anthem, which could get major spins in the clubs. The call-and-response chorus ("Where the bad bitches at? / Where the bad girls go?") will probably have women pumping their fist in the air despite the derogatory B-word being tossed around.
Overall, the 'RockaByeBaby' mixtape is an enjoyable listen. Hopefully, this project will help Cassie release her long-awaited second album without no delays. --- thedrop.fm
download:   4shared gett mediafire
Last Updated (Friday, 12 August 2016 10:15)