Kristina Maria – Tell The World (2012)
Kristina Maria – Tell The World (2012)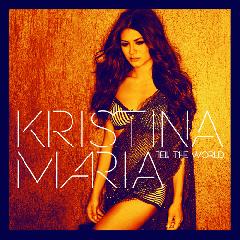 01 – Let's Play
02 – Karma
03 – We Belong Together		play
04 – Our Song Comes On
05 – Co-Pilot (Feat. Laza Morgan)
06 – I Wanna Tell The World
07 – Animal (Feat. JC Chasez)
08 – Understatement
09 – It's All Games
10 – Run
11 – FML X2		play
12 – It's You
13 – Alright
14 – Up And Up
15 – Co-Pilot (Feat. Corneille) (Bonus Track)

If Kristina Maria is one of Canada's hottest rising stars -- and she most definitely is -- it's destiny. Really. Just ask the rising star herself. "I think music picked me," says Kristina Maria, 22. "It's just something that I knew. I used to hum on key before I could even speak."
She knew her destiny growing up in a Lebanese-Canadian family in Ottawa and now thousands of Canadians know it too. Her ultra-catchy first two singles, Let's Play and Co-Pilot, have already garnered digital sales of close to 100,000 units over the past year and nabbed her mucho radio airplay right across Canada. Her infectious dance-pop has netted this young over-achiever a record deal in France, with the noted Wagram label, and the American record-industry scouts have begun to take an avid interest in this talented young woman.
She spent the past 18 months in recording studios all around the globe -- with pit-stops in Sweden, Anguilla, New York City, Los Angeles, Montreal and Miami - working to get the musical magic just right for her debut album, the appropriately-titled Tell the World, which is due to formally introduce Kristina Maria to everyone with open ears in March, 2012. She co-wrote 11 of the 14 songs and she's collaborated with some of the hotter writers and producers in contemporary pop, including Kristian Lundin, Andreas Carlsson, Anders Bagge, Peer Astrom, Billy Steinberg, Josh Alexander, and JC Chasez from 'N Sync. Collectively these tunesmiths and knob-twirlers have worked with Céline Dion, Madonna, Janet Jackson, Katy Perry, Britney Spears, the Backstreet Boys and Jennifer Lopez.
Kristina Maria was able to hook up with all these A-listers thanks in large part to her manager Vito Luprano, the Montreal music-man who was one of the key players in the Céline Dion success story. Let's just say Luprano has most of these folks on speed dial! A friend slipped Luprano a demo recording two years ago and Luprano was immediately smitten. The partnership was sealed the first time they met. "She started singing a cappella and I stopped her and said -- 'You have a deal!'," recalls Luprano. In grade three, Kristina told her mother -- 'I don't need math. I'm going to become a singer."
And she wasn't kidding. She'd sing every chance she got -- from family parties to talent shows -- and she began intensive vocal training at the Ottawa Conservatory. To unwind, she'd sing with her brothers' rap buddies. Kids at the high school would be partying on a Friday night but she was always happier hanging at the Conservatory developing her vocal chops. Now the hard work is paying off and Kristina Maria still has difficulty believing her good fortune. "I still have a hard time wrapping my head around it. It's surreal." No Kristina Maria -- it's real! --- kristinamariamusic.com
download (mp3 @VBR kbs):
yandex 4shared mega mediafire uloz.to cloudmailru uptobox ge.tt
Last Updated (Thursday, 09 March 2017 22:26)