Florence + The Machine - Lungs (2009)
Florence + The Machine - Lungs (2009)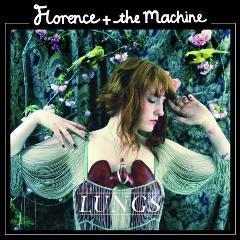 1-01 	Dog Days Are Over
1-02 	Rabbit Heart (Raise It Up) 	
1-03 	I'm Not Calling You A Liar 	
1-04 	Howl 	
1-05 	Kiss With A Fist
1-06 	Girl With One Eye
1-07 	Drumming Song
1-08 	Between Two Lungs 	
1-09 	Cosmic Love 	
1-10 	My Boy Builds Coffins
1-11 	Hurricane Drunk
1-12 	Blinding 	
1-13 	You've Got The Love

2-01 	Bird Song Intro
2-02 	Bird Song
2-03 	Dog Days Are Over (Demo)
2-04 	Falling 	
2-05 	Hardest Of Hearts
2-06 	Ghosts (Demo)
2-07 	Girl With One Eye (Bayou Percussion Version)

Backing Vocals – Florence Welch, Ladonna Harley-Peters, Victoria Atkinlola, Golden Silvers
Bass – James Ford, Stephen Mackey, Robert Ackroyd, Mete Burch Bator, Charlie Hugall, Isabella Summers
Celesta – Isabella Summers
Cello – Ian Burdge, Charlie Henry
Drums – Christopher Lloyd Hayden, James Ford, Martin Slattery
Drums [Additional Drumming], Percussion – Charlie Hugall, Florence Welch , Isabella Summers
Guitar – Rob Ackroyd, Tim McCall, Leo Abrahams 
Harp – Tom Moth
Organ – James Ford, Duncan "Pixie" Mills
Piano – Isabella Summers, Florence Welch, James Ford
Strings – Isabella Summers
Viola – Bruce White
Violin – Everton Nelson, Sally Herbert
Vocals – Florence Welch 

Unless you've been hiding under a rock since the beginning of the year, you'll be aware of Florence and the Machine. Before even releasing an album, the first lady and her revolving band have been championed by BBC Introducing, invited to play Glastonbury and support Blur at Hyde Park, and won the Critic's Choice Award at this year's BRITs. Now they're being tipped for Mercury Prize glory. How can an album possibly live up to the pressure of all that expectation? I don't quite know… but it does by the gallon.
Florence Welch's distinctive voice intertwines beautifully with harps, strings and drums as she sings her inimitable 'soul inspired indie' and 'Tim Burton-style fairytales'. The gothic pop of Lungs has been excellently produced by a crack team - Paul Epworth (Bloc Party, Jack Penate, Maximo Park), James Ford (Arctic Monkeys, Klaxons, Last Shadow Puppets) and Steve Mackey (Pulp, M.I.A.).
There's so much brilliant stuff it's difficult to know where to begin. The soaring crescendo of new single Rabbit Heart (Raise It Up), the achingly beautiful Howl and a breathtaking cover of The Source classic You Got The Love. Drumming is a fabulous nail-on-the-head song about what it feels like to be in love.
There are touches of Mama Cass on happy clappy debut single Dogs Days Are Over and at the other end of the energy scale, the twinkly loveliness of Hurricane Drunk. The low points are few – perhaps that I'm Not Calling You A Liar falls a bit flat between choruses, and the lyrics to Girl With One Eye are closer to disturbing than kooky. But mostly it's sheer gleeful bliss listening to Lungs.
Florence says music is, ''at best a kind of magic that lifts you up and takes you somewhere else''. With vocals building from breathy almost-nothings to soaring, arching crescendos and the accompanying harps, strings, hopes and dreams, this album takes you somewhere you'll never want to come back from. When news gets out that she writes her best stuff, ''when drunk or hungover'', Florence's transition from unknown to British classic will be complete. ---Sophie Bruce, BBC Review
"Lungs" [2009] to debiutancki krążek indie-popowej grupy Florence + The Machine (Florence Welch [wokal] i grupka muzyków). Płyta została wielokrotnie wyróżniona: m.in. platynowa płyta w Wielkiej Brytanii i złota płyta w Australii. Krążek został wydany nakładem wytwórni Island Records, a jego produkcją zajęli się Paul Epworth, James Ford, Steve Mackey i Charlie Hugall.
Najpierw zajmę się singlami. Pierwszy z nich to Kiss With A Fist. Słychać tutaj wyraźnie gitarę elektryczną oraz perkusję i jest to dosyć przyjemna piosenka, ale kompletnie nie w stylu Florence. Drugi singiel to Dog Days Are Over. Piosenka jest niesamowita, świetna, genialna - mogłabym chwalić ją w nieskończoność. Najgenialniejszy jest refren, od którego nie można się uwolnić. Florence brzmi tutaj naprawdę świetnie. Kolejny singiel to Rabbit Heart (Raise It Up) - tu również refren jest najlepszy, chociaż na zwrotki nie narzekam. Prawdziwą Florence słyszymy właśnie w tego typu utworach. Czwarty singiel to Drumming Song. Piosenka nie jest zła, ale mi się nie podoba. Ostatni singiel to You've Got The Love. Piosenka jest pozytywna i świetnie brzmi. I'm Not Calling You A Liar, Howl i Cosmic Love nie pozostały w mojej pamięci na długo, ale utwory są bardzo przyzwoite. Dosyć przygnębiające Girl With One Eye bardzo mi się podoba, a pozytywne Between Two Lungs brzmi naprawdę fantastycznie. My Boy Builds Coffins przykuło moją uwagę swoim specyficznym tytułem. Utwór ma ciekawy tekst (bo istnieje raczej niewiele piosenek jest o chłopaku, który buduje trumny) i przyzwoitą melodię. Ogólnie piosenka przypadła mi do gustu. Hurricane Drunk i Blinding niczym specjalnym się nie wyróżniają, ale są po prostu utrzymane w stylu Florence + The Machine.
Do swojej muzyki Florence nie bała się dodać kilku niestandardowych instrumentów, jak harfa czy różnorodne instrumenty perkusyjne. Aktualnie tego typu dodatki mogą być ryzykowne, bo nie wszyscy odbiorcy są w stanie polubić tego typu brzmienie, które wykracza poza normy dzisiejszego popu.
Grupa Florence + The Machine stworzyła na "Lungs" naprawdę specyficzne brzmienie i wykreowała swój klimat. Ich muzyka posiada własną magię. Głos Florence jest niesamowity i brzmi genialnie. Jestem pewna, że ich twórczość zachwyci wymagających słuchaczy. ---Jessamine, zloty-gramofon.blogspot.com
download (mp3 @320 kbs):