The Osmonds - Steppin' Out (1979)
The Osmonds - Steppin' Out (1979)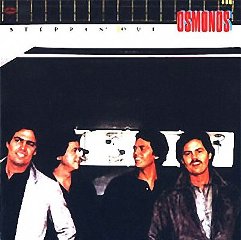 A1 	Steppin' Out	3:34
A2 	Emily 	3:18
A3 	You're Mine 	5:02
A4 	Baby's Back 	3:32
A5 	Love On The Line	3:32
B1 	Rainin' 	4:33
B2 	I,I,I 	4:18
B3 	Love Ain't An Easy Thing	3:38
B4 	Hold On 	3:20
B5 	Rest Your Love	4:15

Bass – Bruce Nazarian, George "Chocolate" Perry, Ike Egan, Rich Dixon
Drums – Sam Foster
French Horn – Jerry Peel
Guitar – Bruce Nazarian, George Terry, Joey Murcia, Rich Dixon
Horns – Boneroo Horns
Keyboards, Synthesizer – Blue Weaver, Bruce Nazarian, Denny Crockett, George Bitzer
Percussion – Fred Wickstrom, Joe Lala, Ken Hodges, Richie Puente
Saxophone – Chris Colcesser, Whit Sidener, Mike Lewis (A1)
Strings – Miami String Section
Trombone – Peter Graves, Russ Freeland
Trumpet – Ken Faulk, Vinnie Tanno 
Vocals [Female] – Kitty Woodson (A5)
Vocals - Alan Osmond, Donny Osmond, Merrill Osmond, Wayne Osmond

The Osmonds are an American family music group with a long and varied career a career that took them from singing barbershop music as children to achieving success as teen-music idols, from producing a hit television show to continued success as solo and group performers. The Osmonds are devout members of the Church of Jesus Christ of Latter-day Saints, and their religious values have influenced their careers.
The Osmonds began as a barbershop quartet consisting of brothers Alan, Wayne, Merril, and Jay Osmond. They were later joined by younger siblings Donny and Jimmy. Their only sister Marie, who rarely sang with her brothers at that time, launched a successful solo career in 1973. Older brothers George Virl Osmond, Jr. (Virl) and Tom Osmond were born deaf and did not originally perform.
The British label Cherry Red published in 1979 the album "Steppin´ Out", produced by Maurice Gibb. It contains the Gibb song "Rest Your Love on me". The album never made any way in the charts, but is still worth to listen, especially the track "Rainin´".
"Steppin' out" was the last album of the Osmonds as a pop band and a turning point in the history of the Osmond of family, that it understood like no other, to exploit their children until far beyond the borders of acceptable and to peddle on the music industry.
The group didn't officially disband until 1980, but as a unit they had long since ceased to be a commercial force in pop music. ---naaldopdegroef.blogspot.com
download (mp3 @320 kbs):
yandex mediafire ulozto gett bayfiles