The Congos - Heart Of The Congos (Deluxe Edition) [1996]
The Congos - Heart Of The Congos (Deluxe Edition) [1996]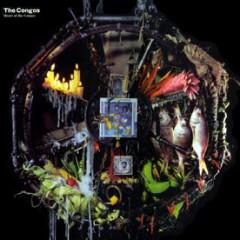 CD1
01 - Fisherman
02 - Congoman
03 - Open up the Gate
04 - Children Crying		
05 - La Bam Bam
06 - Can't Come In
07 - Sodom and Gomorrow
08 - The Wrong Thing		
09 - Ark of the Covenant
10 - Solid Foundation

CD2
1) At The Feast (Of The Passover)  
2) Nicodemus (12'' Single Mix)  
3) Open The Gate (12'' Single Mix) 
4) Don't Blame It On I  
5) Play On Mr. Music {With The Upsetter Revue}  
6) Chances (Album Mix) 
7) Rainy Night In Portland  
8) Bring The Mackaback  
9) Congoman (12'' Single Mix)  
10) Congoman Chant  
11) Noah Sugar Pan  
12) Solid Foundation (Disco-Cork Mix)  
13) Nicodemus (7'' Single Mix) 
14) Nicodemus Dub  
15) Open The Gate (7'' Single Mix)  
16) Open The Gate Dub  
17) Too Late (12'' Single Mix)  
18) Rainy Night In Portland (Disco Mix)  
19) Rainy Night Dub  
20) Fisherman Dub

Watty Burnett - Vocals (Background)
Robert Johnson - Guitar (Rhythm)
Winston Wright - Organ
Boris Gardiner - Bass
Geoffrey Chung – Bass
Keith Stewart – Piano
Mikey "Boo" Richards - Drums
Noel "Scully" Simms - Percussion
Uziah "Sticky" Thompson – Percussion
Barry Llewellyn 	- Vocals (Background)
Candy McKenzie - Vocals (Background)
+
Sly Dunbar - Drums
Gregory Isaacs - Vocals (Background)
The Meditations - Vocals (Background)
Lee "Scratch" Perry - Percussion, Producer
Ernest Ranglin - Guitar

The words "Lee", "Perry" and "genius" crop up together frequently; yet these days evidence of the producer's excellence seems to be limited to erratic stage performances and wilful eccentricity. Heart of the Congos, however, is the most vivid example of what he's capable of.
Recorded between 1976 and 1977, Heart… is all about Perry's own breadth of vision and ingenuity despite an impressive cast, including Ernie Ranglin, Sly Dunbar and Gregory Isaacs. Heart… is part of Perry's string of roots classics, but good as War Inna Babylon and Super Ape were, this collection leaves them standing.
The Congos came to Perry as a duo of Cedric Myton, a falsetto, and Roy Johnson, tenor. Perry immediately underpinned their harmonies by adding baritone Watty Burnett. This gave Myton's soaring tones free rein on Ark of the Covenant and Solid Foundation, and added greater depth to the deep roots of Open Up the Gate and Sodom and Gomorrow. But most importantly, it connected to traditional Jamaican three-part harmonising, giving the singing a very familiar rocksteady-ish feel.
Perry's mission at the Black Ark was to ruralise reggae, removed from Kingston's urban edginess; and with these deeply spiritual Rastafarian singers he had the perfect focus for his musical creations. On Fisherman, Children Crying and La La Bam-Bam, he takes things so deep into the island's interior you need a machete to hack through. Thick, blurring layers of drum and bass soften into each other, while the guitar cascades down like creepers, giving the plaintive singing the support it needs to keep moving.
In every instance the lyrics are never less than righteous, jumbling up biblical parables (Fisherman), beseeching Jah (Children Crying) or chanting down Babylon (Congo Man). The end result is the ultimate roots reggae statement. But in true Perry style, Heart… was mired in dispute and it took close to 20 years for the recommended (remastered and beautifully packaged) Blood & Fire version of the LP to come out.
Any preceding versions of this set are to be avoided. After all, if you're going to buy the best roots reggae album ever recorded, you deserve to be able to hear it properly. ---Lloyd Bradley, bbc.co.uk
download (mp3 @320 kbs):
yandex 4shared mega mediafire zalivalka cloudmailru uplea