Take That - Progress (2010)
Take That - Progress (2010)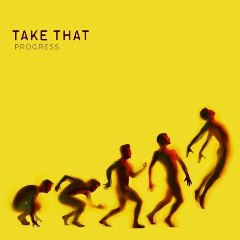 1. The Flood
2. SOS                  play
3. Wait
4. Kidz
5. Pretty Things
6. Happy Now
7. Underground Machine
8. What Do You Want From Me?
9. Affirmation           play
10. Eight Letters

11. Flowerbed (Hidden track)
Bass – Stuart Price (tracks: 2, 7 to 9)
Drums – Howard Donald (tracks: 1, 4), Karl Brazil (tracks: 2, 8)
Guitar – Ben Mark (tracks: 1, 2, 8), Stuart Price (tracks: 1, 7 to 10)
Keyboards – Gary Barlow, Stuart Price (tracks: 1 to 2, 4 to 9)
Leader [Orchestra] – Everton Nelson (tracks: 1, 3, 5)
Programmed By – Gary Barlow, Ryan Carline (tracks: 4), Stuart Price (tracks: 1 to 4, 6 to 11)
Strings – The London Studio Orchestra (tracks: 1, 3, 5)
Vocals – Take That 
Does it matter what the new Take That album sounds like? After all, the success of Progress – the first 'That album since 1995 to feature Robbie Williams – is assured. Websites crashed a fortnight ago when tickets for next summer's reunion tour sold out in record time. Bookies confidently predict a Christmas No 1. The new Michael Jackson album next month might queer that pitch a tad, but promoters claim the demand for TT tickets has been exceeding that for Jackson's ill-fated comeback. Take That's extraordinary second act has the kind of momentum little can stop.
Not even Progress will get in the way of progress, it seems. For this, in truth, is an album only intermittently recognisable as a Take That record. Historically, ballads are what Gary Barlow does best. There are none here.
Lead single "The Flood" still sounds like one of Barlow's songs, of course. Similarly, the prodigal Williams's paw marks are all over the likes of "SOS". The rest of "the lads" – the collective name for those whose neediness is less prominent – hover just recognisably in the background.
Since Take That's 2006 comeback single "Patience", the band have begun writing about themselves (something Williams has been doing for years, with varying degrees of appeal). Robbie's enjoyable kiss'n'make up single with Gary, "Shame", paved the way for the small flurry of reflexiveness here that just about locates this album's authors within it.
"Wait" – sung by Rob – is just one of a handful of songs in which romantic contretemps double as tunes about Rob and Gary's relationship. "Eight Letters", Gary's album closer, is the most gushing and canonical track here, and will go some way towards mollifying a slightly baffled listenership.
Because the rest of Progress is the kind of record critics often carp on at pop stars for not making. Written while the band toyed with renaming themselves "The English", Progress is oblique, eccentric, even bold. The arresting "Underground Machine" begins with the dragon-breath hydraulics, and someone – poor old Howard, probably – chiming in with "choo-choo"s. The glam, stomping "Kidz" beseeches: "Say nothing/ Deny everything/ Then make counter-accusations," like a paranoid version of Iggy Pop's "The Passenger". Astonishingly, Progress probably recalls one of Williams's commercially malfunctioning synth-pop experiments – Rudebox, say – more than the commercial gold of latter-day 'That. It is, often, a quirky club-pop record; a feat, when you consider how much Barlow loathes dancing.
Thanks to the heavy hand of Stuart Price, credited with re-energising Madonna, Progress also resembles his recent charges Scissor Sisters and the Killers (Price did Brandon Flowers's solo album). You suspect it's down to Robbie's grandiosity and paranoiac tendencies that it also sounds like Queen and Muse.
There are affecting moments: when Robbie mutters "Super-heavy elements/ Embrace me," on "Happy Now", for instance. But this offbeat record is not quite strange enough to be truly heroic. You do want to applaud "The English" for taking gambles. But with so much goodwill ker-chinging into the bank, the threats stalking Take That's future were only ever paper tigers. ---Kitty Empire, theguardian.com
Take That – nagrodzony nagrodami BRIT's brytyjski boysband, który powstał w 1990 r. w Manchesterze. Członkami grupy są Mark Owen, Jason Orange, Howard Donald, Gary Barlow i Robbie Williams. Do roku 1996 grupa wydała cztery płyty, po czym zespół zawiesił swoją działalność, a jego członkowie rozpoczęli solowe kariery. Niepełne 10 lat później, bo w roku 2005 zespół reaktywował się (już bez Robbiego Williamsa).
download (mp3 @320 kbs):
yandex 4shared mega mediafire uloz.to cloudmailru gett
Last Updated (Monday, 14 August 2017 20:33)